Limerick's Connie Finnan bowed out of the partypoker.com World Grand Prix after a 3-2 loss to two-time champion James Wade at Citywest.
Finnan, who overcame Terry Jenkins on his World Grand Prix debut on Monday, had returned to the Citywest Hotel for his game following a four-hour morning shift working in a factory in Shannon making plastic bag closures earlier on Wednesday - and took the game's first set in a decider.
Wade hit back to win the second set 3-1, but Finnan then finished 115 and 102 as he won the third set without reply to move 2-1 up in the game.
Wade, bidding to win an eighth major title, then took out 116 as he won the fourth set 3-1 before proving the more clinical in the decider, which he took by the same scoreline as a 91 finish sealed his last four spot.
"I'm really happy with how I played there after a poor start," said Wade. "I let someone who's inexperienced in terms of stage games get ahead of me and I shouldn't have, but I got through the final two sets okay.
"I know I can turn my game around and I'm getting close to my best."
Phil Taylor battled past Paul Nicholson to remain on course for an 11th Grand Prix title on Wednesday night, as he was joined in the quarter-finals by Gary Anderson, Wade and Simon Whitlock.
"I let someone who's inexperienced in terms of stage games get ahead of me and I shouldn't have" - James Wade
World Champion Taylor endured a frustrating night on his finishing at the Citywest Hotel, hitting 11 doubles from 41 attempts as he overcame Nicholson 3-1 in sets to progress.
Taylor looked set to cruise into the last eight when he took the game's first set without reply, only for Nicholson to hit back from 2-1 down in the second to win the set in a deciding leg to level, after the Stoke legend missed ten darts at doubles to move 2-0 up.
Nicholson then took the third set's opening leg to lead in the game, but Taylor levelled and then took out 70 and 130 to win the set 3-1 and regain control.
A tricky double eight, after his first two darts landed just outside the wire to block the bed, gave Taylor the fourth set's opener, but Nicholson took out 158 to level and shared the next two to send the set into a deciding leg.
Nicholson hit a 180 and had a chance to level the contest again when Taylor missed two match darts at double eight, but the Australian World Cup star missed two darts of his own at double 16 and the world number one made him pay, hitting another tricky third-dart double eight as he progressed.
"It's good to be through but I didn't seem to click tonight," said Taylor. "There are no excuses, I just didn't play very well.
"The ten darts I missed to win the second set crucified me for a while and I didn't hit my doubles as well as I wanted to, but the last dart at double eight was the best dart I've thrown all week and one of the hardest doubles I've hit."
Taylor will now play 2011 Premier League Darts champion Gary Anderson in the last eight, after the Scot won through to his first major quarter-final of the year with a narrow 3-2 win over Wes Newton.
Newton edged the opening set in a deciding leg before Anderson took the next two 3-1 to put himself in command, and he then moved 2-1 up in set four only to see the number eight seed produce a brilliant 101 finish and a ten-darter to keep his hopes alive by taking the set.
However, Anderson killed off the game superbly by sweeping through the final set without reply with legs of 14, 14 and 15 darts as he sealed his last eight place.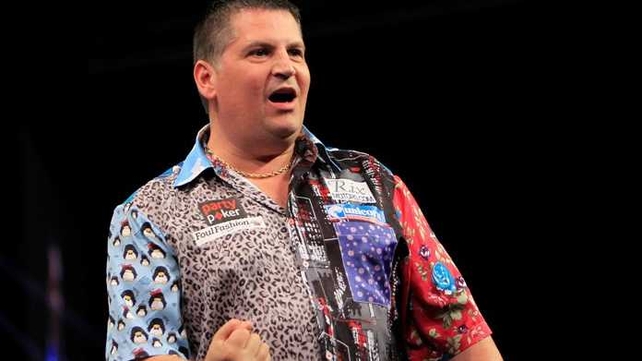 "It's great to be in the quarter-finals because it's been a while for me," said Anderson. "My game's coming back and I've gone back to just getting up on stage and trying to throw my darts and enjoy the game.
"It seems to be working so far. I've been finding the starting quite easy and it's been the finishing which has been a bogey for me, but it's going alright so far.
"I've been playing well and not winning games, and tonight there were some good darts and some bad darts. I thought I had him in the fourth set, but the final set was really good."
Australian ace Whitlock won through to the quarter-finals for the first time in Dublin with a straight sets win over Ronnie Baxter, punishing the Blackpool star for hitting just three finishing doubles from 15 attempts.
The pair traded 180s in the game's opening leg as Whitlock drew first blood, and though Baxter levelled, the Australian took the next two legs to win the first set 3-1.
Baxter moved 2-1 up in the second, but Whitlock levelled with the aid of a 180 and posted another maximum in the deciding leg, before stepping in to punish three missed doubles from his opponent by taking out 94 on double 11.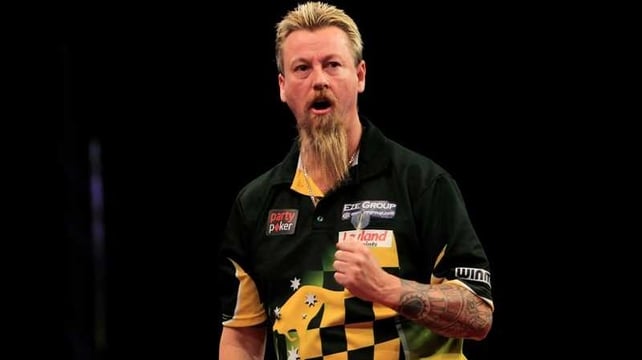 The Australian punished more Baxter misses as he took the third set's opening two legs, and when the former World Grand Prix semi-finalist missed two darts at tops in the third, another double 11 checkout - this time to finish 102 - sealed Whitlock's last eight spot.
"The game probably wasn't as comfortable as the scoreline says," said Whitlock. "Ronnie missed a lot of doubles to win legs there and I took advantage.
"Our starting was pretty equal but my finishing was the difference. The 94 and 102 to win the last two sets were killer shots, especially the 94 to go 2-0 up."
He added: "The key thing for me tonight was starting well. I was all over the place with my starting in the first round, but I had a plan this time and stuck with it.
"I felt as though I had to settle down on a starting double and I finished off the game against Michael Mansell quite well using double 16 to start so I stuck with that and it went very well.
"I know it will be hard against James in the quarter-finals and we've had some great games. He had a tough match against Connie Finnan, who played a fantastic game, but James is one of the best players in the world and he shows that every time he plays."
The second round concludes tonight with the remaining four matches, which include the all-Dutch encounter between reigning champion Michael van Gerwen and two-time finalist Raymond van Barneveld.
Thursday 10 October (7pm)
Second Round
Adrian Lewis v Justin Pipe
Dave Chisnall v Wayne Jones
Michael van Gerwen v Raymond van Barneveld
Andy Hamilton v Kevin Painter