Eddie Dunbar is targeting a podium finish in a Grand Tour event after his stunning seventh-place finish at the Giro d'Italia.
It was only the Cork man's second Grand Tour event and came some four years after his first, a 22nd- place finish at the 2019 Giro whilst riding in support of Pavel Sivakov for the INEOS Grenadiers team.
Now riding with Team Jayco–AlUla, he produced the best Irish finish in the event since Stephen Roche triumphed in 1987.
Dunbar's performance has catapulted him into the cycling limelight, and the 26-year-old is hoping to build on the positivity with a top-three finish in the near future with a general classification ride at the Vuelta a España in August his next ambition.
"I'll try and get on the podium first," was his response to RTÉ Sport's Clare MacNamara when asked about a possible Grand Tour win in the future.
"There's a lot we can improve on for me and the team. If we can just dial in those fine details and look at how to get better then, yeah, were not going to be too far off I don't think.
"The main thing I took away from these three weeks, at least I don't have to wait another four years to do my next one.
"There's one lined up already in August in terms of Vuelta.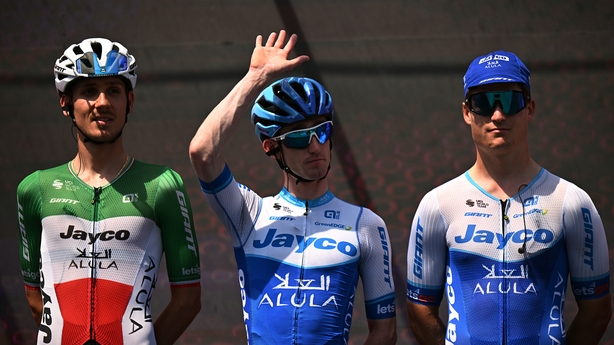 "I think the amount I learned over the last three weeks in terms of preparation, how I dealt with myself and how the team raced, how I reacted to the leader, all of that was really positive.
"I'd be worried if I was talking here thinking that was it, that was my best, for sure I think we can get better when we sit back and analyse it a bit.
"[Take] everything we learned in the last three weeks and test it out again in August and see where we end up."
Thoughts of attacking the front in Italy and Spain in the summer seemed like a pipe dream back in February.
In the very first day of competition this year, he crashed at the Volta a la Comunitat Valenciana and fractured a bone in his hand. Four weeks in a cast did little to help the healing and a CT scan showed that the fracture had grown from one millimetre to three.
A hand surgeon in Manchester suggested Dunbar go under the knife and within a week of doing that, he was back on his bike.
"If I was offered this back in February I'd be very happy with the situation," he said of his Giro finish.
"There were points there were I thought I wouldn't even get to the Giro, thought we'd actually call it quits and prepare for the Vuelta, go all in for that in August.
"We kept at it, worked well with my coach over the last six months and the team still put a lot of faith in me.
"To put all that work into practice, it was well over three weeks, and to come out of it in seventh place was very positive."
Having been a support rider in 2019, Dunbar was very comfortable with fronting the team's challenge – and he feels it's a role that he is very much suited to having been afforded more responsibility since coming across from INEOS.
"I had a great four years at Sky [now INEOS] and I learned from some of the best riders in the world.
"I'm very good mates with Geraint Thomas who finished second, he's one of the best bike riders there has been in the last few years. I've learned so much off him, how he leads the team and stuff and yeah, it's nice to finally be in a team where I can lead and kind of put my own perspective on that.
"It's a position or role I've always felt that suits me and it's reassuring over the last three weeks that the team just got behind me, the riders got behind me.
"You could feel the belief, you know? It was there, every day it was building and it was just a great atmosphere.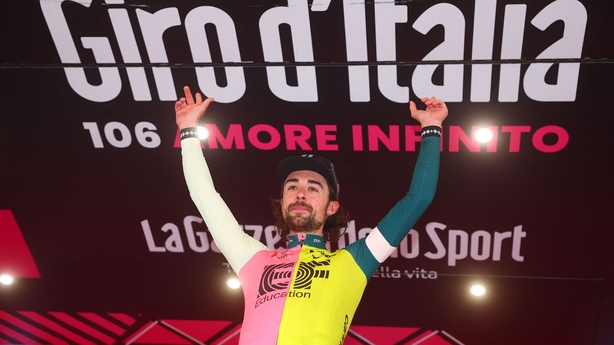 "It's something I like, I like being in that leader's role and hopefully it's something I can continue to grow in that role and improve on seventh place."
Dunbar also thinks that Irish cycling could be entering an exciting period with Ben Healy winning stage eight and finishing third in the King of the Mountain overall with 164 points.
"The last few years have been fairly good, you had Sam Bennett winning the green jersey on the Tour [de France], he's done great for Irish cycling.
"It's nice to have him still here and then obviously myself and Ben Healy were flying the flag in the Giro so it bodes well.
"If it can inspire one or two people at least to get on a bike then I think it's a success."