Ireland's Ben Healy claimed an impressive sixth place finish in the time trial event at the European Championships in Munich.
Healy powered though the 24-kilometre course in a time of 28:01.56.
Still only under 23, Healy's impressive performance landed saw him sit atop the standings when he finished his run before he eventually was pushed to sixth place, finishing 55.60 seconds down on the winner.
The race against the clock was won by Stefan Bisseggar of Switzerland in a time of 27:05:96, averaging 53.169kph.
Stefan Kung of Switzerland claimed silver just half a second behind Bisseggar while Italian rider, Filippo Ganna finished in third place.
Healy said afterward: "I set out at a pretty hard pace to try and medal today, and I didn't quite have the legs for that but held on until the end and still put in a really good performance and a really nice result.
"I kind of had the idea in my head after my national championships ride, we run the numbers and it was a pretty good performance. I came here with medals in mind potentially and that's what I was gunning for today but to come away with 6th is still a really respectful performance."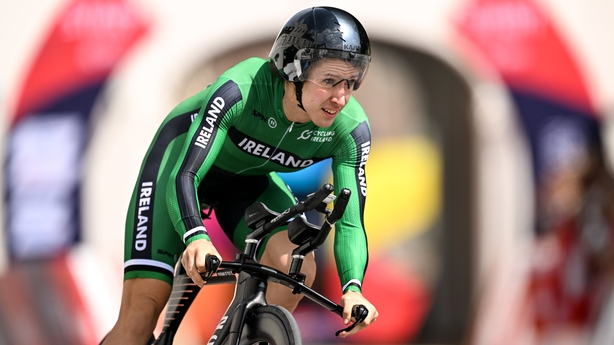 Kelly Murphy and Joanna Patterson competed in the women's time trial earlier in the day.
Murphy finished 15th in a time of 33:25.84. The current time trial national champion averaged a speed of 43.092kph over the course finishing 2:25.94 behind the winner.
Patterson finished seven seconds down on Kelly's time to place 17th overall with a time of 33:32.56, averaging 42.985kph.
Watch live coverage of the of the European Championships on RTÉ2 and RTÉ Player