Ireland's women's team pursuit squad set a new national record as they narrowly missed out on the bronze medal ride off at the Track Cycling World Championships in Roubaix, France.
Fresh from their medal-winning performance in Switzerland at the European Track Championships, Mia Griffin, Kelly Murphy, Alice Sharpe and Emily Kay posted a time of 4:21.126 in their first-round heat, almost two seconds faster than yesterday's qualifying time.
Their fifth-placed finish is Ireland's best finish in the event at World Championship level.
Olympic champions Germany claimed the world title as they prevented an Italian double by beating the latter to gold in the final.
The quartet of Franziska Brausse, Lisa Brennauer, Mieke Kroeger and Laura Suessemilch finished in 4:08.752, with the Italians some way off the pace in 4:13.690.
Britain picked up the bronze, this time beating Canada to third place.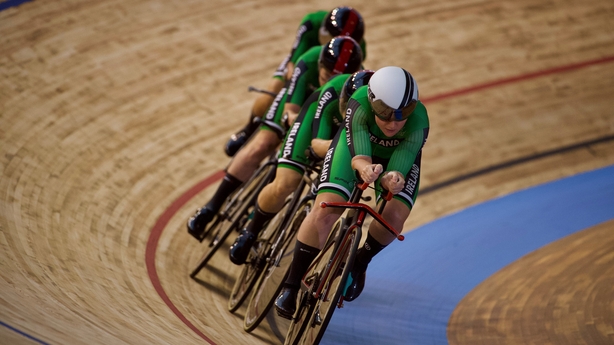 Mia Griffin said: "We're just excited to chip away at the time that we've done now, and I think we will work hard over the winter to keep chipping down on that time and try bridge the gap to the bigger nations.
"Where we are now, I think we're in a good place at the moment for going forward because we're fifth in the World ranking, so I think going forward for this Paris cycle it's a good place to be."
In the men's event, Olympic champions Italy added the men's team pursuit title to their list of impressive victories in 2021 as they defeated hosts France in the final.
It was a first world title for the Italians in the men's pursuit for 14 years as Filippo Ganna, Liam Bertazzo, Simone Consonni and Jonathan Milan finished the four km race in a time of 3:47.192 ahead of France's 3:49.168.
Britain took the bronze medal after defeating defending champions Denmark for third place.
"The people by the track showed great support for the French, but we always race to the last metre and to win the rainbow jersey in the same year as we won gold at the Olympics is really important for us," Ganna told reporters.