He never actually heard the 'snap' because of the deafening roar of the Irish crowds that night in 2014, but Dan Martin didn't need an x-ray to confirm his collar bone was shattered and just 15 kilometres into the first stage, so too were his Giro d'Italia dreams.
It's exactly seven years ago today since the then 27-year-old rolled down the start ramp in Belfast's Titanic Quarter for the opening stage of the Italian Grand Tour, aiming to become the first Irishman to win the race since his uncle Stephen Roche in 1987.
By that point in his career Martin (35) had already bagged a couple of Grand Tour stage wins in the Vuelta A Espana (2011) and the Tour de France (2013) as well as overall honours in the tours of Poland and Catalunya, respectively.
He was one of just three Irish riders in the 200-odd peloton alongside Nicolas Roche and Letterkenny's Philip Deignan, but the only one with a chance of contending for the pink jersey, or maglia rosa.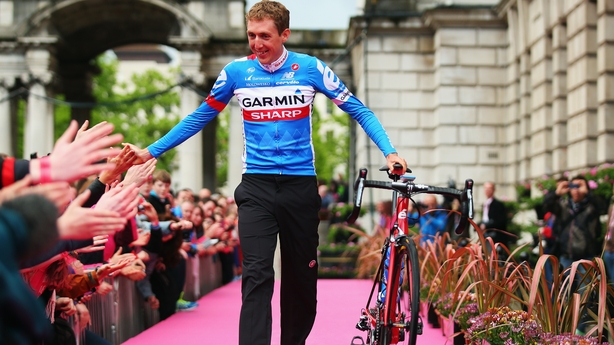 The city - despite the atrocious weather on a gun metal grey night - was tickled pink by it all and everywhere from the emblematic twin cranes in the docklands to Parliament Buildings at Stormont, City Hall, Stranmillis and University Quarter was swept away in a tidal wave of Giro fever.
Or at least they were until shocking footage emerged of a high-speed crash involving Martin and three of his Garmin-SHARP team-mates as they approached the final technical part of the 21.7-kilometre course.
The four who stayed upright had to slow down considerably to regroup into a pack of five – the time on the finish line being taken on the fifth man – waiting for Fabian Wegmann who had not fallen but had been tailed off, and the delay meant that they rode in last, almost three and a half minutes behind the stage winners.
It was a double whammy because not only was Martin out and three others injured, but the upshot was a massive time loss for the team's co-leader Ryder Hesjedal, the 2012 winner.
"It was such a pity for it to end like that," reflected Martin.
"We were on such a high the whole weekend. The reception in Belfast was unbelievable and the place was alive with cyclists...and in dramatic fashion we came down to earth with a bang," he recalled.
I don't really dwell on the past too much, though. I've kind of blanked it out of my memory
"I don't really dwell on the past too much, though. I've kind of blanked it out of my memory. It was a tough time because two weeks before that I crashed on the last corner of Liege (Bastogne-Liege) through no fault of my own...another unexplained crash and I lost the chance to win a second Liege (he won a year prior).
"It was a really rough time in my professional career, the worst injury I ever had, but I had just met my wife (Jess) so it was an amazing time in my personal life."
"It almost feels like a blur looking back."
Indeed, a "blur" is the word he used to summarise the interim which (in no order) has seen him double his Grand Tour stage win tally (one more each from the Tour and the Vuelta), get married, have twin girls Daisy and Ella who are now in school, move to Andorra, switch teams four times and rarely finish outside the top 10 in any race.
It's fair going for someone in his 13th season.
"My 14th season," he fires back.
"Longevity is another word for old now I think. It has flown by, really.
"But I have never stopped enjoying it and the day I stop racing will be the day I no longer enjoy it.
"It's something I would really like to highlight to a lot of young riders as well. It's about finding sustainability and a lifestyle you are happy with.
"A lot of cyclists go to extreme efforts with dieting and training 40 hours a week and you know what? I think the reason myself and Nico (Roche) have been around so long and hold this high level is because we love cycling and we love riding our bikes.
"Secondly, it's finding a balance in your life so you can keep it up for 10-15 years. You hear some guys going without alcohol or chocolate or whatever and that's great...but if all you are thinking about is having a beer or chocolate, well then have a beer or chocolate.
"It's not going to affect your performance, everything in moderation and I think that's the key to longevity and going as long as I have. It's a passion for me: attention to detail and pushing myself."
He'll need to do plenty of both this month if he is to emulate his fourth place overall at the Vuelta A Espana last November, a career-highest Grand Tour finish.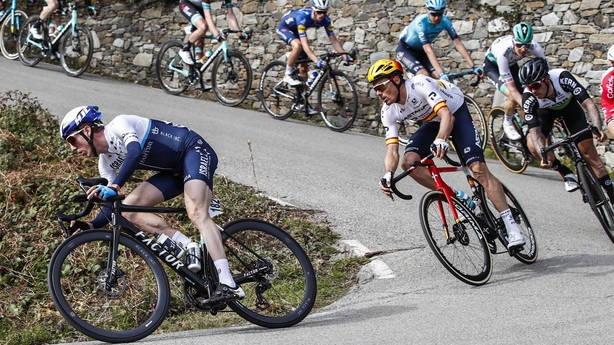 "I'm looking forward to it, it's a new adventure for me. I've done the race before but it doesn't feel like it as it was so long ago. Cycling has changed, the race has changed, I have changed.
"It feels like a new race but I just hope that lack of experience doesn't cost me at the end of the race. I've done the Tour and the Vuelta a few times, a lot of familiar roads, but I don't have that here, it's a slightly different style of racing as well."
What makes the race even harder is the fact he'll be away from his biggest fans for almost a month.
"For sure, I know this next four weeks they're (Daisy and Ella) going to grow up so much and it's stuff like that you miss. But it gives me some worthwhile motivation to make the most of it while I'm away.
"I think it also gives you a reality check as well, because right now I'm about to start the Giro, I feel really good, I'm possibly in the form of my life - though that is to be proven on the road.
"Look, the way I see it now is, if I win the race, great, and if I lose, so what? It changes nothing for me. It kind of dawned on me when I came to Israel Start-Up Nation that the only reason I do this is because I enjoy it.
"I need to enjoy it and if I don't enjoy it I'll stop racing.
"It gave me real perspective having the girls and just the way they look at me. They don't care if I win or lose, they only care if I crash. My last crash in the Alps (last month) and all the cuts I had is not nice for them to see. But I'm in a very relaxed mood and I think that's why I'm racing so well."
Martin will be backed by a very strong Israel Start-Up Nation team and their goal will be to win a stage, as well as place Martin as high as possible on General Classification.
The race starts in Turin tomorrow and finishes in Milan on 30 May. There are a total of 21 stages, with two rest days. Defending champion Tao Geoghegan Hart (Ineos Grenadiers) is not back to defend his title as he focuses on the Tour de France instead, but last year's runner-up Jai Hindley (Team DSM) is back again, as are other too favourites Simon Yates (Team Bike Exchange), Remco Evenepoel (Deceuninck-QuickStep) and Egan Bernal (Ineos Grenadiers).