A Google search for ´Stephen Roche cyclist´ will spit out a quarter of a million results in half a second - but not one of them will take you directly to the year 1981.
Some are good, some are not so good. Some are about cycling, some are debt and allegations of doping. Some are about his historic 1987 Triple Crown victory where he won the Tour de France, Giro d Ítalia and World Championhip in the same year. None are about 1981. 
So let's go there for a change. 
"Ah jaysus, could you not just say it was a long time ago," comes the riposte when we not-so-subtly inform the Dubliner it has been 40 years since he became the first Irishman to win the Race To The Sun, or Paris-Nice as it is more commonly known. 
He might have won it four more times too, only for fellow Irishman Sean Kelly (in 1984 and ´85) and Spaniard Miguel Indurain (in 1989 and ´90) edging him into second on each occasion. 
In eight attempts at Paris-Nice, the worst Roche ever finished was sixth overall. 
Nonetheless, the 1981 victory was quite staggering in itself because he not only became the joint youngest rider to win the race at 21 years of age, he was the first neo-pro (first year pro) to ever do so. 
It is almost unheard of. Even now four decades on.
"They were like the Team Sky of the 80s"
Tomorrow, Sam Bennett will line-up at the start of the latest renewal of the famous race.
Unlike Bennett, in 1981 Roche was wide-eyed with 'un peu de français' - a relative nobody in arguably the biggest team of the decade, Peugeot-Esso-Michelin. 
"They were like the Team Sky of the 80s", he chimes in for context from his home in Antibes this week. 
"Jacques Bossis, Michel Laurent, Gilbert Duclose-Lasalle, Robert Millar, Phil Anderson, Graeme Jones. 
"They were all there and they had the performances and the wins to back it up. They were a fabulous team and had won Paris-Nice in 1976 and 1980 with Laurent and Duclose-Lasalle."
Roche, a surprise winner of the Tour of Corsica a week earlier, was under no illusions - or pressure - in what he called his "debut in the big league". 
"It's funny, I look back on it now. The press and everyone were telling me 'Roche, the fun's over. We are into the big leagues. Paris Nice is for the big guns, for the experienced boys.' It was their turn to have the fun.
"I had had my time to play in Corsica and now it was time for the big guns to start firing. And because Duclos-Lasalle had won the previous year and Laurent before him, either of those were going to win it again and they weren´t at all counting on me."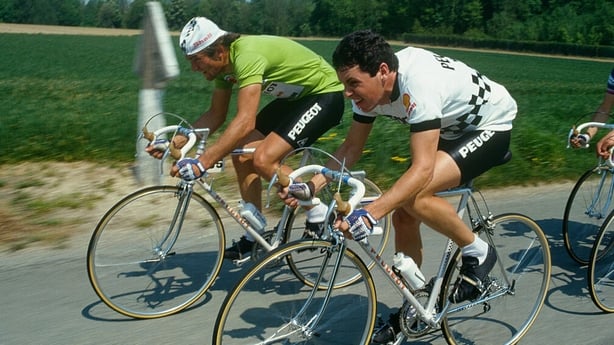 Roche began the race as a domestique for the aforementioned duo, hell-bent on making a good impression, and learning as much as he could. 
However, things turned in his favour on the 27-kilometre stage 2b team time-trial when he realised he had the measure of anyone on his team, including Duclos-Lasalle and, particularly, Laurent.
"We were riding okay but Graham Jones punctured before a climb and when he got back on we hit this climb of about two kilometres. 
"I remember me riding on the front for the whole climb, looking back to make sure there were no gaps in our team and making sure everyone was there.
"I saw the photo of us in the Peugeot head office many years later, just me looking over my shoulder at our guys. It still sticks out in my mind. 
"Going over the top of the climb we had made up any time lost waiting for Jones and we were fighting for the stage with Raleigh. 
"I had basically pulled the time back on my own going up this climb. Anyway, we finished the time-trial, set the fastest time, Michel Laurent took the jersey in his hometown, fairytale stuff. The 1976 hero winning the leader's jersey in his hometown...a fabulous moment…"
Only it wasn't. 
"There he was, hugging and kissing and thanking everyone around him...but he hardly shook my hand. I said fine, it didn't bother me at all."
Only it did. A lot.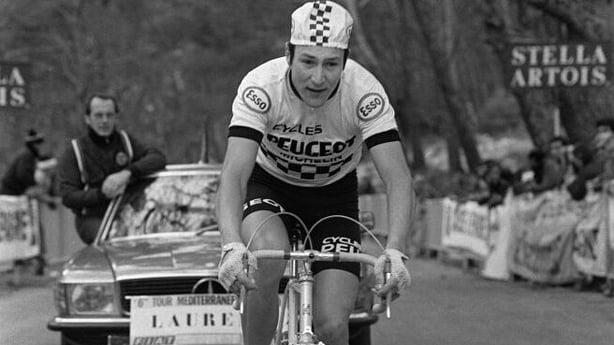 A day later and it's the leg-breaking 217-kilometre stage from Bourbon Lancy to Saint Etienne. Wind and mountains galore and the day when the list of potential winners would be whittled down from 150 to just 8. 
"I remember we hit this climb and Michel - my teammate and race leader - punctured, so I waited for him - the only one of our team to wait. 
"We were riding back to the bunch with him on my wheel and as we're doing this I'm seeing a small group go off the front and not a single Peugeot rider there.
"I was so pissed off. The day before he was kissing them and hugging them and here we are a day later. They didn't wait for him when he punctured and a small group went off the front with none of our guys!
"I was furious, totally pissed off. So I took off from the bunch, got into the break and we took 10 minutes (8 '40) out of the the peloton.
"Most of the top guys were there; Eight riders from eight different teams. Van der Poel, Beucherie, Alfons de Wolf. We came to the finish in St Etienne and I am the race leader in St Etienne. Unbelievable."
The cruelty of the sport was laid bare for Roche a day later when summiting the notorious Mont Ventoux in the white jersey (the yellow jersey was only introduced to Paris Nice in 2008) en route to a stage finish near Marseille, the heavens opened. 
Having discarded his layers on the toasty ascent en route to a time bonus, he promptly froze on the way down as hail and snow battered the peloton. 
"The funniest thing about that was our Directeur Sportif shouting at me on the descent, 'if you catch the bunch you'll warm up!'
"My team basically kept me in contention for the stage but I was in a really, really bad way. 
"I had hypothermia and I lost the (yellow) jersey. I keeled over in the car and it took me hours to warm up."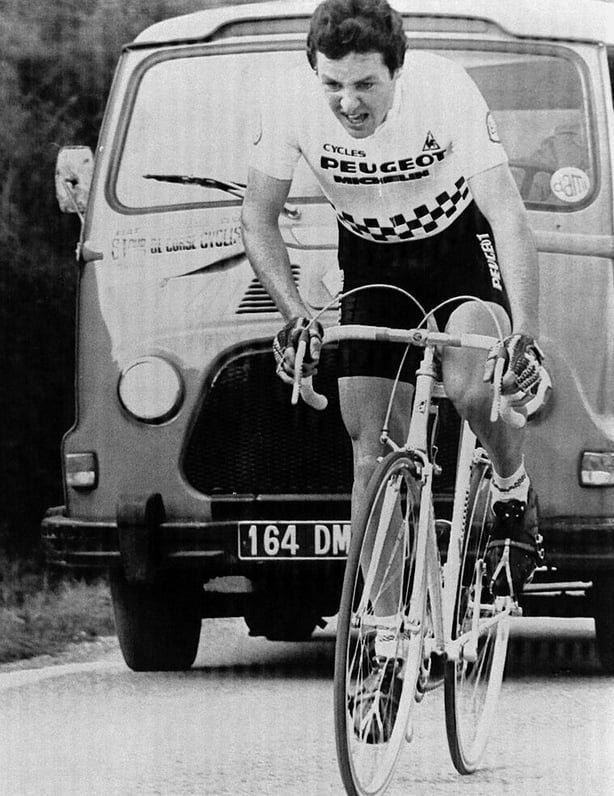 In the sport of cycling, it's easier to chase than to be chased. And it's often easier to get two minutes than two seconds on your rivals because a rider down the General Classification isn't as well marshalled as those congesting the top. 
So for Roche, losing a few seconds wasn't a disaster. It was a case of retreating, refilling the tank and planning his next attack as Nice and the finishing strait loomed. 
He was now aware his biggest rival was the Dutchman Adrian Van der Poel. Separated by only a few months in real life and a few seconds on GC, they had stalked each other all week. 
There were three days to go, but a split stage on the final day meant a morning road stage and a short 11-kilometre time trial up the punishing slopes of Col d'Eze. 
"I didn't want to wait until the final time-trial to try and win," recalled Roche. 
"We didn't know about him in time-trials, no more than he knew about me.
"He beat me on Mont Ventoux so we knew he could climb.
"So the plan for the days beforehand was to put him under as much pressure as we could, get the jersey back and, ideally, be starting the final time-trial last, chasing Van Der Poel."
With twisty descents on the run-in to successive stage finishes, Roche and his team hatched daring plans to shake Van der Poel near the summits, rail the downhills and hope for the best. 
"These were the kinds of descents you do once or twice in a lifetime," laughed Roche.
"I put 15 or 20 seconds into him on the descent, even though he was a very good descender. But I got the jersey back…"
Going into the final time-trial, Roche held a lead of 57 seconds over Van Der Poel, but still took nothing for granted.
"We did a recce on the morning of the race and chose the gears for my bike very carefully. I was always very astute about that stuff, always very meticulous about my equipment. I studied the wind, had teammates stand on the climb to give me signals if I was up or down. Nothing was left to chance.
"There were no power meters, heart rate monitors, cadence straps, nothing in those days. You had to ride on feeling and gauge your effort very well." 
His time of 21:09 was not only good enough to win the race and cement his place in history, but it's a time that took several years to beat. 
In fact, even when Bradley Wiggins won the same race in 2012, his winning time-trial time was 19:45, despite the advancements in the sport.
Stephen's own son Nicolas - currently racing in the pro peloton but not at this year's Paris-Nice - has a personal best of 20:20 for the same climb. 
Roche Snr would never win the race again after that 1981 victory, but it was the start of a truly brilliant decade for him and Irish cycling. An era for the sport that is unlikely to ever be repeated in this country.
"Paris-Nice is a brilliant race, it's the first proper race of the season," reflects Roche.
"It's one that people can relate to. You have the Tour Down Under and the races in the Middle East but Paris-Nice is really the kick-start for the European racing season.
Guys racing the Tour, the Giro or Vuelta or the Classics or the World Champs, you will see them at Paris Nice. You don't see them come and go like you do with other races."