Sam Bennett is hoping to start his 2021 season at the UAE Tour at the end of February.
Last season was disrupted owing to the spread of Covid-19, with the 15 UCI World Tour events cancelled, and the Tour de France moved from its traditional late June start back to late August.
It didn't impact the Tipperary rider as he became the first Irish rider in over 30 years to win the green jersey in the sport's biggest event.
This year has seen a certain amount of disruption already as the Vuelta San Juan (Argentina) and the two Australian events - the Tour Down Under and the Great Ocean Race - have already been cancelled.
They were races that Bennett has competed in over the last couple of seasons, but he says the race in the Emirates will be a good place to start.
"They're cancelled this year so I now I go to UAE," he says as he launches the NOW TV dublinbikes.
"That's my first race back and it's a high standard there.
"First race back, it's the one you really want to go and test your form and you really want to win there to get your season off on a good note.
"Then you've Paris-Nice (7-14 March) and Milan-San Remo (20 March), so it's a really important period of the season.
"It's the first block. You'll have some downtime after Gent-Wevelgem (28 March) and then you start building towards the Tour de France.
"Then you're trying to hold on for the rest of the season because by that time you're very tired."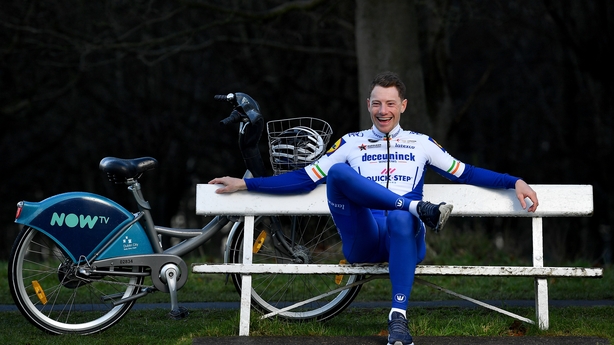 Cycling of course isn't the only sport in Europe that has seen disruption this year related to the spread of the virus.
There have been games postponed in the Premier League, the final rounds of the pool stages of rugby's Champions Cup were abandoned, while the start of the GAA season might have to be moved owing to high numbers case numbers in Ireland.
Bennett is currently at a training camp with his team, Deceuninck-Quick-Step, in Altea in the south of Spain. Originally, it was to be the first of two camps organised by the team ahead of the start of the new season.
But the uncertainty around the spread of the virus means that the team decided to extend the first camp and cancel the latter one, rather than sending the riders home and risking any bad news.
The team has a hotel completely booked out to themselves and the cyclists are tested regularly - "every three or four days" according to Bennett. It means that they can continue to work away in their own bubble.
---
Tour de Force - How Sam Bennett became a green machine
---
Despite the fact that events have already fallen by the wayside, the 30 year-old says the team has to plough on with preparations.
"It's a tricky one," he admits.
"We're trying to plan as if the season is going ahead. You have to have the dates and the races to know when to peak and to build up correctly. The hardest thing last season was that I was training, and I hadn't a clue happening what was happening for the next couple of months.
"I'm just hoping that everything is on point and that the races are happening when they're supposed because when you have a date I've found that you are more hungry.
"You're looking for those dates to try to get those results. I love just riding my bike, but at the end of the day I'm riding my bike to try and compete.
"It made it difficult because we finished last season so late. There wasn't much time to reset and get recovery.
"And mainly mentally, just to get the head right. I started racing last January and didn't finish until November. It was one of the longest seasons I've ever done.
"Preparations are going really well and my form is fantastic. It's going in the right direction.
"Of course Public health is the #1 priority, but I do hope the races go ahead because if I'm after doing all this work and they don't go ahead I'll crack!"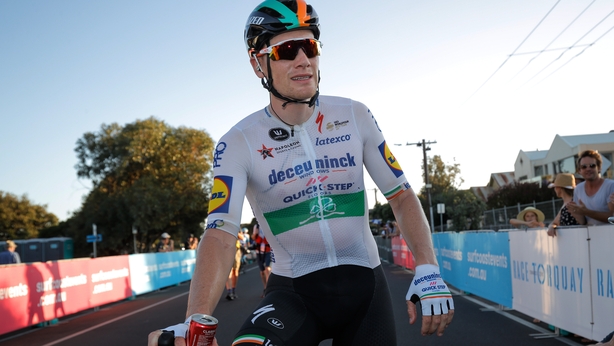 With a little over four weeks to go until the first race of the campaign, Bennett is still in pre-season mode.
He has one unusual confession to make in what he does different to other riders when he reveals that he doesn't eat vegetables - "I'm a fussy eater!" - but he makes up for it with plenty of smoothies.
He's attempting to get physically stronger, but he also explains how he has to trick his body into giving him bursts of power when he needs them.
"Last week I did 32 hours on the bike and only about an hour in the gym," he points out.
"It's mainly hours building up the foundation, getting a big base... long hours, getting the strength work in, getting the weight down.
"In another two weeks I'll start putting explosive work on top, sprints, V02 max work.
"With regards to diet, I don't eat vegetables at all. I talk quite a bit with nutritionist but it's more about manipulating your body with what you eat and when.
"Teaching it how to burn fats but then teaching it how to use glycogen stores. Sometimes I do pre-breakfast training rides. It's low intensity, you have no reserves and your body is just trying to use the fat.
"On the other side I have to teach the body how to look for a quick source of energy. So before an effort I'll be trying to take a bite of something more sugary so my body realises that it has to stop using the fat as it can't get energy from that quick enough.
"I need to use the sugar that's just in the body to get the energy for the explosive work.
"It's about what you eat and when. If I could eat veggies it would be fantastic because I'd be able to get a lot of fibre in to make myself feel full.
"I feel a bit more hungry than I should, at times. There's a lot of work that goes into it but at the minute it's working ok."
Sam Bennett is hoping that his exploits at the Tour de France will inspire the next generation of Irish cyclists, and has called for a velodrome to be built in Ireland #rtesport @GameOn2fm pic.twitter.com/pajXpFIlU8

— RTÉ Sport (@RTEsport) September 22, 2020
Last season was different for the Carrick-on-Suir man as his profile received a massive boost from all the success he had on the saddle.
He confesses to it bringing extra pressure, as he became aware of all followers he was gaining at home in Ireland.
But he also says it was a new challenge which he enjoyed.
"I saw all the posts and videos online," he says.
"It was something new to me in that I'd not had that much of a following from the general public before last year's Tour de France.
"Then it really took off and that pressure of expectation really got to me.
"But having that support and seeing everybody celebrating with me was fantastic and quite enjoyable."