The dust may be only settling on Sam Bennett's exploits in France, but the ambitious cyclist will already be looking to push on to even greater heights. 
The Carrick-on-Suir man will rightfully bask in the glory of emulating Seán Kelly, who won the Tour de France points classifications on four occasions in a decorated career, and joins Shay Elliott as the only Irish cyclists who have won stages at the three grand tours. 
And he did so in the ultimate style, as it was just the sixth time the green jersey was won on the Champs-Elysées. 
What else will the sprint sensation now have in his sights? 
One ambition could be the Road World Championships, an event won by Stephen Roche in 1987 and one in which Kelly finished in the top five on three occasions without ever winning. 
The man-of-the-moment won't be competing in Imola this week for the 2020 edition - Nicolas Roche and Dan Martin will be joined by Ryan Mullen and Ben Healy in Cycling Ireland's squad of four – but next year could see Bennett make a bold bid for the rainbow jersey. 
The reigning champion is Denmark's Mads Pedersen, whom Bennett edged out in the sprint finish on Sunday, while his closest rival for the green jersey, Peter Sagan, is a three-time winner of the competition. 
Martin O'Loughlin, one of Bennett's first coaches at the Carrick Wheelers cycling club and a long-time mentor, can see him making a real impression in 2021.
"There's every possibility he could be world champion next year," he told RTÉ Sport. "It's in Flanders with some cobbled climbs.
"Sam has tremendous power over one and two minutes, and it's a different ball game when you have climbs over half an hour long like in the Tour." 
O'Loughlin was in the Bennett household for yesterday's finale, dissecting the race in real time with Sam's father Michael and his own son, Micheál, himself a talented cyclist.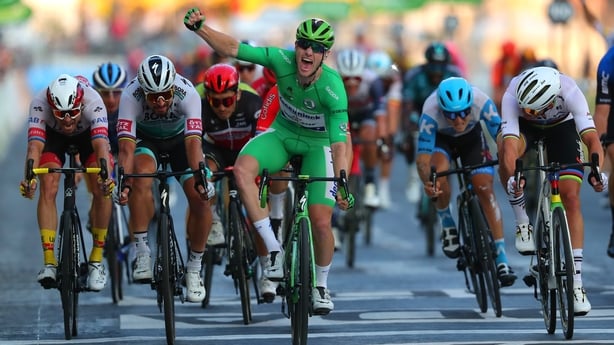 He received a flurry of anxious texts when the Irish hopeful retreated into the bunch on occasions on the final stage, but O'Loughlin was never unduly concerned.
"He was out in the wind quite a lot and was just protecting his legs." 
Bennett made light work of the slightly uphill drag and potentially treacherous cobblestones, clocking in at 61km/h on his way to victory.
While the legs scream, the mind must remain clear for focus.
"If you look at the sprint, they were kind of racing in three different lines. Those were the three smooth lines. You wanted to avoid going up the middle. It's quite bumpy and Sam hit a horrible bump five metres from the end, but it didn't matter at that stage."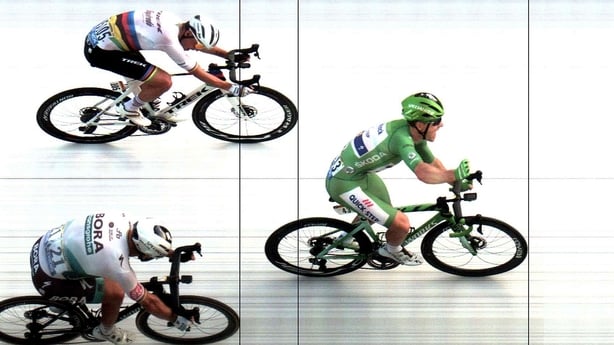 The surface also played into the Irishman's hands somewhat with Caleb Ewan, the Australian who pipped Bennett twice in earlier stages and recognised as one of the leading sprinters in the sport, lurking with intent. 
"Ewan's greatest strength is that he is a small rider. He almost gets his nose down on the front wheel and aerodynamically, he's wonderful, but he has to get the smoothest line. 
"He doesn't then however have the same traction going into the back wheel. 
"A bigger cyclist like Sam must work harder just to stay level with him, but he was well able to handle that. 
O'Loughlin was in contact with Bennett on an almost daily basis, swapping jokes and discussing fundraisers as much as talking shop. Previously, Bennett has shut himself off from the world, but the realities of Covid restrictions also played its part. 
"The cyclists were confined to their rooms a lot more, hardly any socialising with team-mates. Even after he won in Paris, there was just a few drinks on the team bus and that was it. Teams took it really seriously." 
Watching on from afar, O'Loughlin's only concern were the time limits, with Quick-Step keen for their man to keep enough in reserve for when it was required, meaning he finished more than five and a half hours down on winner Tadej Pogacar.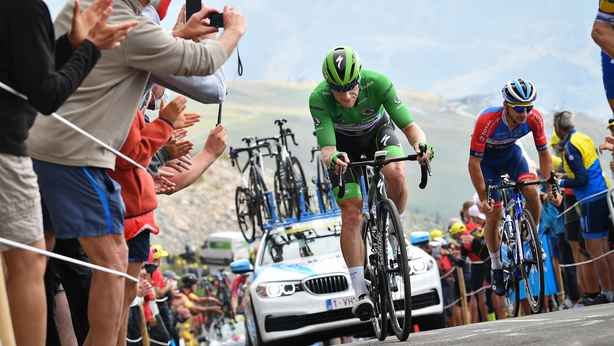 "I was a little concerned on Friday, the 166km stage to Champagnole, when I saw he was 35 minutes down, even with the time limit 45 minutes, but he actually made up time (Bennett rolled in with the final group 31 minutes and 32 seconds adrift). 
"He could have come in a lot closer if he wanted to, but he was being told on the climbs how much time he had and he was sitting up, taking extra minutes on purpose just for recovery the following day. He wasn't taking chances, but you could see there were a couple of days when he was around five minutes from the time limit." 
The Champs-Elysées is worth two stages
O'Loughlin, a national junior coach with Cycling Ireland, and also head of special needs education at Presentation Secondary School in Clonmel, is naturally disappointed that Bennett is unlikely to take part in the Irish National Championships in Limerick next month, but remains on a high from his former charge's exploits in just his third Tour.
He boldly predicted before the race began that Bennett would win green, take three stages and have too much for Peter Sagan in a sprint finish and was very nearly proven fully correct - the Carrick-on-Suir man won two stages, but was squeezed out twice by Ewan while also finishing fourth and third in the opening week. 
"The Champs-Elysées is worth two stages," said O'Loughlin. "You ask anyone would they rather win two 'normal' stages or the Champs-Elysées, I know which option they would take.
"It's the one to win."