Sean Kelly says it's "great for cycling in Ireland" to see Sam Bennett claim the green jersey at the conclusion of this year's Tour de France.
Bennett couldn't have asked for a better finish to his race as he won the final stage yesterday, coming home first at the Champs-Élysées in Paris.
It was a second stage victory for the Tipperary man in this year's event, and a first green jersey for an Irish rider since Kelly himself claimed it back in 1989.
Speaking on RTÉ Radio 1's Morning Ireland, Kelly said: "It's unbelievable - just so great for cycling in Ireland.
"Sam, he has a huge amount of followers. And everybody in cycling, and outside of cycling, they've all got behind him. We've seen that on social media.
"It's amazing to see that he's won the green jersey, he's won two stages, and I'm just so happy for him because I had quite a lot of contact with him when he was in the An Post/Chain Reaction team.
"When you take somebody, and you try to take them along for a number of years, and you see him succeeding when he goes into the top ranks... it's just been a great tour.
"I think it's going to be really important for Irish cycling because now, with the exposure we're getting at home, the younger generation, I think, will get more into cycling, and that's what we need.
"The grassroots, we need to get more and more involved in the racing end. We've been lacking that, because of other other sports. Cycling Ireland will have to take advantage of this, and promote cycling a bit more.
"We will see the fruit of this, with more riders maybe in five or six years, because of the achievements of Sam Bennett in this Tour de France."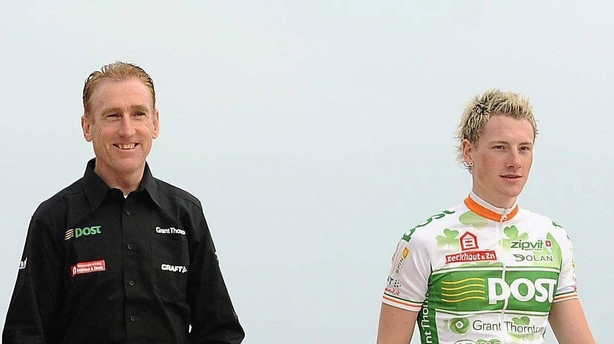 It's an incredible achievement for the town of Carrick-on-Suir, with a population of under 6,000 at the last census, to produce two green jersey winners some 31 years apart.
Kelly would consider himself a Waterford man, while yesterday's green jersey winner is from the Tipperary side of town.
Regardless of where one's county loyalties might lie, it was clear from an early age that a talent like Bennett didn't come along too often, according to Kelly.
"Sam always had potential from the time he started racing with the club back in Carrick-on-Suir," he noted.
"In the juniors, he was winning races every Sunday. He could just ride away from everybody else when he wanted to.
"Then he went into the under-23 ranks and had some injury problems. He had an accident, and then he had a knee problem for quite a while.
"So that upset his progress, and it took him a number of years to get over that. In the last few years he's got injury free and he's showed that he's got the talent.
"This year, in the Tour de France, we could see that there was a point where (seven-time green jersey winner Peter) Sagan was putting him under difficulty, but he really dug deep, never lost the morale, and the team rallied around him.
"To be able to do this everyday in the Tour and to win on the Champs-Élysées at the end of it all - he will come out much better mentally, and physically stronger."
Kelly said that while Bennett would have been delighted with his performance overall, the way he claimed the final stage would have been particularly satisfying.
"We always talk about the Champs-Élysées being the world championships for sprinters," he continued.
"But to win in with the green jersey on your shoulders, that's a bigger bonus again.
"I think in the last stage, we were expecting Bennett to be good on the Champs-Élysées, but the way he went out and won it with is team there, getting into the positions, and the margin he won by in the end - it's just amazing.
"It's something that he will remember for the rest of his life."