Sam Bennett admits his body is "pretty tired" as he prepares for the final stages of the Tour de France, revealing this year's edition has been among the most gruelling in which he has competed.
Bennett retained his green sprinter's jersey yesterday and picked up seven valuable points to move two further clear of nearest rival Peter Sagan. 
He holds a 45-point advantage over the Slovakian. 
Speaking on Today with Claire Byrne on RTÉ Radio 1 on a rest day on the tour, the Waterford man said he is now trying to put focus on the mental battle that is upcoming. 
"I'm not going to lie, I'm pretty tired. I'm only human. It has been one of the harder grand tours I've ever done. Speaking in the bunch, it has been one of the hardest anyone has done. It has been 'go' since Nice. 
"Normally we might get some days where the pace might be a little bit lower, it has been incredibly hard racing. I think everyone is in the same position. 
"But you know you get into a rhythm and the body just keeps going. At some stage, the head will give up 100 times before the body does. So it is just about keeping going. It's hard but you just have to keep going. It is just a mental game at this stage.
"I'm just trying to take it one day at a time. My first target was today. Now I know I have some hard days, so I will just take it day by day. I know I have six stages left so I'm trying to break it down. 
"One of those days is a time-trial and the last is the Champs-Élysées, so it's a little bit of an easier stage at the beginning. So it's really only four stages. 
"I'm breaking it down as much as I can so I can approach it better. But I know the first two days back are going to be extremely hard. It is going to be about how long you can hurt for and keep going."
Sagan is a multiple winner of the classification, something Bennett is wary of, but holds a healthy advantage with six stages left. 
The 29-year-old has been in touch with Sean Kelly who has offer some words of wisdom, given his knowledge of trying to clinch the victory. 
"I'm in a very strong position. We have some very hard stages coming up. I still have to look at where the intermediate sprints are. 
"Some of the harder mountain top finishes, Peter won't be able to get there for the points, but neither will I. He has won it seven times so he knows how to win this jersey. He is a tough competitor. It is looking good but it is going to be a tough one in the last week. 
"[Sean] gave me some lovely video messages along the way, which was nice to see along the way. He is a hard man to follow. 
It took so many years to get there and it felt like something that would never happen. Moving abroad was over 10 years ago
"He is someone who has been in this position, understands it and probably knows how to deal with it a lot better than I do. He is a nice guy to be in touch with."
Bennett has become only the sixth Irishman to win a stage of the Tour de France last Tuesday. 
It brought emotional scenes as he fulfilled a lifelong goal. 
"It was a big moment in my career. It took so many years to get there and it felt like something that would never happen. Moving abroad was over 10 years ago. 
"Working for so many years, it didn't feel real. It hit me all at once and I couldn't keep myself together. It was a lovely moment and something I'll remember for the rest of my life I think.
"There has been fantastic support from back home. They've put up banners and everything. It is fantastic to get this much support.
"It is funny I never expected it, it also gave me a huge bit of expectation. I never knew it would add to the pressure. At the same time it is lovely to get it. I really appreciate it."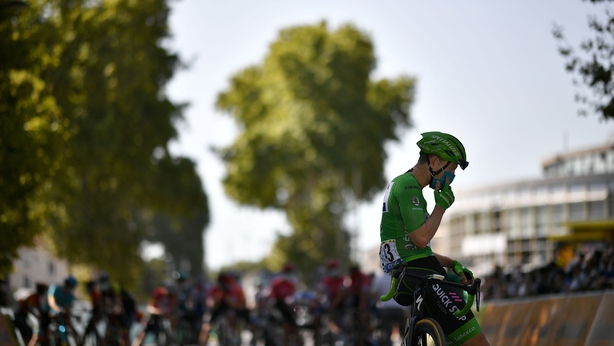 Bennett has described his Deceuninck - Quick-Step team as "absolutely amazing" in their support as he looks to stay at the head of the field in the secondary classification.
"It was one of my dream teams growing up when I was younger. I had their poster on my wall. The general public calls them 'The Wolfpack' because of the way they watch out for each other. I really feel that in this race. 
"The mountain stages yesterday, we have three really hard climbs, and the whole team stayed with me and paced me up each climb to make sure I made the time cut to stay in the race and save as much legs as possible. I can't thank them enough; I definitely wouldn't be the position without them."