Dan Martin is, by his own admission, a laid-back guy who tries not to waste energy stressing about things beyond his control.
But the Israel Start-Up Nation rider admits Saturday's opening stage of the Tour de France poses an immense mental and physical test which could be "incredibly treacherous".
The 156km sprint into Nice is a technical challenge with lots of downhills. The forecast rain will heighten the perils even more, especially considering this will be the first drop of precipitation the roads will have tasted in a few weeks. Basically, it's going to be slippy.
This is Martin's eighth Tour so he knows what to expect and that relaxes him, albeit he comes into this one just a fortnight after fracturing his sacral bone [which is at the base of the spine] when competing in the Criterium du Dauphine.
"It's been far from ideal," he told RTÉ 2fm's Game On.
"I had quite a bit of pain the first week but fortunately I'm fit enough to be on the start line. I have a bit of niggling pain every now and again but I'm feeling strong and I can actually ride and put in decent power.
"Racing is not going got be a problem at all. The first week I might be a little bit rusty so that's kind of changed our aims in the race, but we're looking to be strong in the last ten days.
"If [the sacral bone] was displaced in any way it'd be unstable. There's still quite a bit of bone around the fracture holding it in place. Where the fracture is, it's exactly where your group muscles attach.
"Sitting down has been the most uncomfortable position to be in - even the sofa has been pretty uncomfortable - but on the bike saddle I barely feel anything fortunately.
"It's one of those strange injuries where I feel worse off the bike than on it."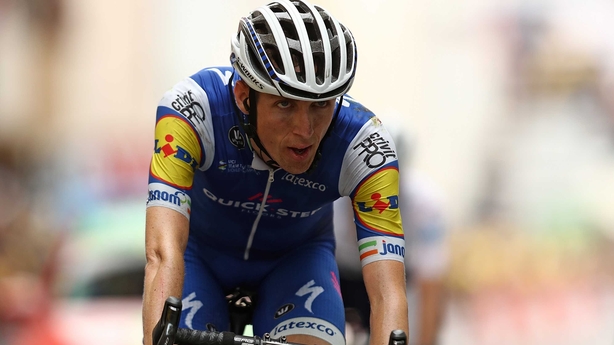 The Irishman is 34 now with plenty of big-race experience in the tank.
He's learned to identify his main priorities going into a huge event like the Tour de France,
"You do enter into the race a bit more relaxed because you know what's ahead of you," he added. "This is my eighth Tour de France now and I know I'm in control. I think the Tour de France is the only race of the year where every cyclist takes to the start just thinking about finishing. It's an epic achievement just to finish.
"I found that once I did my first Tour where I finished, it was then about getting results.
"That's where i am now. Obviously finishing would be lovely but it's about getting results out on the road now. Also embracing the experience. It;s the one race in the year hat we get a lot of media attention. That's important to our sponsors and to be able to communicate to the people at home as ell.
"Tomorrow is an interesting stage for myself because with my injury I'll take to the start line just wanting to get to the finish line, to stay safe and look at the stages ahead.
Two other Irishmen compete in the Tour this year: Martin's cousin Nicolas Roche [Team Sunweb] and Deceuninck-QuickStep's top sprinter Sam Bennett.
"We have a realistic chance of a yellow jersey on the finish line tomorrow," Martin said in reference to Bennett.
"Although Sam and Nicolas are on different teams, we're very close from our time racing on the national team.
"If I see Sam win tomorrow... I get goosebumps even now thinking about Sam in yellow. It'd be incredible for Irish cycling if he can do it."