In June 2016, Richael Timothy trooped off the Charlestown GAA pitch in Mayo along with her Roscommon football team-mates.
The Rossies were defeated in their Connacht intermediate play-off clash, but having represented her county since under-12 level, there was little to indicate the goalkeeper would never stand between the sticks again.
Exiting the championship was not the 21st birthday present she had hoped for, but as well as the disappointment of defeat, there was something else that had been troubling her.
The shot-stopper had felt particularly drained all week, but put this down in part to medication for epilepsy, but days later she would learn her situation was far more precarious than that, waking up one morning to discover the loss of power in her right side, essentially working off just 30% function.
An MRI indicated a swelling of the brain, but with her club St Croans involved in a county semi-final just a fortnight later, the focus was a short-term one; a week in hospital, then back to normality.
"I was so naïve. I thought once the swelling went down, I'd be able to use my right side fully. I had no idea."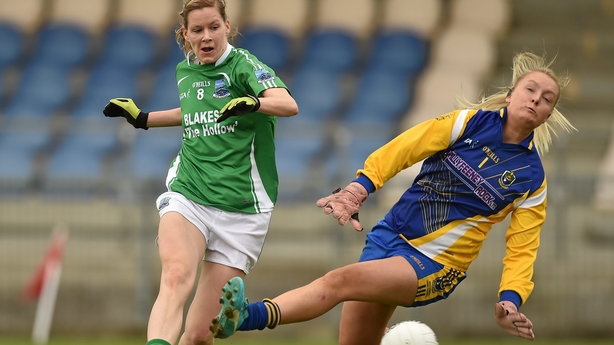 While the gravity of the situation soon became apparent, hope was carrying her through.
"When there is swelling in the brain, it kills the brain cells and they don't regenerate themselves. The part I used for my right side of my body was not working and no matter how much strength and conditioning you do, you won't get it back.
"The way the physios look at it is, instead of trying to get that back, they try to get your brain to go a different pathway; instead of a straight line for a signal from my brain, it might have to go around, which is why there can be a delayed reaction, something I experience now.
"For two years, I was thinking I'd get better. That kept me going."
In 2017 she remained in the football loop; remaining part of the squad, convincing herself it was just an unwanted period of time on the sidelines.
The biggest challenge came the following year. New management at both club and county meant she was now on the outside, with a new reality dawning.
"Suddenly I was cut off. Not intentionally, but they knew I wasn't able to play so I wasn't asked back.
"I went from going to all trainings and matches to nothing. All my friends were involved, so even meeting up was hard when they were working and training. That was the hardest part."
Interest levels dipped as a spectator, even when watching her brother Ross play for the Roscommon seniors. After successful stints with club, county and country - Timothy represented the Republic of Ireland at Under-15 and Under-17 level and went to Athlone IT on a soccer scholarship - field sports were no longer an option.
The solution had to be found in another activity and after getting in contact with Cycling Ireland through her GP, the world of para-cycling was put before her.
"Cycling has given me a new lease of life. Para-cycling has saved my life, it has given me to look forward to. I could be at home doing nothing.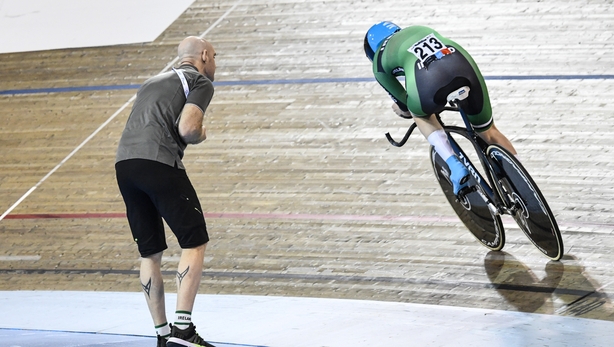 "It's crazy to think that in four years everything has changed so much."
It has still taken some adjustment for Timothy and her family.
"It can seem a little complicated looking in. Even my parents couldn't follow it initially, but the more they saw, the more the classifications made sense.
"I think some people, when they hear the word para, they aren't entirely sure what it means. It is any physical impairment, it could be visual, club foot, missing a limb, or cerebral palsy, or like me, neurological.
"I wouldn't be up against someone with just an upper limb impairment; I'm against people with a similar disability. The classifications are to try and make it as fair as possible."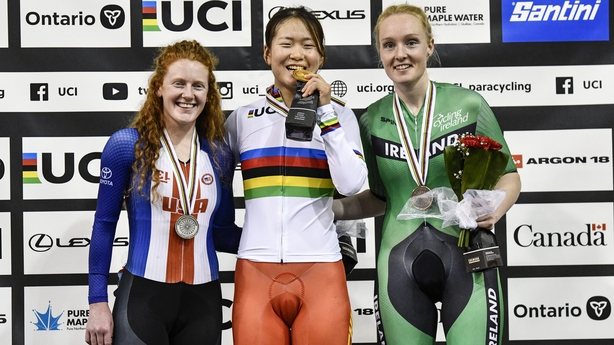 After some early struggles, Timothy demonstrated her ability with a bronze medal in the 10-kilometre scratch race at the Track World Championships earlier this year.
The Tokyo dream has been pushed out a year, but the silver lining is further time to develop ahead of competing on the road and track.
Prior to lockdown, Ireland had two female bikes set for the Games, but with only Timothy, and the tandem bike of Katie George Dunlevy and Eve McCrystal (below), currently competing for the spots, it highlights the need to grow the sport, particularly among female cyclists.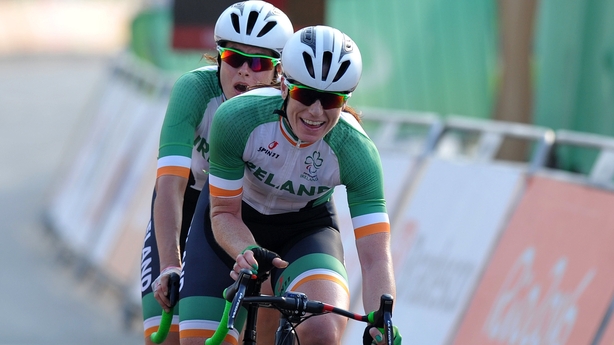 Timothy's concerns however are more immediate.
Like many Irish athletes, growing success comes at a financial cost.
Elite cycling is an expensive sport between hi-spec bikes – she has four, but doesn't own a track bike – accompanying equipment and foreign training camps. There is the hope that sponsorship could ease the burden, but that remains a work in progress.
She is combining her cycling with part-time work with Roscommon Sports Partnership working with kids in schools, which suits her current situation.
"With a brain injury, fatigue is a massive thing. It wouldn't be possible for me to work full-time", but plans to concentrate from early next year solely on her sporting endeavors.
When doctors told her that her footballing days were numbered, they asked what she would do to pass the time.
"Everything revolved around sport," she says, recalling those early conversations.
Now it is a simply a different sport and all focus is geared towards Tokyo 2021.
Cycling Ireland is seeking expressions of interest from people interested in joining the high performance paracycling programme. Click here for more information