Irish cyclist Sam Bennett has said he can see the "stress" on his comrades' faces as the sport is plunged into deep uncertainty amid the Covid-19 pandemic.
Last December, the 29-year-old Tipperary man completed a move to Deceuninck-QuickStep a month after cutting ties with Bora-Hansgrohe.
He's forged a reputation for himself as a sprinter of real pedigree, and is still fully focused on shining at the delayed Tour de France, where he's expected to make an impact.
While Bennett is sticking to his training routine as best he can given the current situation, he empathises with those cyclists facing a more uncertain future.
"I have a few friends that I train with regularly and they're nervous," he told RTÉ2fm's Game On.
"I can see the stress on their faces. A lot of the top guys... would have agreements say in May. The contract would be signed in August. There's a lot of guys who haven't had the opportunity to perform.
"The Classics didn't happen. There's a lot of pressure on those guys. For the teams, they're happy because they can get a rider for a cheaper rate, but for the riders it's not nice."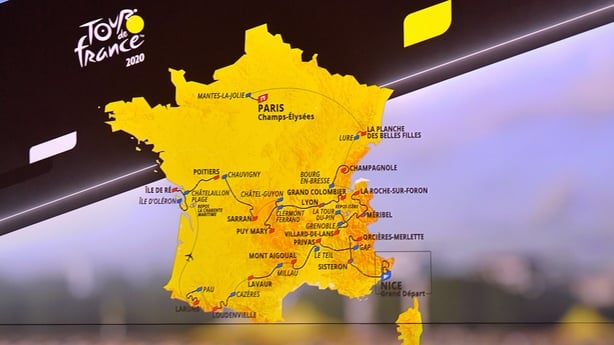 The Tour de France was due to begin in Nice on 27 June and conclude in Paris on 19 July, but the opening stage will now take place on 29 August with the finale on 20 September.
It's a major disruption to riders' training schedules Bennett is not looking for any excuses.
"I'm after learning a lot about myself the last few years," he added.
"I'm getting into top shape. I'm ready and I really want to go for it. I don't think I'll get another opportunity like this. It will be hard because the course this year has a lot more climbing in it.
"There might be only three or four chances whereas last year there was eight or ten sprints. So there are a lot less chances but I have to take it.
"I'm a guy that gets his confidence from his preparation. When I'm ready, the confidence is there. I've matured.
"Cycling is such a traditional sport, the calendar has always been the same the last few years. It would be really different to have the Tour de France at a different point of the season but I don't want another year to go by where I don't get another chance to ride in the Tour de France.
"If it comes this year at any time, it's welcome."