Shannon McCurley finished seventh in the Women's Elimination Race, while Mark Downey claimed ninth place in the Points Race at the European Championships.
The Irish woman was looking strong and comfortable in the race before a tip of wheels on the home straight cost her a higher placing. The race was won by Laura Kenny (GB), with Germany's Anna Knauer taking silver and Evgenia Augustinas from Russia winning bronze.
McCurley was moving easily in her bunch, before the bad timing with a tip of wheels with the 2017 Team Pursuit European Champion, Elisa Balsamo from Italy.
"I felt good, [my] legs felt good I felt comfortable there. I was hanging around the good girls all race up the front, and unfortunately hit the Italian's wheel coming into the finishing straight of the elimination lap and it cost me.
"The Elimination Race is very well suited to me, I love the argy bargy, I'm not afraid to take a gap. And I was confident, it just didn't go my way. My first one so what can I say, more to come."
Despite overcoming a series of serious injuries from a crash last year, determined McCurley has her sights firmly on the Tokyo Olympics.
"Ten months ago, I was knocked off by a motorbike while I was out training on the road. It was pretty brutal – I suffered with concussion really bad for about four months, so mentally it really messed me about.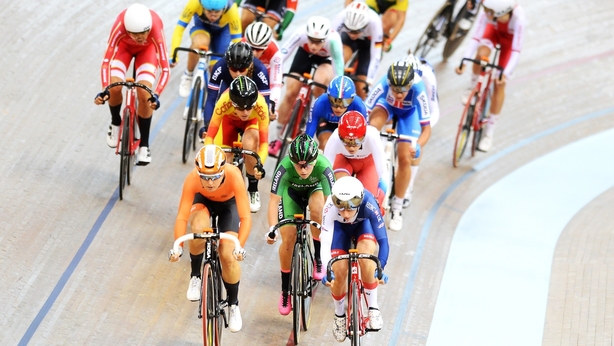 "I couldn't straighten my arm and I also fractured my left capula in my arm – so I was in a bad way. Training wise anyhow. Mentally I thought I was done. I didn't know what to do, but I just kept pushing away on the ergo at home.
Meanwhile Mark Downey has finished in ninth place in the Points Race at the European Championships in a fast race which was dominated by Poland's Wojciech Pszczolarski who lapped the field four times. Kenny Ketele (BEL) won silver and Stefan Matzner (AUT) won bronze.
Despite taking two laps and picking up several sprint points it was not to be for Downey, who has won medals in this event at Junior and U23 level – "It was a pretty weird race to be honest – it was not the usual race where it is pretty full all the time, it was stop starty a bit, like a kermesse."
Downey has been competing on the road in recent months, racing as a professional cyclist with Team Wiggins, so has not had much time on the track – "I wasn't sure what to expect coming into this – I spent just two days on the track since the Commonwealth Games so I was hoping to produce something out of the goods, but obviously I didn't pull it off.
"I have spent a lot of time on the road, and a lot of guys over the past few days coming off the road seemed to be really cleaning up – for me, not so much."