The World Anti-Doping Agency used as yet unpublished studies before advising the UCI to close the anti-doping investigation into Chris Froome, cycling's world governing body has said.
The UCI on Friday published a detailed statement to further explain Monday's announcement that four-time Tour de France winner Froome had been cleared of any anti-doping violation when a test undertaken at La Vuelta last September found excessive levels of the asthma drug Salbutamol.
In it, the UCI said it acted on the advice of WADA and without access to all of the same information.
"WADA's scientific department has access to information that UCI does not, including ongoing and unpublished studies on the excretion of Salbutamol (which is - as confirmed by WADA Scientific Director - subject to considerable variations)," the statement said.
"In those circumstances, the UCI had to trust WADA's assessment of whether or not Mr Froome's control amounted to an anti-doping rule violation as per the rules adopted by WADA.
"Pursuing the case when the world supervising authority in anti-doping - which is the entity enacting the rules and the tests - tells you that there is no case is simply not an option."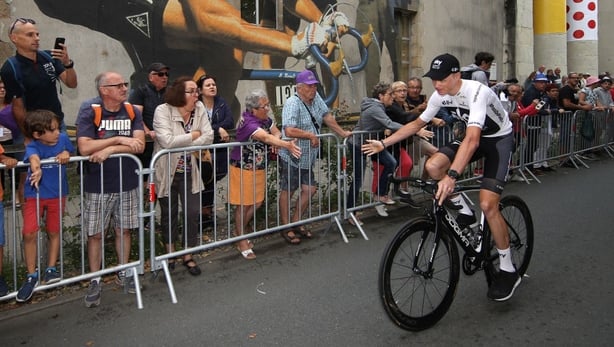 The UCI's statement also said that a request from Froome to carry out further tests on his samples - to determine whether they might have been affected by other medicines he was taking, or by his diet during La Vuelta - was rejected.
"The purpose of such testing would have been to attempt to determine whether the factors mentioned directly above had an impact on Mr Froome's excretion of Salbutamol," the statement said.
"The UCI believed that such impact was purely speculative and could not justify conducting additional tests on Mr Froome's samples."
The closure of Froome's case has not been enough to satisfy everyone, and on Thursday night he was booed and jeered by fans at the Tour's team presentation in La Roche-sur-Yon.
Seeking to quell the lingering distrust, Froome wrote a column in today's Le Monde newspaper outlining the basic details of his case and restating his innocence.
There have been several demands for the full details of the evidence used in making the decision to be published.
However, the UCI said publishing that evidence was not an option.
"In its capacity as a signatory of the WADA code, the UCI can only say that there are important reasons that WADA does not publish information on its analytical methods and decision limits, the most important being to avoid such information being abused by athletes who wish to illegitimately enhance their performance," the statement said.
The case involving Froome should have remained confidential unless there was a need to bring an anti-doping charge. However, details were leaked in December, setting up months of controversy for the sport with Froome exercising his right to continue racing - and winnin the Giro d'Italia - while others called for him to voluntarily step aside.
Things seemed to be reaching a head in the build-up to the Tour, with organiser ASO attempting to ban Froome from taking part prior to Monday's announcement.
Throughout, questions were asked as to why the process was taking so long, questions the UCI statement sought to answer.
The statement said that following an initial evidentiary phase, Froome requested further information from WADA in January which he was sent in early March. In late March, it is said Froome made a further request regarding WADA's Salbutamol regime, with a response forthcoming on May 15.
It was then on June 4 that Froome submitted his explanation for the test result, with WADA making its position known to the UCI on June 28 before the UCI announcement on July 2.
The UCI's statement said it was Froome's questioning of WADA's Salbutamol regime in March that was "eventually decisive" in the case.