The most powerful man in cycling has questioned how David Brailsford can remain on as head of Team Sky and insisted Chris Froome shouldn't be allowed to defend his Tour de France title.
International Cycling Union (UCI) President David Lappartient made his comments in a hard-hitting BBC interview after a British parliamentary committee issued a damning report into Team Sky.
Westminster's Digital, Culture, Media and Sport (DCMS) committee issued their findings earlier this week and were damning of the culture in Team Sky and former Tour winner Bradley Wiggins was also heavily criticised.
Four-time Tour winner Froome is currently locked in a legal and scientific wrangle with the governing body's independent anti-doping unit, the CADF, over an adverse finding for the asthma drug salbutamol at the Vuelta a Espana last September.
The 32-year-old Team Sky rider is currently competing at the Tirreno-Adriatico race in Italy and intends to ride May's Giro d'Italia and this summer's Tour de France.
"I hope as soon as possible and this is very important for our sport to have a decision - whether it's guilty or not guilty - but we need to have a decision as soon as possible for Chris Froome himself, for his team, for us, for cycling," Lappartient said.
"That was my proposition (to rest him). I asked Team Sky and him to consider maybe what is the best way - and I think even for them, for Chris Froome himself, for Team Sky and for cycling.
"I think if we have no decision before the Tour de France I will ask them to reconsider maybe their position and to consider my first proposition."
Lappartient wants world cycling body's independent integrity division to investigate Team Sky after they were accused of "crossing an ethical line" by the DCMS.
And he has questioned Brailsford's continuing role at the head of the team.
"He created this team, he brought this team at the highest level and everybody was happy to support this," said Lappartient.
"But it seems they have created these wrongdoings so I really think that the issue for him is to think about the future of his team - of all the employees, all the riders."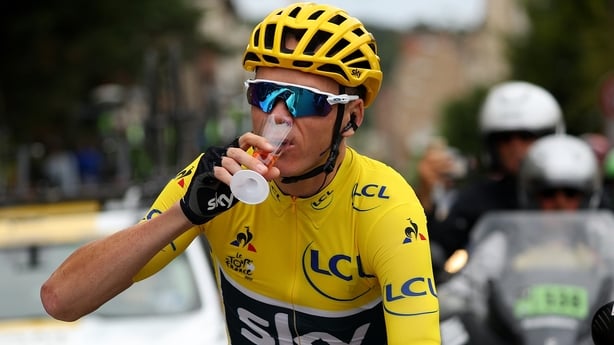 Describing the findings of the British MPs' report as "unacceptable", Lappartient told the BBC: "If you are using substances to increase your performances, I think this is exactly what is cheating.
"When you can see that substances were used not for health problems, or with tramadol with strong pain - but to increase your performances then, yes, that's something unacceptable for me and the philosophy we have.
"Even if it seems that there is no breach of the anti-doping rules, no violation of the anti-doping rules."
Lappartient said the DCMS committee's findings could affect "the global credibility of the sport", although Team Sky and Wiggins - the winner of the 2012 Tour de France and a five-time Olympic champion - have strongly denied the report's claims.