World cycling's governing body should launch its own investigation into Team Sky after a parliamentary report accused the British team of "crossing an ethical line", the International Cycling Union president David Lappartient has said.
The French head of the UCI was speaking two days after the Digital, Culture, Media and Sport committee claimed Team Sky and its former star rider Bradley Wiggins had used a banned drug not for medical purposes but to enhance performance.
Lappartient, who beat incumbent ex-British Cycling boss Brian Cookson in a landslide UCI election in September, said the governing body's independent anti-doping unit, the CADF, should follow up the committee's report to "to see if there is some violation of (the) anti-doping rules".
EXCLUSIVE: "I want to know what was in the jiffybag!"
UCI World cycling supremo David Lappartient tells me he wants the mystery of Team Sky's 2011 medical delivery to Wiggins resolved pic.twitter.com/DOaaa2WBpf

— Dan Roan (@danroan) March 7, 2018
Describing the findings of the British MPs' report as "unacceptable", Lappartient said they could "affect the global credibility of the sport".
Team Sky and Wiggins, the winner of the 2012 Tour de France and a five-time Olympic champion, have strongly denied the report's claims and have said any medication they have used has been for legitimate reasons and within UCI and World Anti-Doping Agency rules.
But Lappartient, citing the report, told the BBC: "If you are using substances to increase your performances, I think this is exactly what is cheating."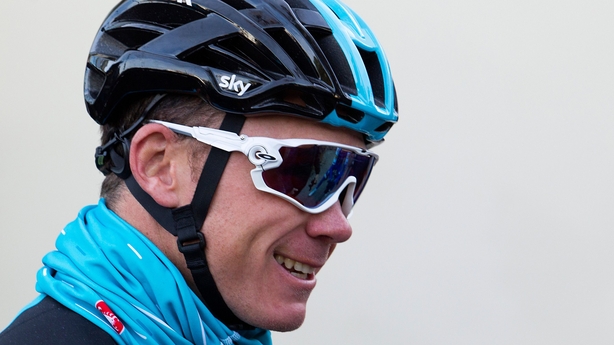 Of course, the report is not the only pressing Team Sky-related matter causing deep alarm at the UCI's Aigle headquarters, as the team's present leader Chris Froome, a four-time Tour champion, is also under a doping cloud.
He returned an adverse finding for the asthma drug salbutamol at the Vuelta a Espana and is currently locked in a legal and scientific wrangle with the CADF about how that happened.
Froome claims he did not take more than the permitted amount of his asthma inhaler but if he cannot explain why his urine sample that day contains twice the allowed concentration of the drug, an anti-doping charge will follow and he risks a ban and losing his Vuelta win.
His case, however, has already dragged on for nearly six months and there is no sign of resolution. In the meantime, the 32-year-old is free to compete, has been doing so and intends to ride May's Giro d'Italia and this summer's Tour de France.
Lappartient, however, said it would be "a disaster for the image of cycling" if Froome rode the sport's biggest race without his salbutamol case being cleared up.