Chris Froome admits his adverse test for asthma drug salbutamol is "damaging" but is hopeful he will be cleared of any wrongdoing.
The Team Sky rider has been asked to explain why a urine sample he gave during La Vuelta in September was found to contain twice the permitted concentration of the substance.
If Froome fails to provide a satisfactory answer, the UCI - the sport's governing body - could proceed with an anti-doping rule violation case which could strip him of his Vuelta victory and result in him missing a large chunk of next season.
Four-time Tour de France winner Froome told Sky Sports News HQ on Thursday morning: "This is damaging. It's come as a huge shock to me as well.
"At the same time I know within me that fundamentally I have followed the protocol, I have not overstepped any boundaries and I hope by the end of this process that will be clear to everyone and I'll be exonerated of any wrongdoing.
"I can't say what other people are going to think at the end of this. I can only obviously control my input to the situation.
"I hope with that information, we can get to the bottom of this and find out what the real cause of the problem is"
"As it stands, we're doing everything we can to give the relevant authorities all the information we've got from the Vuelta.
"You've got to remember that in a race like the Vuelta - especially when I'm in the leader's jersey - I'm being tested absolutely every single day of the race that I'm in the leader's jersey and I knew I was being tested.
"We also have a wealth of information from within the team of what I ate every single day, how many times I stopped to pee during the race every day.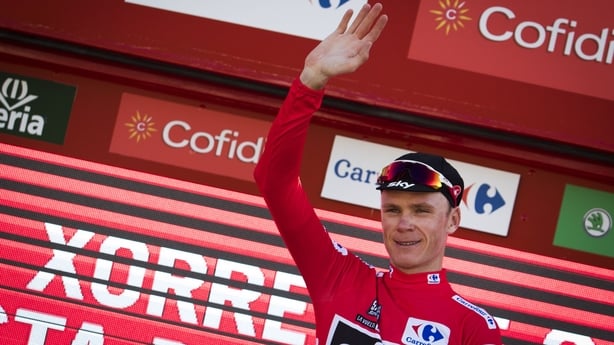 "The detail of information we've been able to provide the authorities is vast and I hope with that information, we can get to the bottom of this and find out what the real cause of the problem is."
Recorded on 7 September, the concentration of salbutamol in Froome's sample was 2,000 nanograms per millilitre (ng/ml), double the World Anti-Doping Agency's limit of 1,000 ng/ml.
It's sad seeing the misconceptions that are out there about athletes & salbutamol use. My hope is that this doesn't prevent asthmatic athletes from using their inhalers in emergency situations for fear of being judged. It is not something to be ashamed of @asthmauk #asthma

— Chris Froome (@chrisfroome) December 14, 2017
Team Sky said in a statement on Wednesday that Froome experienced "acute asthma symptoms" during the final week of the Vuelta and increased his dosage of salbutamol, within permissible limits, on doctor's advice.
When asked how the adverse finding could have come about, Froome added: "I think that's exactly the question we're facing now.
"I know the number of puffs of my inhaler that I use to treat my asthma. It's a very common inhaler - it's salbutamol - every asthmatic out there will know, this is a very common medication used to treat asthma.
"I've known exactly how many puffs I've taken at what times and there are records to show that.
"So we've been able to hand that over to the authorities and let's go from there.
"Coming into the last week of La Vuelta I began to feel a lot more symptomatic - my asthma was playing up a lot more and that's when the doctor advised me to increase the number of puffs - obviously staying well in the legal limit of the maximum allowed number of puffs you can take during the race.
"So we did increase it and that's why we're faced with this question of 'I did stay within the limits but obviously the test results show a different reading' so we're trying to evaluate what has happened."