Chris Froome says "nothing is impossible" after his historic Tour de France and La Vuelta double.
The 32-year-old Briton on Sunday completed victory in La Vuelta to become the third rider to win the Tours of France and Spain in the same year and the first since the Vuelta was moved to its current position in the calendar in 1995.
Froome has long eyed May's Giro d'Italia from afar, knowing the Tour is his priority and it will likely remain so in 2018 when he will seek a fifth yellow jersey.
His achievement in the last three months has led some to suggest he could target all three grand tours in the same year.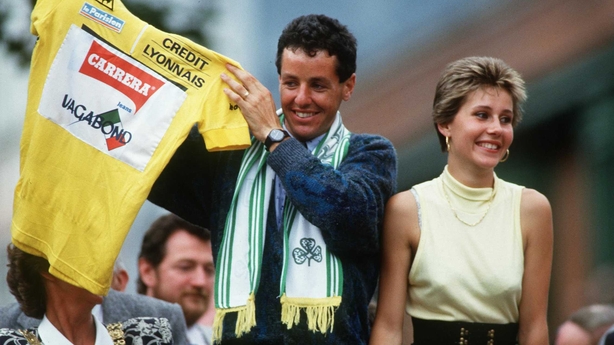 Irishman Stephen Roche (above), who in 1987 won the Giro, Tour and the Road World Championships title, reckons it would be "humanly impossible".
Asked if winning the Giro, Tour and Vuelta was a realistic aim, Froome told BBC Radio Four's Today programme: "I wouldn't say it's impossible, nothing's impossible, but certainly it would take some doing."
Froome has won four of the last five Tours and had finished runner-up in La Vuelta three times (2011, 2014 and 2016) before claiming the red jersey this year.
Belgium's Eddy Merckx won a record 11 grand tours in his storied career and was known as 'The Cannibal' due to his appetite for victory.
Asked if he could hope to target Merckx's achievement of 11 wins, Froome said: "A completely different era. Eddy Merckx's time of racing, he was able to win every single race on the calendar. The sport is transformed since his time."
"Nothing is impossible, but certainly it would take some doing."
One of the recent transformations has been the dominance of Team Sky.
Team Sky have won five of the last six editions of the Tour de France, with Sir Bradley Wiggins triumphant in 2012 before Froome's wins in 2013, 2015, 2016 and 2017.
Froome said: "We're not going to change what we're doing. It's obviously a winning formula. The team is super strong and we're extremely proud to have the backing of a sponsor like Sky, who are behind us all the way."
Team Sky principal Dave Brailsford has endured a difficult 12 months following the revelation by Russian hackers that Wiggins received permission to use a powerful corticosteroid before the 2011 and 2012 Tours and the 2013 Giro.
Wiggins and Brailsford insisted the use of triamcinolone was medically necessary.
A separate UK Anti-Doping investigation into a package delivered to Team Sky and Wiggins at the 2011 Criterium du Dauphine is ongoing. All parties deny wrongdoing.
Asked if his support of Brailsford was unequivocal, Froome said: "Certainly."
Roche has long been an admirer of Froome, who joined Frenchmen Jacques Anquetil (1963) and Bernard Hinault (1978) in doubling up in the same year in the Tour and Vuelta.
But the Irishman does not think any rider could win all three in the same 12 months because of the importance placed on the Tour.
Six men have claimed all three grand tour crowns during their careers - Anquetil, Alberto Contador, Felice Gimondi, Hinault, Eddy Merckx and Vincenzo Nibali - but nobody has managed to win them all in the same year.
Roche told BBC Five Live: "I think it's actually humanly impossible, especially in today's day and age because the Tour de France now is so important, the top guys all hit form for the Tour de France.
"To go out and win the Giro is very hard because of the (weather) conditions back in May, going to the Tour de France on the back of winning the Giro is always very complicated and I'm sure after winning a Giro and the Tour and going on to the Vuelta I think it's humanly impossible (to win all three)."