Nicolas Roche has believes that Team Sky are not heading to the Tour de France as the formidable unit of years past as the Irishman and his BMC Racing team leader Richie Porte plot the downfall of defending champion Chris Froome.
Both Porte and Roche are recent departures from the British squad, with Roche joining Porte at BMC in the winter to help the Australian in his bid to break Sky's stranglehold on the race.
Froome is looking to win his third straight Tour title and Sky their fifth in six editions, but his former team-mate and good friend Porte looks the man most likely to deny him given recent form.
In his pre-race press conference on Thursday, Porte said "Sky are probably not as strong as they have been," and Roche was quick to agree with a smile.
"I think so," he said. "We're not there!"
Porte was part of the Sky teams that helped Bradley Wiggins win the Tour in 2012, and Froome to win in 2013 and 2015 while Roche rode in support of Froome (pictured) in 2015, although the 32-year-old was left out of last year's team.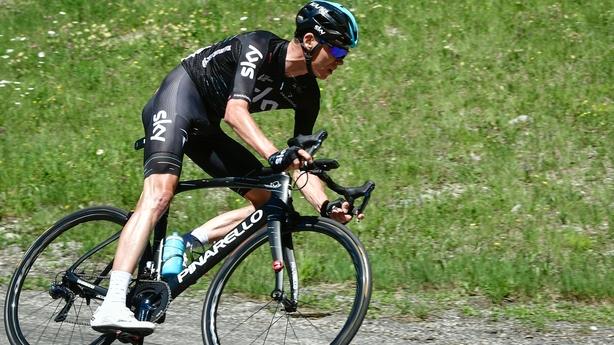 "More seriously, they have a very strong team but so do we," Roche added. "They're saying they have four or five riders in their squad who have finished in the top 10 of grand tours before, but so do we.
"I think this year we have as strong a team whereas in other years they were capable of crushing any other team."
Sky may have an outstanding record in the race since 2012 but Roche insists there is no magic formula to the way they prepare, and no reason they cannot be beaten.
"I think every team prepares for the Tour with great importance, according to their budget and capabilities, in the best way they can," he said. "Obviously Sky put everything into the Tour so they put in a lot more than some of the smaller teams.
"But most teams now have been inspired by the way Sky prepare for the Tour, and the differences from one team to another are smaller and smaller."
Most teams now have been inspired by the way Sky prepare for the Tour, and the differences from one team to another are smaller and smaller
Porte and Roche may have left Team Sky, but they remain good friends with Froome - part of the huge group of professional cyclists who live in and around Monaco and regularly train together.
"There are about 60 pro riders between the Cote d'Azur and Monaco and regardless of what jersey we have on we meet up on Monday mornings when we can and ride," Roche said.
"Imagine if you had to change friends every time you changed teams. You would have no one left by the time you ended your career. That's the beauty of this sport."
This summer marks 30 years since Nicolas' father Stephen won the Tour as part of a remarkable triple alongside the Giro d'Italia and the World Road Race Championships.
Now his son is hoping he can join him for a celebration in Paris as part of a Tour-winning team himself.
"My role is pretty clear and I'm not going to do anything crazy because my dad won the Tour 30 years ago," he said. "If anything I'll have a glass of champagne with him in Paris. I certainly hope so."