The start of the 100th edition of the Giro d'Italia on Friday has been overshadowed by another drugs scandal in cycling.
Italian riders Nicola Ruffoni and Stefano Pirazzi have been suspended on the eve of the centenary Giro after returning positive out-of-competition doping tests.
The 30-year-old Pirazzi, who topped the Giro mountain classification in 2013, and 26-year-old Ruffoni have the right to request analysis of their B samples.
The BardianiCSF team will also be suspended for a period of between 15 and 45 days in line with the UCI's anti-doping rules.
Bardiani said in a statement that it "intends to proceed with the immediate suspension of the riders from the squad present in the Giro d'Italia" and from all cycling activities.
The team added that the riders will be immediately dismissed if the positive results are confirmed.
"We retain the possibility of further action to protect our image and that of our sponsors," added Bardiani
The Bardiani CSF riders can request analysis of their B samples but have been provisionally suspended by the Union Cycliste Internationale (UCI).
"The UCI announces that it has notified Italian riders Nicola Ruffoni and Stefano Pirazzi of an Adverse Analytical Finding (AAF) of GH-Releasing Peptides (GHRPs) in samples collected in the scope of out-of-competition controls on April 25 and 26, 2017 respectively," read a UCI statement.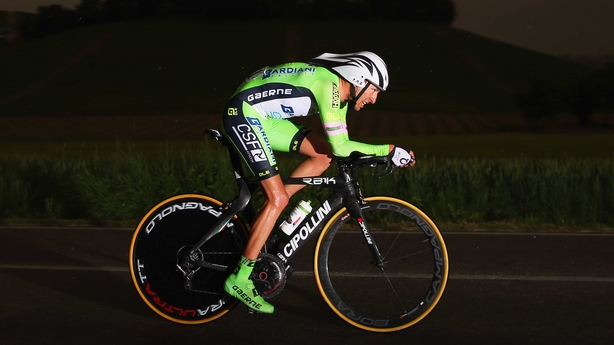 "In accordance with UCI Anti-Doping Rules, the riders have been provisionally suspended until the adjudication of the respective affair.
"The UCI will refer the matter to the Disciplinary Commission which will render a decision against the team in due course."
Giro bosses confirmed they would honour the suspensions in a short statement.
"The management of Giro d'Italia, following the suspension of the two runners Nicola Ruffoni and Stefano Pirazzi Bardiani of CSF by the UCI, firmly reconfirms its support to the CADF (Cycling Anti-Doping Foundation) UCI in the fight against doping in all its forms and methods," read the statement.
"Even if the counter-analysis should give a positive result, the same direction and RCS Sport reserve to protect in the appropriate for the image and good name of the Giro d'Italia."