Mark Downey will head Ireland's challenge for medals at the Track Cycling World Championship in Hong Kong this week, but in many ways it's a minor miracle the 20-year-old from County Down is in contention at all.
Downey grew up in Dromore, far from the nearest indoor velodrome.
He had the local outdoor track in Orangefields to practice on, but he had to travel to England as a teenager to get his first look at a proper velodrome because there was none on the island of Ireland at the time.
And there's still none, leaving Downey and the likes of Felix English, who he will compete alongside in the doubles Madison race this week, at a distinct disadvantage.
Now he is based on the continent, either in sunny Majorca at Team Ireland's training base or in the south east of France with his team CC Etupes so he has the benefit of good weather and the right facilities.
"I'd love for there to be a velodrome in Dublin, but that would mean having to ride out in the Wicklow Mountains when it's freezing in the winter and that would be a bit of a come down!" he jokes, though he knows this is a serious matter for Irish sport.
"It's not a matter of wanting one, it's a matter of needing one. Orangefields is a great place, but it's no good when the rain is coming sideways at the window - that puts Irish cyclists at a disadvantage.
"For every one cyclist we get through, we might lose three or four because of the lack of facilities."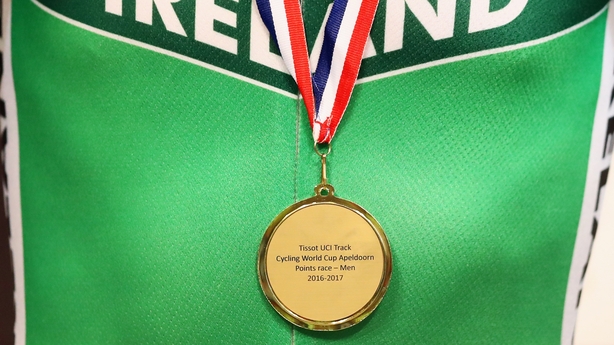 On the recent world cup circuit Downey won gold in the individual points race, a 40k blast around the 250m track with points for sprints every ten laps, and with English in the Madison, a non-stop 50k pairs race which sees cyclists catapult their team mates forward to gain momentum.
The Madison will be added to the list of events at the 2020 Tokyo Olympic Games and both Downey and English very much have that in mind.
First they are out in the wold championships, which start in Hong Kong on Wednesday and run until Sunday.
Downey was a prodigious talent and given his family background he was always likely to end up on a bike. He was on a tandem as soon as he could turn the pedals, with his father Seamus, who rode in the 1984 Los Angles Olympics, at the front.
His big brother, he is one of a family of five, Sean is a former professional and his mother Margaret has always been on hand to help in any way - even waxing her son's legs.
Shaving and waxing legs is a ritual for every serious cyclist, though Downey sticks to the blade following one never-to-be-forgotten experience with hot wax.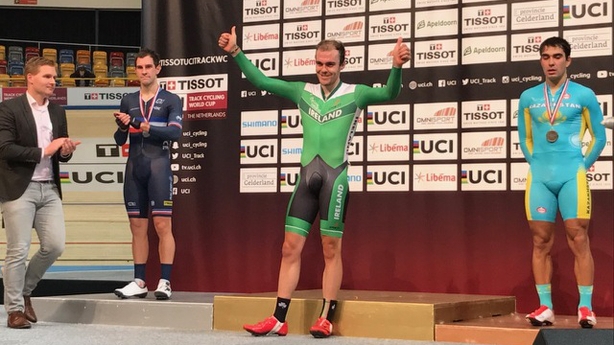 "Once!" he cries at the memory. "That was definitely a once-in-a-lifetime thing. I was about 17-years-old and my mother was training to be a beautician at the time. She needed a guinea pig to practice waxing legs so I say 'aye' - sure how hard could it be?
"I walked in to the room with a couple of magazines thinking I'd be reading away while she was doing it. The magazine wasn't long hitting the floor! Never again…"
Given his talent and the lack of local facilities, he may have been better off opting to join Team GB's unstoppable cycling machine, though it's a thought he said never crossed his mind and an option he would never take as a proud Irishman.
"That never crossed my mind," he said. "I'm Irish to the core - there might have been an opportunity to go, but I came though the Irish system so I wasn't just about to go and leave. That's not a thought I ever had."
He'll be wearing green again this week, aiming to become the first Irish gold medal winner at a UCI Track Cycling World Championships since Martyn Irvine in 2013.