Team Sky insist their "robust procedures" were adhered to after a former rider claimed they covered up his admission of breaking cycling's rules on injections.
Josh Edmondson, who joined Sky in 2013, has told the BBC he confessed to the team's senior management - in the wake of a team-mate reporting him - that he had been injecting himself with vitamins several times a week for a month during a difficult 2014.
This contravenes the International Cycling Union's (UCI) "no needles" policy as injections are only permitted if there is clear medical need, there is no alternative, they are administered by a medical professional, the UCI is informed and records are kept.
Edmondson, a 24-year-old Yorkshireman who left the team in 2014, has said none of that applies in his case but that his team did not report him to the authorities.
In a statement, Team Sky said there was no cover-up and that concerns about the rider's health impacted their decision to stay quiet, while former team medic Dr Steve Peters told the BBC that Edmondson claimed he had not gone through with using the needles.
Team Sky said in their statement: "The senior management team were made aware of this immediately and an investigation was initiated. At the conclusion of this we were satisfied that, while there had been a breach of the team's own policies, there was no evidence of any anti-doping violation having taken place.
"After interviews with the rider, Dr Steve Peters, Team Sky's Clinical Director, expressed immediate and serious concern regarding Josh's wellbeing and judged that he should be offered professional support. Josh met with Dr Peters so that this support could be provided.
"Given our belief that there was no evidence of an anti-doping rule violation having taken place, the decision not to escalate or make public the incident was taken with the team's duty of athlete care in mind."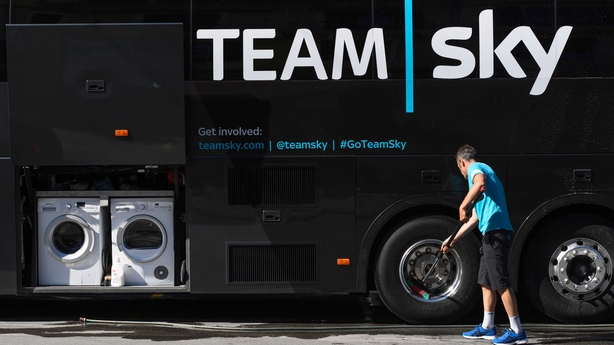 The statement added that Edmondson had been offered support by Peters and Team Sky's medics beyond the end of his contract and signed off with: "We are satisfied that this incident was handled correctly and we believe that it stands as an example of the robust procedures Team Sky has in place for any concerns to be raised, investigated and properly dealt with."
Speaking to the BBC, Peters said Edmondson had told him he did not use the needles and as such there was no reporting of it - with Edmondson saying the opposite.
"He had not done any injection, he said he did not know how to use it. All he said was: 'I did not know what to do so I left it'," Peters said.
The doctor added that he feared Edmondson could have been "pushed over the edge" with concerns for his mental health.
In his interview with the BBC, Edmondson explained he was struggling and "under pressure" during the 2014 season and was aware his contract was coming up for renewal.
He decided to drive to Italy from his base in Nice to buy a cocktail of legal substances - L-carnitine, folic acid, B vitamins and other supplements - and syringes to administer them.
When asked by the BBC if he was tempted to take doping products, Edmondson admitted he did consider it but "this was my way of closing the gap a little without doping".
He said: "It's not the same - if you were doping, you are getting massive gains. This is just freshening what you do naturally."
Edmondson's secret, however, was revealed when a teammate, understood to be American rider Ian Boswell, found out and told Team Sky's management.
He was then told by Peters that he had been found out and they had photographic evidence of the substances and intravenous equipment.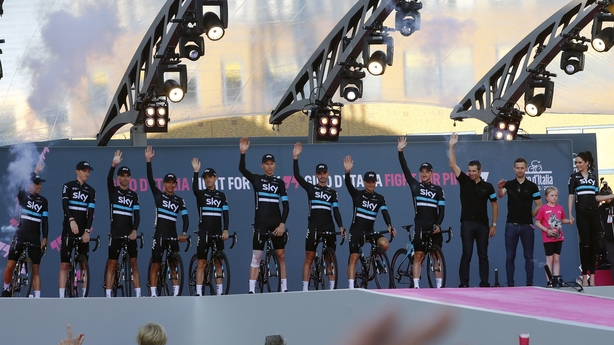 Peters - a leading psychiatrist who has also worked with Britain's Olympic cycling team, England's football and rugby union team, Liverpool Football Club and snooker star Ronnie O'Sullivan - told the BBC he and the team's senior management questioned Edmondson who "fell apart at the seams quite dramatically".
Peters said Edmondson claimed he had not actually used the syringes and his primary concern then became the rider's mental well-being.
Peters said: "I was now in a position where I can say the welfare of the athlete was number one.
"Obviously, I'm working with the team and anti-doping is a secondary issue but a really important one, and we have to address it, so Josh explained that he had never used needles before."
Peters said the team then tested the vials, only one of which was open, and found they were all vitamins.
He added that he had his doubts about Edmondson's denial of actually injecting himself but took the view that he was not "culpable" because he was ill and could not "give informed consent" to his actions.
As a result, Peters said he kept close watch of Edmondson's behaviour until the end of his contract.
Team Sky have told the BBC they took legal advice at the time of the incident and were told that while Edmondson had breached team rules by possessing syringes they did not need to inform the UCI or UK Anti-Doping.
"I'd definitely have told them if I thought this young man was trying to cheat, but I don't think he was doing that"
But asked whether Team Sky should have handled the case differently, Peters said: "We could have reported it. We could have made a different decision.
"We'll never know in hindsight. I suppose if I'm looking at safety issues I did think there was a really big risk this lad would be pushed over the edge. I stand by my decision.
"I think I'd definitely have told them if I thought this young man was trying to cheat, but I don't think he was doing that.
"There are shades of grey. Let's be honest, none of us were comfortable but we had a lot of discussion around this and one thing we could say was he violated our rules."
Edmondson, however, disputes a key part of Peters' account. He told the BBC he did confess to using the syringes, which would be a clear breach of UCI rules.
The governing body's "no needles" policy was introduced in May 2011 after pressure from some teams for the sport to take a more aggressive stance against doping, and then further tightened in 2013.
Edmondson told the BBC he did inform Team Sky that he had self-injected and claimed they decided to cover it up.
"They'd have had to say publicly a kid was injecting. Injecting anything's bad. It's not like they were banned substances but injecting is against the rules - to self-administer anything, I believe," he said.
Peters strongly denied this and said: "It's not a cover-up."