Nairo Quintana has tailored his training to counter one of Chris Froome's main strengths as he plots a path to victory in the Tour de France.
Quintana finished second to Froome in the 2013 and 2015 Tours, and is regarded as the man most likely to deny the Team Sky man a third title this summer.
The 26-year-old Colombian is hoping a difficult third week of the Tour plays to his strengths, but to arrive in Paris in yellow he must find a way to control Froome's explosive attacking style in the mountains.
"I have trained to be able to respond to those strong attacks we see from Chris Froome," Quintana said through a translator.
"When he starts it is really difficult to stop him, like we saw in La-Pierre-St-Martin last year (where Froome took more than a minute out of the Movistar rider on his way to the stage win).
"I couldn't follow him and I hope this year I will be able to be with him all the time."
If Froome has shown a weakness in his two Tour victories, it has been in the third week when, already in yellow, he has allowed rivals to take time out of him - most notably last year when Quintana almost snatched glory on the final stage to Alpe d'Huez.
Froome has changed his own approach in the hope of avoiding that late dip this year but if he cannot, Quintana will be ready to pounce.
"I don't know if I feel stronger than last year but I feel more relaxed," he said. "I know I have a great physical condition.
"I think the mountains are good for me."
"I couldn't follow him [last year] and I hope this year I will be able to be with him all the time."
Froome's final margin of victory last year was 72 seconds, less time than he took out of Quintana on stage two to Zelande, when crosswinds turned a routine sprint stage into a race-defining split.
There is potential for further crosswinds on Saturday's opening stage from Mont St Michel to Utah Beach, and Quintana admitted it was a concern.
"It's going to be a really nervous stage," he said. "We have to be at the front of the peloton with the whole team close to me to avoid any trouble."
Though Froome is the favourite, Quintana is one of several serious contenders. As well as the likes of Alberto Contador, Fabio Aru and Thibaut Pinot, Froome (pictured) faces his former lieutenant Richie Porte.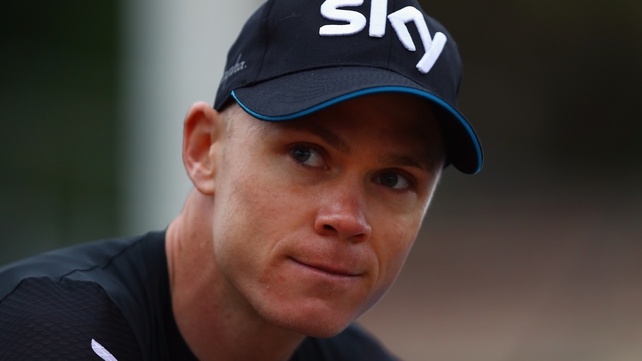 The Australian has vowed to put their friendship aside in a bid for glory as he goes into the race as BMC's co-leader alongside Tejay van Garderen.
"Off the bike we're still friends, but on the bike it's important to say we're rivals," said Porte.
"It's no different with him than it is with Nairo Quintana or anyone else here. I still want to beat him."
The 31-year-old was part of three Tour-winning teams in four years at Sky, but that counts for nothing now.
"I'm friends with a lot of those guys," he said. "In the races earlier this season one of the guys I've been banging the bars with most was Luke Rowe who also happens to be one of my best friends. I don't expect favours off those guys and I don't think they expect any favours off me. It's a bike race."
Porte went into only one Grand Tour as a team leader for Sky, but his 2015 Giro d'Italia was ill-fated and he ultimately abandoned through injury at the end of the second week.
He left the team seeking more opportunities and although he has one with BMC, he will be not be their undisputed leader.
The 27-year-old Van Garderen has twice finished fifth in the Tour, and appeared on course for a podium spot last year before abandoning with illness on stage 17.
Having two leaders can often backfire on teams as it leads to internal divisions over tactics, but Porte - excited as he is to be free of domestique duties - insists he is relaxed about it.
"We'll take that decision as the race goes on," he said. "For the moment we're both equal leaders. It's all about getting through these first few days without any silly time losses.
"That's going to show us how the leadership thing works out."