Peter Ryan's sporting dreams once revolved around playing hurling for Tipperary at Croke Park.
On Friday the 25-year-old from Upperchurch-Drombane will line up on the start-line at the Para-Cycling World Championships in Montichiari, Italy aiming for a top ten spot and qualification for the Paralympics in Rio later this year.
A talented stick man, a rare genetic disorder robbed him of his sight right at the end of his teens.
What followed were some understandably tough years. By his own admission he was a "bitter young man", drinking too much and it wasn't until a spell in an alcohol treatment centre that he found his way again.
"My life was very simple, once upon a time," he told RTÉ Sport.
"Born and bred in Tipp, in the countryside. In Tipperary you play hurling or don't do anything and it just happens that I was handy at it."
Handy enough to be part of the 2008 Tipp minor team, but within 18 months his world was turned upside down.
"I was angry at life. Sport was a huge part of my life and it was taken away from me, the job eventually went"
In early 2010 he notice a few things weren't quite right, like missing balls he should have caught in training, and he decided he needed to get himself contact lenses.
What he thought was a routine visit to the local optician ended in Waterford A&E, followed by quickly deteriorating eyesight and nearly six months of tests and appointments as he endured an agonising wait for a diagnosis.
Eventually it was nailed down as Leber's Hereditary Optic Neuropathy. There are fewer than 20 known cases in the country and one of the few certainties was that he was going to go practically blind.
Hurling, his car and his job as a plasterer were soon to be things of the past.
"I have between five and ten % sight, but that doesn't mean much to me," he said. "I have my peripheral vision so if I'm looking straight at something, I can't see it."
Ryan was speaking at the launch of the An Post Cycle Series, which will see him take part in one of a number of organised cycles around the country this summer alongside thousands of others.
He continued: "The peripheral is good for about a metre of diameter and that's both eyes. It's hard to explain - it's like looking from behind a curtain where you can only see shapes and shadows.
"I'll do something at home and all of a sudden they'll be like 'oh, your sight is getting better', but it's not - I'm learning to adapt and getting on with life.
"My world is made a lot easier because I have seen. I do a lot of connecting dots because I know what a cooker is, or whatever. If I was like this from birth I would be in a lot worse predicament."
Ryan kept working as long as he could, until July of that year, but, as he says himself, a building site was no place for a lad going blind.
The one part of his old life that he didn't have to let go of was socialising. And he embraced it for the next two and-a-half years.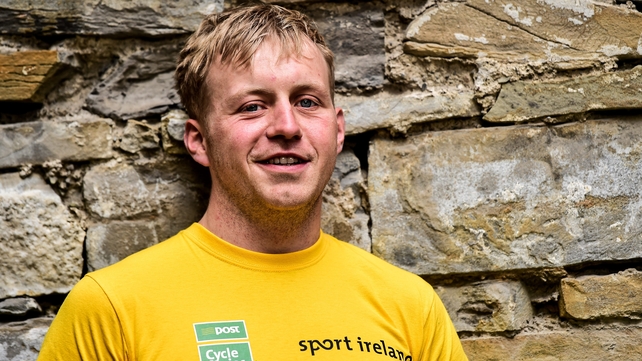 "The only thing they tell you is that you'll never go fully blind and you can't give it to your children," said Ryan, who has deferred his strength and conditioning studies in Thurles so that he can concentrate on Rio qualification.
"It's genetic, but the females carry it and the males get it. My sisters, if they have boys, they could give it to them. At 20 years of age there isn't much you can take from that.
"It's the teenage years it develops in. I was told if you don't get it by 20, you're not going to get it. My birthday is in April and this all started in March. I do laugh at times.
"Angry would be putting it mildly. Angry with life. I turned bitter; there's no point in sugar-coating it.
"I put up a very good front for a long time. I got that diagnosis down in Waterford and I was the only one who wasn't crying.
"My parents were crying and I took it on myself, an unconscious decision, that I was putting up a front. I was always 'I'm grand' and 'I'm fine'. Any time anyone tried to talk to me about it, I was like 'it is what it is'. I'd ream off these 'I don't want to talk about it' answers.
"To say I was angry with people was wrong, but I was living in my head so much it was going to crack eventually.
"I was angry at life. Sport was a huge part of my life and it was taken away from me, the job eventually went.
"A lot of what I say now is hindsight because at the time I wasn't conscious of it. I do think that we live very simple lives and looking back I had work, sport and a social life. Two of the three of those were gone so I did a lot of socialising. Too much.
"Acceptance was non-existent for me"
"I did the pure Irish coping mechanism on it. That went on for two-and-a-half years. It was okay while I was working and there was a bit of functioning going on in the background, but when I wasn't working…
"My rationale was this is one of the few things that I could do the same as the lads. I just had a constant tug-of-war going on - I was becoming a blind person, but I wanted to be the old me. Acceptance was non-existent for me."
Eventually, with the help of a hugely supportive family, Ryan acknowledged that things had to change and 28 days in the Aiséirí Centre in Cahir showed him a glimpse of a future he liked. He hasn't taken a drink in the four years since.
"I started chipping away at it straight away," he recalled. "I dealt with a bit of stuff and got it out there and stopped pretending. The big thing coming out of there was I had acceptance.
"I don't like my condition, I f**king hate it; without it I could have the simple life I had, but I have it so I deal with it. I got a bit more conscious of the life I had and coming out of there I wanted to rebuild that again."
One of the first steps towards rebuilding his life was to re-engage with sport. That started with a trip to UCD for a Paralympics open day in 2012, where a test on a watt bike proved he was a capable cyclist.
"The numbers must have been good because I was put on a fast-track programme and got coaching," he smiles. "That was late December, not long before Christmas, and the following June I was national champion."
Ryan's event is the 4k pursuit, where the cyclists start on opposite sides of the track and try to complete the course in the quickest time. If one bike catches the other, the race is over.
Of course, with blind competitors it's a little different. The visually impaired rider sits on the back of a tandem bike with a fully-sighted cyclist on the front.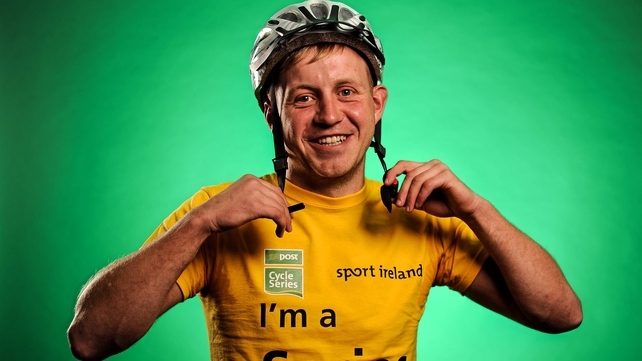 Ryan, at the back, is the stoker and Sean Hahessy is the pilot, the two having been paired together via the national para-cycling programme little less than a year ago. Hahessy is capable athlete in his own right and the pair have to develop a close relationship on and off the bike.
"It works well; we've similar mentalities and he's a bit of a messer as well so that's good. The dynamic between pilot and stoker is huge," he noted.
"It's probably the biggest thing I enjoy about the whole thing because I come a team-sport background and cycling is seen as an individual endeavour
"I have someone on the front to not let down and vice versa. When you're getting to the harder part of the race, it's nice to try to do it for someone else as much as yourself.
"There was a time when I was a bitter young man"
"If he's going more powerful than I am, he's going to have to carry me. It's middle ground. If I blow the lights, within two minutes Sean is going to blow the lights and vice versa. The day you're both going well, is the day you'll go well.
"There is even communication through the pedals, which are linked. We're always at the same point, so a low left foot might mean there is a bad turn coming up to the right.
"If you're going balls out in the middle of a race there isn't much negotiation going on so you have to react quickly and deal with things as they come."
Ryan has his life back again and sport has played a massive part in that. As he says himself, the only thing he can't do now is drive a car.
"I want to race at a high level and win as many accolades as I can. I want to enjoy it while I do it because once upon a time I had no appreciation for what I was doing.
"There was a time when I was a bitter young man. The list of things I couldn't do was big, but now I'd be of the mindset that I can do anything bar drive. It's a different place and I enjoy it."