Stephen Roche, the 1987 Tour de France champion, has attacked the vitriol hurled towards yellow jersey holder Chris Froome and his Team Sky squad.
Roche won the Tour 28 years ago after claiming the Giro d'Italia crown, during which he faced abuse for competing against his Italian team-mate Roberto Visentini.
Froome was drenched in urine and called a 'doper' during Saturday's 14th stage to Mende, where he enhanced his lead to three minutes and 10 seconds ahead of the race's finish in Paris next Sunday.
The 30-year-old Team Sky leader insists he races clean and felt some of the reporting of his performances was a contributing factor to the public reaction from a small minority of roadside fans.
Roche agrees and has called for rational thought regarding the performances of Froome and Team Sky, for whom his son Nicolas is riding in support of the 2013 champion.
Roche, who is working at the Tour as a Skoda ambassador, said: "With Chris there's no foundation. It's pure jealousy and speculation.
"I'm very disappointed in the reaction of the media. There's no reason whatsoever to make a scandal out of so little information.
"My heart goes out to Froome. The poor guy is doing everything he possibly can. There's never (before) been anybody so transparent.
"Some journalists responsible for bringing down the likes of Armstrong and other athletes believe in Froome.
"What must people be told, journalists be told, to give the guy a bit of credibility for what he's doing?"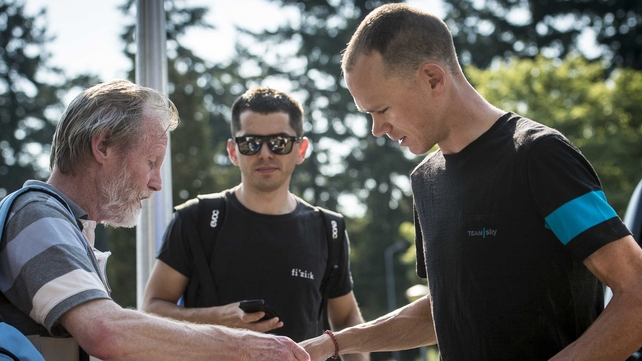 Roche believes it is Froome's rivals who underperformed in the first Pyrenees stage last Tuesday to La Pierre-Saint-Martin.
The Kenya-born Briton made his major time gains over the likes of defending champion Vincenzo Nibali, Giro winner Alberto Contador and Nairo Quintana, the 2013 runner-up who is now his nearest rival.
"For me it's the counter performance of Nibali, Contador and Quintana, that's the problem. It's not the performance of Froome," Roche said.
"Let's look at these reasons before looking at scientific reasons.
"These journalists are dead lucky that Chris is not a football player or a rugby player, because journalists would be going home with broken noses because of the silly questions they ask him time and time again.
"It has to be frustrating for him. He stays composed. Sometimes he does let go, which is normal.
"You can't talk to people like that, you can't discredit people the way they're doing it."