Ireland's Martyn Irvine has won silver in the scratch race at the World Track Championships in Colombia, while Ryan Mullen took fourth in the individual pursuit.
Irvine put up a superb defence of the title he won last year but eventually finished second in a sprint finish behind Ivan Kovalev of Russia.
"I'm getting a bit of a greedy head - I always want gold now, but I'll take silver," Irvine said.
Meanwhile, Mullen had to settle for fourth in the men's four-kilometres individual pursuit.
The 19-year-old clocked four minutes 24.626 seconds in the bronze medal ride-off as Marc Ryan of New Zealand claimed third in 4mins 22.895secs.
"Ryan put in a superb performance for his first World Championships" - Brian Nugent
Of Irvine, head coach Brian Nugent said: "What a race from Martyn. He rode smart from the start, and he was determined to get in the main move.
"Just when it looked like the break was about to get caught, Martyn forced the pace and moved on alone.
"It was a brave move, and he worked lap after lap, until he lapped the field. No one else can sustain an effort like that, the way Martyn does.
"With two others already a lap up, it was too much to take the gold, but we're thrilled with the silver medal."
Nugent was also impressed with Ryan saying: "Ryan put in a superb performance for his first World Championships.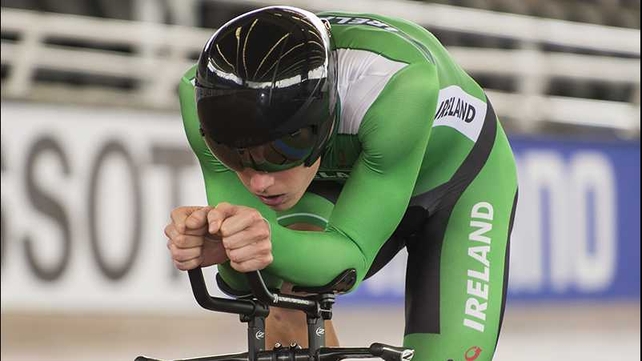 "I'm so pleased for him, as he has done everything right over the past number of months to gain this result tonight.
"He has worked really hard and made huge progression. This is only the beginning for him."
Caroline Ryan and Irvine are back in action today, racing in the individual pursuit and points race respectively.
World number one Caroline Ryan finished sixth in the individual pursuit in 3:37.847.
Sarah Hammer of the United States and Britain's Joanna Roswell will battle it out for gold in Cali in the early hours of Saturday morning after clocking the fastest times in the three-kilometres event, while Ukrainian Ganna Solovei and Amy Cure of Australia will fight it out for bronze.