The top two in the 1998 Tour de France, Italian Marco Pantani and German Jan Ullrich, were both taking the banned blood booster EPO, according to a French Senate inquiry into sports doping.
The medical stubs enclosed in the 918-page report, when compared against a separate list of test results, also reveal that American Lance Armstrong tested positive for EPO in 1999.
Samples taken in 1998 were retested as part of the inquiry. The tests reveal that EPO - which was undetectable in 1998 - was being used by many riders.
Just three days after the end of the 100th Tour, an event that was dogged by persistent speculation about doping, the 21-member parliamentary group said a "truth and reconciliation" commission should be created to lift the veil of silence on illegal practices.
The group recommended that the French government finance studies about the extent of doping, its risks and the range of drugs used.
"We cannot properly fight something that we don't understand," parliamentarian Jean-Jacques Lozach, the group's spokesman, told journalists.
"Speaking of doping doesn't harm sport but instead contributes in the medium and long term to restore its greatness. Not speaking about it often means not doing anything."
Armstrong, the popular face of professional cycling who beat cancer to win the Tour seven times, was stripped of his titles after a sophisticated doping program was uncovered in October by the United States Anti-Doping Agency.
He later admitted having taken performance-enhancing drugs.
The list of athletes who tested positive for EPO during the 1998 Tour included Ullrich and Pantani, who died of a drug overdose in 2004, according to data published in the document. Ullrich admitted in June he underwent blood doping procedures and was banned in 2012 for two years for a doping offence.
In October Bobby Julich, who finished third in the 1998 Tour, admitted to taking EPO from 1996 until that race, when his wife found out about his EPO habit.
One of the high-profile riders named has having suspicious samples in the French Senate report, Australian Stuart O'Grady, also went on to confirm he had taken illegal drugs while competing just hours after the Senate released its findings.
The 1998 Tour is remembered mostly for doping scandals, and was dubbed le Tour de Farce and Tour du Dopage (Tour of Doping), due to the scandals that were linked to it.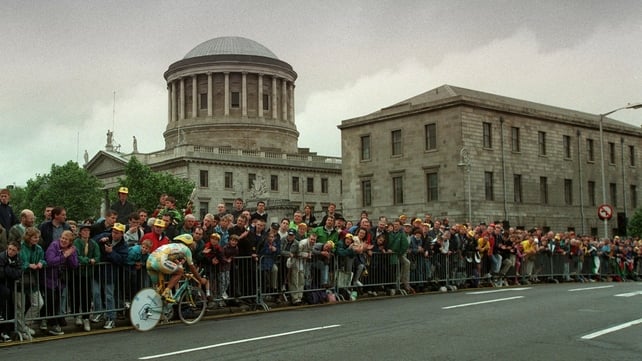 The '98 Tour began in Dublin and prior to action commencing Festina assistant Willy Voet's car was stopped en route to the Irish capital, a which point he was arrested when he was found to be bringing doping products into the country.
That led on to the Festina doping scandal, which resulted in seven riders admitting to taking EPO and the entire team being ejected from the Tour.
The tour was subsequently characterised by raids on team hotels and buses by police as they searched for more doping products, which led to illegal substances being found in the rooms of the Dutch TVM team.
On stage 17 all the riders staged a sit-down protest in reaction to their treatment at the hands of police, while the Spanish team ONCE, led by French national champion Laurent Jalabert - named as a doper in the French Sentate's report - later pulled out of the event.
Sports daily L'Equipe reported last month that a 1998 urine sample from Frenchman Jalabert showed traces of the banned blood-booster EPO when it was re-tested in 2004. That result was confirmed in the Senate report.
A test to detect the presence of EPO was introduced in 2000. Four years later, France's anti-doping agency decided to re-test urine samples from the 1998 and 1999 Tours using the new technology.
Jacky Durand, a now-retired winner of three stages on the Tour who was also named in the report, wrote on the Eurosport.fr site on Tuesday that he accepted responsibility for his doping.
"I don't think anyone is duped," he wrote. "The new generation shouldn't have to pay for the stupid things we did in the past."
The five-month investigation by the 21-member Senate group looked at 18 different sports and interviewed 138 individuals. Not all their names were disclosed.
It recommended that sporting calendars be approved by the sports minister to reduce the taxing schedules that it said created favourable conditions for doping.
Blood and urine samples should be used to test for more substances at the same time to cut down on the volume of samples and streamline the testing process.
The inquiry revealed an "incredible inability" for different organisations to work together and share information, Lozach said. "The anti-doping fight would be a lot more effective if the different actors in sports, law enforcement and justice cooperated."
The Senate ordered that no results would be stripped as a result of their report: "Nobody will face sanctions. We aren't policemen. We aren't magistrates. We haven't noted absolute lies but put-offs and self-censorship."
Riders who tested positive for EPO in 1998: Marco Pantani and Jan Ullrich; Frenchmen Jalabert, Durand and Laurent Desbiens; Germans Erik Zabel and Jens Heppner; Italians Mario Cipollini, Andrea Tafi, Nicola Minali, and Fabio Sacchi; Spaniards Abraham Olano and his countrymen Marcos Serrano and Manuel Beltran; Dutchman Jeroen Blijlevens; Denmark's Bo Hamburger; and American Kevin Livingston.
Hamburger and Livingston turned in positive tests for EPO at the 1999 Tour as well, according to AFP.
Riders whose tests were deemed to be suspicious: Italians Ermanno Brignoli, Alain Turicchia, Giuseppe Calcaterra, Stefano Zanini and Eddy Mazzoleni; Frenchmen Pascal Chanteur, Frederic Moncassin and Stephane Barthe; American Bobby Julich; Swiss Roland Meier; Australian Stuart O'Grady; and Belgian Axel Merckx.