By Tadhg Peavoy
Martyn Irvine has won Ireland's first track cycling gold in 117 years at the World Championships in Minsk.
Irvine's gold in the 15km scratch race in Belarus was the first by an Irish competitor since 1896.
Just over half an hour after winning silver in the individual pursuit event - which itself was Ireland's first male medal of any kind since bronze in 1897 - the Co Down man took the track once more.
With ten laps to go in the final, Irvine launched a devastating attack on the rest of the field.
The 27-year-old from Newtownards proved unstoppable as he managed to hold off the chasing pack, narrowly defeating Austria's Andreas Mueller at the finish line, to clock 17:23.505.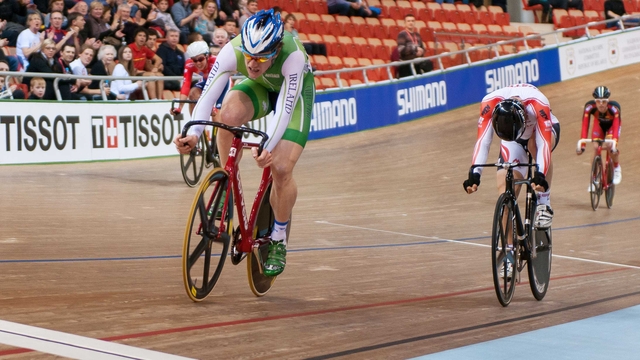 The average race speed was clocked at 51.748km/h.
Following Irvine's victory, he told the gathered press: "I'm exhausted. It's awesome. I don't know what to say.
"There hasn't been a race I haven't committed to, but I've been chipping away on a shoestring budget over the last couple of years.
"Once I went I didn't look back. Just full gas. I saw a shadow on my hip with two laps to go and I was expecting lots of riders to go past me. I can't wait to see the video of the race."
Individual pursuit silver for Irvine
Australia's Michael Hepburn earlier won the individual pursuit gold, clocking a time of 4:16.733.
Irvine posted a time of 4:24.528 to win the silver.
The silver medal bridged a gap of 116 years to Ireland's last male world track medal, a bronze won by Harry Reynolds in the one-mile race in Glasgow in 1897.
Reynolds also won gold in the 1896 world one-mile race in Copenhagen.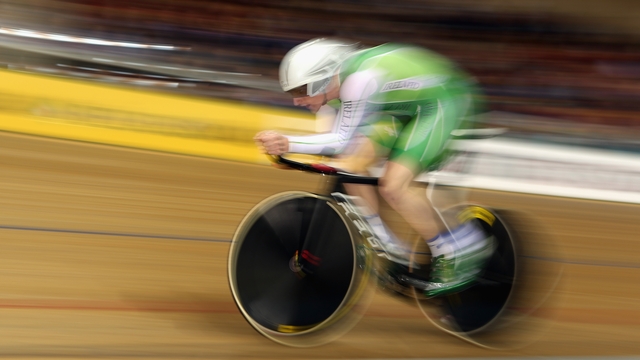 Irvine qualified for the individual pursuit final in a time of 4:20.246, breaking the Irish national record in doing so.
Hepburn and Irvine were both quite some time away from the world record in the 4,000m race, which is 4:10.534, and held by Hepburn's compatriot Jack Bobridge.
Hepburn's average speed was 56.089km/h, with Irvine being edged out with an average speed of 54.436km/h.
Brian Nugent and Geoff Liffey show their delight
Speaking from the Velodrome, Brian Nugent, head coach of Cycling Ireland, said: "It's hard to find the words.
"Absolutely astounding. That was the most exciting race I have ever seen.
"Martyn attacked ten laps out and just held on and on.
"Even when the Austrian caught him and tried to pass on the last lap, Martyn just wouldn't give in and kicked one last time to win. A great day for Irish cycling."
"It makes you wonder what more we could achieve if we had an indoor facility at home" - Geoff Liffey
Nugent added: "It's been years of hard work to get to this point, and all credit to Martyn, and the entire team, especially Andy Sparks, who has worked tirelessly to see this happen."
Cycling Ireland CEO Geoff Liffey said: "This is a historic and tremendous day for Ireland, with our first world track title in modern times.
"This result confirms Martyn's ability, and confirms the progress being made by all the team working with him.
"It makes you wonder what more we could achieve if we had an indoor facility at home."
Next up for Ireland is Caroline Ryan in the women's 10km scratch race tomorrow at approximately 17:20.
Ryan won a bronze medal at the World Championships last year in the points race; she competes again in the points race on Saturday.
Eoin Mullen also races on Saturday in the men's sprint.