The line-up for the 2013 An Post-sponsored Sean Kelly Cycling team was officially announced today, with a seventeen man team named, including ten new signings.
The team secured their best ever season on the UCI European Tour last year, finishing 16th out of 125 teams and there will once again be a strong Irish core to the set-up.
Talented young Antrim native Jack Wilson, a former Irish National Junior champion, has penned a one-year deal, while Sean Downey, Ronan McLaughlin and Sam Bennett have all been retained for the year ahead.
Bennett is one team member who will be hoping to make the jump to the professional ranks next year, having seen three of his former colleagues do so for this season, namely former An Post Rás winner Gediminas Bagdonas, Roy Jans and Kenneth Van Bilsen.
2013 An Post Sean Kelly Team: Jack Wilson (IRL), Ronan McLaughlin (IRL), Sam Bennett (IRL), Sean Downey (IRL), Mark McNally (UK), Kieran Frend (UK), Niko Eeckhout (BEL), Pieter Ghyllebert (BEL), Laurent Vanden Bak (BEL), Niels Wytinck (BEL), Wout Franssen (BEL), Steven Van Vooren (BEL), Nicholas Vereecken (BEL), Alphonse Vermote (BEL), Glenn O'Shea (AUS), Aaron Gate (NZ), Shane Archbold (NZ),
Manager: Kurt Bogaerts Director: Sean Kelly
"We've had some great results over the last few years and the support at home has been superb" - Sean Kelly
"Personally this season is a big one for me. I had a frustrating start last year with a couple of niggly injuries, but towards the end of the calendar I felt in top condition which helped me produce some strong performances. With a solid pre-season behind me this time out I'm really looking ahead with great optimism," Bennett said.
Liverpudlian rider Mark McNally will again race for the side in what will be his fourth year and he will have a new fellow UK compatriot, Kieran Frend, alongside him. Frend, 23, spent last season with the Node 4-Giordana team, and joins the An Post set-up as part of an exciting new relationship with the Bradley Wiggins Foundation.
Reigning world ominium champion Glenn O'Shea (below) joins the team hoping to make a smooth transition from track to road.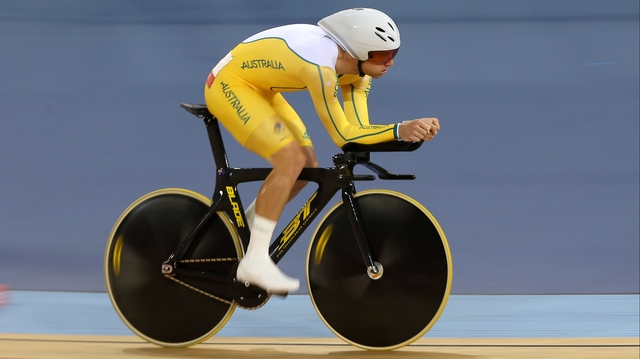 The Australian native brings considerable experience to the side having won gold in the omnium and silver in the team pursuit at the Track World Championships last year. He also competed for his country at the London Olympics.
Promising New Zealanders Shane Archbold, former yellow jersey holder of An Post Rás (2011) and Aaron Gate have also joined the set-up. The pair represented their country at London 2012 before committing to road racing.
The Southern Hemisphere trio are currently competing at the 2013 UCI Track World Championships in Minsk, Belarus and will debut for the team in April.
Veteran rider Niko Eeckhout, Pieter Ghyllebert and Niels Wytinck have all re-committed for the 2013 campaign.
They are joined by five new Belgian signees: Laurent Vanden Bak, Wout Franssen, Alphonse Vermote, Steven Van Vooren and Nicholas Vereecken.
Every new season sees departures and arrivals, but for team manager Kurt Bogaerts it's all about putting together a side with the exact mix of youth and experience.
This year he feels he has got it right again, and he hopes to see an young Irish rider join the professional circuit come the end of 2013.
He said: "It's great to see guys from our setup join the Pro Tour circuit, it means we are doing our job correctly by developing riders to maximise their potential. Three guys from the team went last year and of course Matt Brammeier previously. I certainly feel that we will see another Irish rider there soon as long as they keep improving and pushing themselves."
"The team has plenty of experience now – guys like Bennett and McLaughlin have been with us for a while and are knocking on the door, while Sean has got a season under his belt. Of course, Niko is back again, and there is no better rider to learn from, so I'm really positive about what the season ahead will bring," Bogaerts added.
The An Post squad's first trip back to Ireland will come in May for the 61st edition of the An Post Rás.
"The Rás is a core race in our season's programme, and one that the Irish riders relish taking part in. We've had some great results over the last few years and the support at home has been superb. It's one race that all the team and staff look forward to getting back for," said team director Sean Kelly.
The An Post-sponsored team was set up by Sean Kelly seven years ago as an extension of the Sean Kelly Academy to give young Irish cyclists a base from which to compete in Belgium, with the pro team designed to give young Irish riders access to a programme of top international races.
This is An Post's sixth year sponsoring the team.