The UCI has banned Lance Armstrong from cycling and stripped him of his seven Tour de France titles after accepting all findings of a USADA report on doping.
All of Armstrong's results since 1 August 1998 will now be erased from the record books.
In a news conference this afternoon, UCI president Pat McQuaid said the organisation accepted all findings of the recent United States Anti-Doping Agency's investigation report.
Earlier this month USADA published its 1,000-page report which concluded that Armstrong and his US Postal Service team ran "the most sophisticated, professionalised and successful doping programme that sport has ever seen".
In accordance with the World Anti-Doping Code, the UCI had 21 days to respond. Pat McQuaid today announced the world governing body would accept USADA's findings and ratify the sanctions imposed on Armstrong.
McQuaid said: "(The UCI) will not appeal to the Court of Arbitration for Sport and it will recognise the sanctions that USADA has imposed. Lance Armstrong has no place in cycling."
Armstrong, 41, had previously elected not to contest USADA charges, prompting USADA to propose his punishment pending today's confirmation from cycling's world governing body.
"Lance Armstrong has no place in cycling" - Pat McQuaid
"The UCI will ban Lance Armstrong from cycling and the UCI will strip him of his seven Tour de France titles.
Eleven former teammates of Armstrong admitted doping and testified against the Texan in the USADA report - each will receive a six-month ban.
These suspensions were also ratified by the UCI, which thanked the riders for giving evidence against Armstrong.
McQuaid added: "The UCI will also recognise the sanctions imposed on the riders who testified against Lance Armstrong; UCI indeed thanks them for telling their stories."
The UCI, particularly the leadership of McQuaid and honorary president Hein Verbruggen, who was president at the time of Armstrong's record run of Tour success, have received criticism in the USADA investigation.
Allegations have been made against the UCI itself, which McQuaid sought to dismiss this afternoon.
"UCI has nothing to hide in responding to the USADA report," he said.
"The UCI has called a special meeting of the UCI management committee next Friday to discuss this report and the measures which the UCI wishes to put in place in order that we are never faced with such a situation in the future."
While addressing the past, McQuaid was steadfast in his belief that cycling has a positive future.
He added: "This is a landmark day for cycling. Cycling has endured a lot of pain as it has absorbed the impact of the USADA report.
"UCI promised to prioritise our analysis of the report and to provide an early response and we've done that.
"My message to cycling, to our riders, to our sponsors and to our fans today is: cycling has a future.
UCI has 'nothing to hide' over donation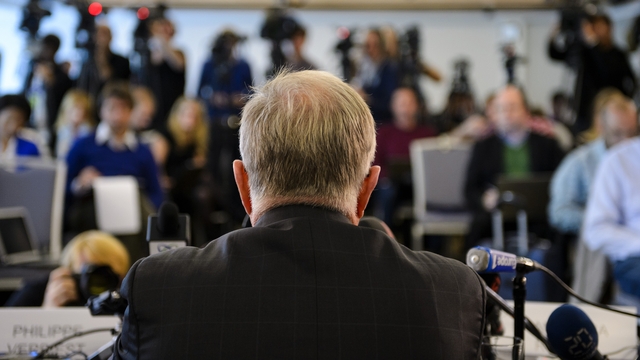 The International Cycling Union has "nothing to hide" over a donation made by Lance Armstrong, president Pat McQuaid has insisted.
The UCI has admitted accepting a donation of more than $100,000 from Armstrong in 2002, but has strongly denied that it was connected to any cover-up of a positive test.
Armstrong was today banned for life and stripped of his seven Tour de France titles after the UCI accepted the findings of a 1000-page report by the United States Anti-doping Agency.
"Don't try to make the connection between the suspicious test and the donation. There were no positive tests from him," McQuaid insisted.
"There is no connection between the donation given to the UCI and a test being covered up because there was no test covered up.
"It's certainly not a resignation issue" - Pat McQuaid
"It's certainly not a resignation issue. It would be better if we hadn't done it, and if we were to do it in the future, we would do it in a different way."
McQuaid insisted he is not prepared to relinquish his post as president and defended his predecessor Hein Verbruggen, who was in charge during the late 1990s and early 2000s.
Briton David Millar is among those to call for the resignation of Verbruggen, who has made a series of comments appearing to defend Armstrong.
Irishman McQuaid added: "Cycling has come a long way. I have no intention as resigning as president of the UCI.
On Verbruggen, now honorary president of the UCI, McQuaid told Sky Sports News: "First of all he never said there was no evidence against Lance Armstrong; he said Lance Armstrong had never tested positive, and that's correct.
"There's nothing in the USADA report that shows that Mr Verbruggen did anything untoward or anything wrong, so therefore there's no reason why he should go."