Lance Armstrong has been stripped of his seven Tour de France titles and handed a lifetime ban by the US Anti-Doping Agency after electing not to contest doping charges brought against him.
The 40-year-old announced his decision last night and USADA quickly stated their intention to severely punish the American.
And they have confirmed those sanctions in a lengthy statement issued on their website.
It read: "USADA announced today that Lance Armstrong has chosen not to move forward with the independent arbitration process and as a result has received a lifetime period of ineligibility and disqualification of all competitive results from August 1, 1998 through the present, as the result of his anti-doping rule violations stemming from his involvement in the United States Postal Service (USPS) Cycling Team Doping Conspiracy (USPS Conspiracy)."
Armstrong, who was charged in June, sought a temporary restraining order against the agency's legal action but that was dismissed in a federal court in Austin, Texas on Monday.
USADA claim once that action failed Armstrong had until midnight on Thursday to contest the evidence against him in an arbitrary hearing, and was fully aware of the consequences of not doing so.
The statement continued: "Following the dismissal of Mr. Armstrong's lawsuit on Monday, August 20, 2012, by the federal court in Austin, Texas, Mr. Armstrong had until midnight on Thursday, August 23, to contest the evidence against him in a full evidentiary hearing with neutral arbitrators as provided by US law.
"However, when given the opportunity to challenge the evidence against him, and with full knowledge of the consequences, Mr. Armstrong chose not to contest the fact that he engaged in doping violations from at least August 1, 1998 and participated in a conspiracy to cover up his actions.
"As a result of Mr. Armstrong's decision, USADA is required under the applicable rules, including the World Anti-Doping Code under which he is accountable, to disqualify his competitive results and suspend him from all future competition."
The statement goes on to give details of some of the evidence USADA claim to have gathered against Armstrong.
Over a dozen witnesses, up to 10 of whom are believed to be former team-mates, agreed to testify and give evidence against Armstrong, who has never failed a drugs test.
Part of the statement claims USADA received evidence Armstrong was doping in 1996, prior to his battle with testicular cancer, which set his Tour triumphs in the most heroic of contexts, and in 2009, after making his return to the sport following his initial retirement.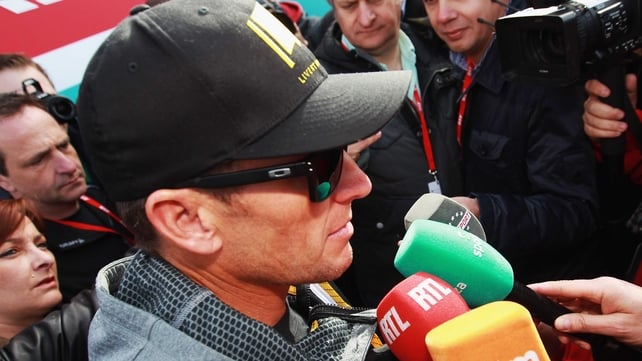 It continued: "Numerous witnesses provided evidence to USADA based on personal knowledge acquired, either through direct observation of doping activity by Armstrong,or through Armstrong's admissions of doping to them that Armstrong used EPO, blood transfusions, testosterone and cortisone during the period from before 1998 through 2005, and that he had previously used EPO, testosterone and hGH through 1996.
"Witnesses also provided evidence that Lance Armstrong gave to them, encouraged them to use and administered doping products or methods, including EPO, blood transfusions, testosterone and cortisone during the period from 1999 through 2005.
"Additionally, scientific data showed Mr Armstrong's use of blood manipulation including EPO or blood transfusions during Mr Armstrong's comeback to cycling in the 2009 Tour de France."