Cricket Ireland chief executive Warren Deutrom has welcomed the news that the sport will soon have a permanent home in Dublin.
On Friday, Minister for Sport Catherine Martin gave the go-ahead to the governing body to proceed with planning for the construction of a cricket oval with permanent seating at the Sport Ireland Campus in Dublin 15.
Ireland became one of 12 Test nations in 2017 but have since played only three full-form matches, hosting one, against Pakistan in 2018.
Cricket Ireland has been installing temporary facilities to host crowds of 11,500 at Malahide Cricket Club for international games, at significant expense.
"What's different is that the facilities being envisioned by the government are permanent facilities," Deutrom told RTÉ Sport of the proposed new stadium.
"It is extremely costly to put in place all of the permanent infrastructure which is required to satisfy the International Cricket Council's exacting criteria to be able to host international cricket against the best teams in the world.
"It costs us €100,000s per year. That is clearly financially unsustainable, it has been for years. We would much prefer to be putting that funding into the game itself.
"It's also incredibly environmentally unsustainable to have trucks, all this infrastructure moving in and out and being erected and dismantled on an annual basis.
"Having a place to call our own in Dublin is exactly what we need for a sport of our size and stature in Irish sport."
Deutrom said that capacity and ownership of the stadium had yet to be finalised.
"Who pays? That's going to be a discussion we enter into with the government. At this stage it's too early to provide any insight into that element. Ownership and renting is a discussion we need to have with the government."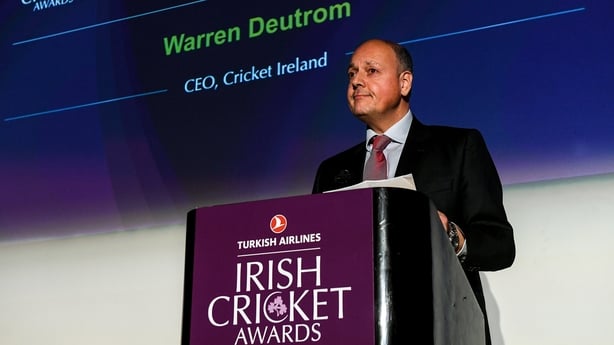 A catalyst for the development was the decision by the International Cricket Council 14 months ago to choose a joint bid by Ireland, England and Scotland as preferred hosts for the 2030 Men's T20 World Cup.
"In order to co-host the World Cup in 2030 the ICC has a requirement that the canvas on which the tournament is going to be played is going to be world-class," said Deutrom.
"We're going to be showing off our nation to a worldwide television audience of hundreds of millions. We need to ensure that we can hold our heads up high and demonstrate that we're capable of doing it, and that our infrastructure is commensurate with the eyeballs on us.
"Cricket is the world's second biggest sport and our infrastructure should be commensurate with our status within the game. When we host the world's biggest teams it simply isn't appropriate that we're asking them to change in marquees, especially when our competitors have sporting cathedrals like Lord's or the Melbourne Cricket Ground.
"For our biggest matches, against the likes of England or India, we can get 10,000 people into the ground. We had two games against India last year and they sold out within a couple of days."
Deutrom expects work on pitches to begin in 2023.
"By 2028 we think it's a realistic possibility that we'll be asked to host an ICC qualifying event, which means that the year before, in 2027, we really need to be playing international cricket. And therefore we need to be playing domestic cricket in 2026.
"It takes three years for pitches to be built and settle in Irish conditions, which effectively means we need to start building the green stuff this year."