Ireland will take on England in a Test match in 2023 to begin a busy four-year cricket schedule as outlined in the latest Future Tours Programme (FTP).
The Irish team will start the new four-year schedule with a home white-ball series against Bangladesh, then immediately travel to England for a one-off Test match in June 2023.
It will be Ireland's fourth Test match since making their debut in the oldest form of the international game against Pakistan in 2018, while they also played England and Afghanistan in 2019, losing all three encounters.
Ireland will also tour England for three ODIs (One-Day Internationals) before taking on Zimbabwe for one Test, three ODIs and three T20Is later in the year. January 2024 will then see Ireland play Afghanistan away for one Test, three ODIs and three T20Is, one of their four series against the Asian team during the five-year cycle.
Ireland, who gained Test status along with Afghanistan in 2017, will also play Tests against New Zealand and Zimbabwe at home, while their other limited overs fixtures include those against Australia, Pakistan, South Africa, England, Sri Lanka and the West Indies.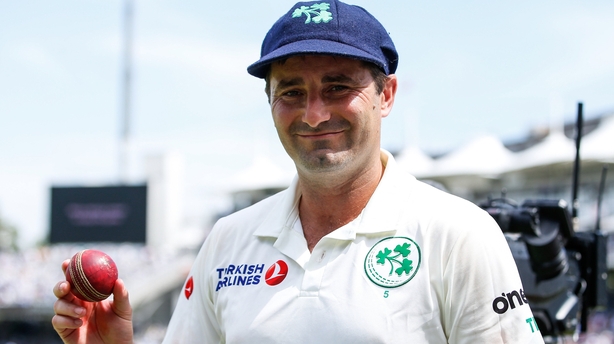 In all, Ireland are set to play 12 Test matches, 54 one-day internationals and 47 T20 Internationals against fellow full member sides.
The announcement of the new men's FTP comes a day after the first ever women's FTP was announced.
"The release of the new ICC Future Tours Programme marks yet another milestone in the progress Irish cricket has made over recent years," said Cricket Ireland's chief executive Warren Deutrom.
"The quality and the volume of international cricket for Irish fans to enjoy is something previous generations only dreamt about.
"The ability, as a full member, to be able to lock in multiple years' worth of bilateral cricket is important for Cricket Ireland, as it allows us to plan ahead and pursue revenue streams with a greater level of certainty.
"This revenue, from areas such as broadcast and sponsorship, goes back into the game at all levels, helping us to deliver on growing the game across Ireland.
"This men's FTP, combined with the women's FTP announced yesterday, means we have an incredibly busy few years ahead for Irish cricket fans to enjoy."
Meanwhile, Josh Little will be heading to England tomorrow to join the Manchester Originals in The Hundred tournament after Cricket Ireland agreed to a No Objection Certificate (NOC).
Little made his T20 International debut in 2016 and has played 45 T20Is for Ireland to date, taking 49 wickets at a strike rate of 19.8. He has played 11 T20Is this home summer, claiming 18 wickets
"I am thrilled to be given the opportunity to play for Manchester Originals in The Hundred - it's a great comp and I can't wait to get started," said Little.