Ireland captain Andrew Balbirnie says he was delighted with the character shown in the historic One Day International victory over South Africa and has sights set on a series win.
Until Tuesday this week, Ireland had never beaten South Africa in ODI cricket – having met five times previously.
In fact, Ireland had never beaten a world-ranked top eight side in an ODI at home since their first home ODI in 2006.
Balbirnie was a central figure, notching a terrific century, to set Ireland on their way to a target of 290 for 5.
The captain revealed after the match that his elevation to opener was a decision that was made on the morning of the game, once William Porterfield was ruled out with a finger injury.
Despite that last minute reshuffle of the batting order – which also saw Andy McBrine move to number 3 for the first time in his international career – Balbirnie was delighted with the team's performance all-round, and indicated that the team was determined to continue that form into the final ODI on Friday.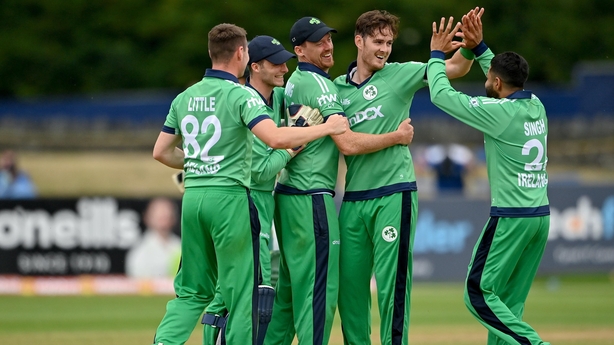 "The character we showed, we stuck in, we knew it was a tough wicket to take 10 wickets on but I thought the way our guys bowled well particularly in the middle and towards the death, it was a credit to them and a win we needed as a team and I'm just really proud of the lads," he said.
"We'll enjoy this, it's our first time ever beating them in ODI cricket so it's a huge day for cricket in Ireland.
"At the same time you have to look at Friday, we could potentially win a series. We haven't won a home ODI against a top eight team so that's another thing to tick off the list, but I think the guys are eager and hungry to win a series."
Meanwhile, in-form North West Warriors paceman Craig Young has revealed the small changes over the last 12 months that have led to improvements in his bowling and consistency of performance.
"I'm always tinkering with my bowling - I wouldn't say I changed anything massively, but at the start of our season I knew I needed to put work into getting my run up as close to perfect as possible," he said.
"I'm a rhythm bowler and you can't get rhythm when you're battling getting your run up right. So as soon as we could get outside to train, I made that my focus."
"I know that if I get that right then I give myself the best chance to do my job well for the team. I also realised that I bowl a lot better when I do that bit extra in the warm ups - not only getting loose and bowling a couple of overs, but I feel much better if I get loose and get my run up marked and bowl a few overs off that at full pace. I found that has helped massively."
"Of course, it's also been great to work with Ryan Eagleson and Stuart Barnes who are always there to offer their advice."
Ireland has so far claimed a valuable 15 World Cup Super League points from the first two games of the series, with the side jumping from 11th to fifth place in the table as it stands.
The third and final ODI of the series does not just represent a chance for national pride and another milestone achieved, but offers the chance of a further 10 points towards World Cup Qualification at the 2023 Cricket World Cup.