Ireland captain Andrew Balbirnie remains hopeful that his squad will face England in three One-Day Internationals (ODI), beginning at the Ageas Bowl next month.
Ireland are provisionally due to play on 30 July in Southampton followed by further matches against the world champions on Saturday 1 August and Monday 3 August at the same venue.
Ireland's men's international cricket calendar for 2020 has been badly hit during the current crisis with series against Zimbabwe Bangladesh, New Zealand and Pakistan all cancelled.
Furthermore, October's T20 World Cup, for which Ireland has qualified, is almost certain to be postponed to 2021, with Cricket Australia chairman Earl Eddings admitting that staging a World Cup in Australia this year in the midst of a global Covid-19 pandemic is "unrealistic".
The tournament is scheduled to take place from 18 October to 15 November, and officials have previously said they are planning for it to proceed on those dates.
But with many global borders still shut due to virus-related travel restrictions, Eddings conceded that was looking increasingly unlikely.
It leaves Ireland's men's squad, who, like the Irish women's team, returned to training last week, clinging to the hope that the three games against England will be given the green light.
"Once we came back from India (the series against Afghanistan) and saw what was going on around the rest of the world, we expected those games not to go ahead and I kind of got my head around it before the announcements came," said Balbirnie
"It was a disappointment because we had started to play some good cricket at the start of the year, leading to what we knew was due to be a busy summer, but hopefully now we will get to play those three games against England, starting next month."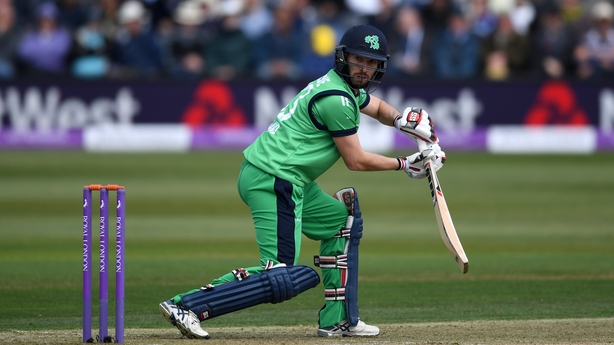 England have lined up two Test series against the West Indies and Pakistan this summer, with the Ireland ODI's squeezed in between, with the matches against the Windies initially held behind closed doors and under strict hygiene protocols.
It remains to be seen if a limited number of spectators will be allowed into England's games as the summer progresses with Balbirnie and his squad eager and ready to get back into international cricket.
He added: "If there are no hiccups or scares in the England/West Indies series, I don't think there is any reason why we can't go.
"We would have to get government clearance from both here and the UK, but they are obviously important games for both countries, they are the world champions and hopefully they can go ahead all going well."
However Balbirnie is less confident that the T20 World Cup finals can go ahead as planned starting in October.
Ireland qualified for the 16-nation tournament by finishing third in the qualifying tournament in the UAE last year, but all the indications are now that it could well be moved to 2021 and Cricket Australia have suggested some alternatives to the International Cricket Council (ICC)
A decision is expected to be made next month.
"We have to plan as if it's still going ahead, but logistically it could be a nightmare," admits Balbirnie. 
"There are 16 countries involved and if it doesn't go ahead, then the hope is that they will reschedule it for the future, but we have to keep planning for that and the England games and that's why we have to be so specific when we are training.
"It would be great to play a World Cup in Australia. I've done it before and it's an amazing place to travel to, but at the same time we have to be smart about it and hopefully the right decision will be made."
While the Irish squads are back in training, nothing beats the white hot heat of competition and the women's team are also suffering from a lack of fixtures this year.
Ireland are looking to next year's 50-over World Cup in New Zealand if they come through the qualifier tournament, which was scheduled to take place in July in Sri Lanka, but which was postponed due to the global pandemic. 
A new date has yet to be decided, with the ICC due to provide an update on the tournament's status shortly.
Balbirnie is hopeful now of a return to some kind of normality in the not too distant future for both Irish squads.
"You look forward and hope that the postponed fixtures can go ahead in 2021 or 2022 and hopefully we can have a full schedule next year, but that depends on health and safety guidelines.
"For the moment all we can do is still to the training protocols, hand washing etc and hopefully in a little while when this all dies down we can get back to playing"
"The protocols aren't that hard to do anyhow and hand washing in particular before and after training will probably become the norm now and we have no problem with that," concluded the 29-year-old Irish captain.
Provisional England v Ireland Men's series
Thursday 16 July – Ireland arrive in UK, based at Ageas Bowl Southampton
Thursday 30 July – England v Ireland 1st ODI, Ageas Bowl
Saturday 1 August – England v Ireland 2nd ODI, Ageas Bowl
Monday 3 August – England v Ireland 3rd ODI, Ageas Bowl