Cricket Ireland has confirmed the first six recipients of professional contracts for women cricketers ahead of a busy summer schedule for Aaron Hamilton's side.
Ireland take on the highly rated West Indies in a three-match series later this month and the squad have been buoyed by the awarding of the part-time professional contracts for Laura Delany, Kim Garth, Mary Waldron, Shauna Kavanagh, Gaby Lewis and Celeste Raack.
All six players have been named in the 13-player squad that will take on the number four ranked side in the world in the Dublin series with the three matches taking place at Pembroke Cricket Club and YMCA Cricket Club.
"Our women's programme medium-term objective is to qualify for the ICC Women's Championship in 2021 – a guaranteed three-year programme of international fixtures just like our men have now, through the Future Tours Programme," said Cricket Ireland Performance Director Richard Holdsworth.
"These contracts put in place the foundation blocks that will help us as a cricket nation to achieve our goal."
Following the West Indies encounters, Ireland will play six matches against Zimbabwe in July as well as a quadrangular tournament abroad, before heading to the Women's T20 World Cup Qualifier in August/September in Scotland.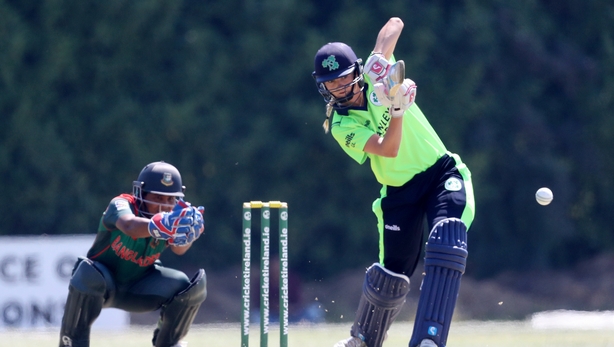 "I'm very excited and delighted to have been included in the small pool of players selected for a contract as Cricket Ireland take a big step forward in the women's game," said captain Delany.
"Personally, there are certain aspects of my game that I've have been trying to develop further. Hopefully this will allow me to spend more time working and focusing on my game whilst not having to commit to a full-time job."
"From a captaincy point of view, this means I will have more contact time with players which should have a positive impact on our development as a group."
"It's great to see Cricket Ireland one of the sport bodies leading the way for other female sports in Ireland. Whilst the contracts are part-time it does allow female cricketers to concentrate a bit more on their game but we still have a way to go in order to catch up with our male counterparts."
Head coach Hamilton said: "I'm really looking forward to having these players available on a more regular basis as we continue working on qualifying for the Women's T20 World Cup in Australia in 2020 and ultimately retaining ODI status and gaining our ticket into the Women's Championship in 2021."