Ireland will play their second Test cricket match against Afghanistan next year, while a Test game against England is also in the pipeline.
The team played their first-ever Test against Pakistan in Malahide last month, and Cricket Ireland today announced the follow-up to that game will take place in February of 2019.
A venue has not been confirmed but it will be an away fixture, with India a likely destination.
Cricket Ireland also told RTÉ Sport that they waiting for confirmation from the England and Wales Cricket Board regarding an away Test match next year but rate the fixture as "likely".
The announcement came as Cricket Ireland released details of the Future Tours Programme (2018-2023), a schedule of international cricket tours for ICC's full members covering all three formats of the game.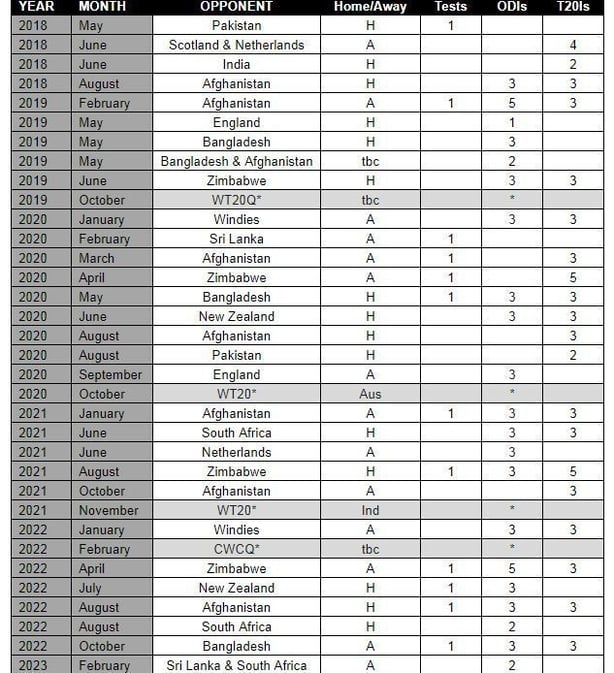 "We are looking at a minimum of 140 men's matches across the three formats from 2018 to early 2023, both home and away," added Cricket Ireland CEO Warren Deutrom.
"This does not include any additional bilateral matches we will play against Associate Member sides, ICC events/qualifying tournaments, or other bilateral content against those Full Members where a playing window is yet to be finalised."
Ireland will take part in a qualification league for the 2023 World Cup from 2020.
A 13-team one-day international league involving the 12 Test playing nations and Holland, running from May 1 2020 to March 31 2022, will act as a qualification tournament with only hosts India certain of progressing.
All sides will play eight series - capped at three-match spectacles - over a two-year cycle and the highest ranked seven sides will directly qualify for the World Cup.
The bottom five, meanwhile, will get another opportunity through the World Cup Qualifier.
In an effort to provide more context to bilateral series, the nine top-ranked Test sides will feature in the World Test Championship - meaning Ireland, Afghanistan and Zimbabwe miss out.
The sides will each play six Tests - three home and three away - starting next year before the best ranked two teams meet in a final in 2021.