What's another day?
Ireland have had to wait 141 years to play their first ever Test match, but Graham Ford's side will now have to hold on for another 24 hours as the opening day of the historic fixture against Pakistan was washed out in Malahide.
As the final run of rush-hour commuters were spat out of the DART from Grand Canal to Connolly, the carraiges filled with folk who were quite obviously not in work mode – a long weekend, starting on a Friday getting ready for this momentous occasion at the north Dublin venue.
Likewise, many a school sick note appeared to have been penned with a strong youthful presence heading across the Liffey and north to Howth Junction and beyond.
Pembroke, Phoenix, Merrion, Clontarf all represented, as club logos were proudly displayed on what was most certainly a day that belonged to the entire cricket family of Ireland.
The rain continued to fall. However, if there was even the slightest chance that this match would start on time – there wasn't – the ever-faithful supporters were not going to miss out on that opening delivery.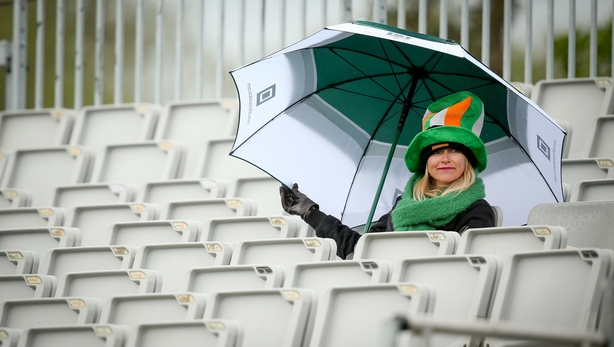 Upon arrival, the world's press were assembled in the media tent – complete with tiered seating – where the handful of dedicated and established Irish cricket writers had to share their space with day-trippers as myself, here to cover such an important event in what rounds off a remarkable ten years for Irish cricket.
They were more than happy to share the space as the genial Emmet Riordan from the Irish Times passed around the butterscotch sweets.
Outside the players from both sides were going through the motions of a warm-up, well wrapped up in all forms of training gear with woolly hats not yet packed away with the winter wear.
The Ireland team often play a game of touch rubgy between the young and not-so-young members of the squad, however, it was not a day for such antics with a very slippery outfield urging caution.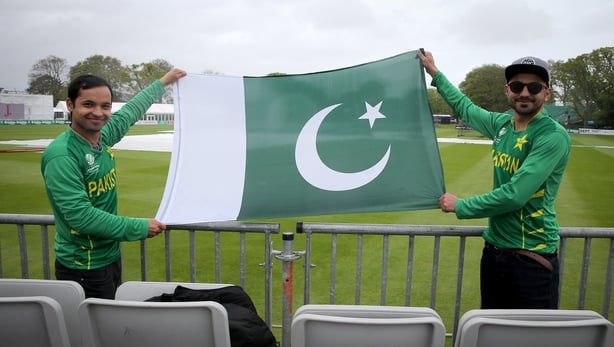 Back in 2007 when this Ireland team burst onto the world scene, the entire squad were fully aware of the importance of being available to the media as they sought to tell their story and gain exposure.
They have no real need to maintain that level of access in the current climate, such is their profile, now hanging with the elite of world cricket.
Yet in strolled Ireland wicketkeeper Niall O'Brien for a chat with old friends, while also helping himself to an open box of Cadbury's Roses that sat unguarded in his vicinity.
"I've been making tea for these lads all week," chirped the ever-vocal O'Brien, donned in Test whites knitwear, while taking time to pose for photos before heading back to the adjacent players' pavilion.
The rain and wind gods deemed that there would be no opening delivery at 11, nor at 12, and shortly after noon it was pushed beyond lunch.
It was goat curry, rice & peas for lunch back in Jamaica when Ireland beat Pakistan in 2007. Today it's chicken, roast potatoes & wedges for the press lunch. @Irelandcricket pic.twitter.com/lXskEbJ5ql

— Ed Leahy (@Ed_Leahy) May 11, 2018
And while the stands may have been empty, with just a handful of hardy souls dotted throughout the 6000-odd seats in the grounds of the nearby Malahide Castle, beyond the boundaries, the party was in full swing.
Hospitality tents catered for the masses with bars on either side of the oval and a corporate affair in full swing, complete with full-length glass windows looking out over the field of play.
A prime position perhaps for when play eventually starts but on this rain-affected afternoon, the menu aside, they were being force fed a diet of very suspect tunes as I peered in from outside. "It's a long, long way from Clare to here" as it happens.
It was a long, long day to wait around in the rain, that's for sure, but as is tradition in these parts, the cricket is only one part of the entire experience, which makes a day out at an Irish match a most entertaining and enriching experience.
A quick ramble about the grounds led me to a very familiar face, the self-professed number one fan in Irish Cricket, Larry the Leprechaun.
The six-foot-five man mountain was, of course, clad in traditional leprechaun garb as he chatted about old times with former coach Matt Dwyer from The Hills cricket club.
Dwyer was head coach Adi Birrell's right-hand man during that most memorable World Cup of 2007, and naturally there was a fair bit of reminiscing taking place as the afternoon proceeded.
A group of about 20 young lads had set up a miniature cricket pitch, complete with plastic balls and bats, at the back of the main stand. They were down from Belfast's Campbell College and they, at least, showed that the game could continue even as the rain fell.
Howzaat...!! The boys from Belfast's Campbell College getting stuck in at Malahide, waiting for @Irelandcricket v @TheRealPCB pic.twitter.com/bFrE4M4g41

— RTÉ Sport (@RTEsport) May 11, 2018
But of course, the field of play remained covered as the ground staff fought, in vain, to remove surface water in the hope that play would resume later in the afternoon.
The 3pm pitch inspection never really stood a chance when a prolonged shower of hailstones passed through just minutes earlier, and the decision was promptly made to call it a day.
Six thousand tickets were sold for what would have been a capacity crowd in this ideal setting, however, they will all be refunded now in what will prove a costly exercise for Cricket Ireland.
Play will resume on Saturday morning at 11am, and with a large number of tickets already sold, expect a full house in Malahide for the eventual start of Ireland's long-awaited Test journey.
The bars around the ground started to empty shortly after the umpire's decision with festivities set to continue in the village with Gibney's being the buzz word about the place.
Of course, the clouds moved on and the sun shone in a near-perfect blue sky less than an hour later.
The covers are now off in Malahide as the outfield begins to bake in the early summer sunshine.
The weekend should be just fine.
Of course the sun comes out just after play is called off in Malahide. Augurs well for a full day's play tomorrow. @RTEsport @Irelandcricket pic.twitter.com/T3kWUcyO0y

— Ed Leahy (@Ed_Leahy) May 11, 2018