Australia captain Steve Smith has been suspended for one Test for his role in the ball-tampering scandal against South Africa, with guilty party Cameron Bancroft also sanctioned by the International Cricket Council.
The pair appeared before the media on Saturday to admit that they had conspired to illegally alter the condition of the match ball, with Bancroft using a piece of sticky tape containing grit from the pitch and Smith agreeing to the ploy after discussions with his "leadership group".
Earlier, Smith and vice-captain David Warner agreed to stand down from their positions for the remainder for the third Test.
Smith's admission of premeditated ball-tampering has led to calls for him to be sacked as skipper.
BREAKING: Steve Smith has been fined 100% of his match fee and handed a one Test ban, Cameron Bancroft a 75% fine and three demerit points for ball-tampering incident.

?? https://t.co/7A63kanBoV pic.twitter.com/rXHWXnmTqP

— ICC (@ICC) March 25, 2018
Smith originally vowed to continue as captain and learn from the furore but it was confirmed on Sunday morning that both he and vice-captain David Warner had agreed to stand down from their posts for the remainder of the match at Newlands, leaving Tim Paine in charge.
Several hours later the ICC upped the ante after its chief executive David Richardson personally intervened.
Smith accepted a charge which related to a serious breach of the spirit of the game, earning a one-match suspension, losing 100 per cent of his match fee and picking up four demerit points. Although Bancroft was the directly guilty party his penalty was less severe, a nod to his junior role within the side.
He was fined 75 per cent of his match fee and hit with three demerit points. Unlike Smith, he is theoretically available to play the fourth Test against the Proteas in Johannesburg, though it would hardly be a surprise if he was removed from action by Cricket Australia.
Richardson delivered a strident assessment of recent events alongside the punishments.
"The decision made by the leadership group of the Australian team to act in this way is clearly contrary to the spirit of the game, risks causing significant damage to the integrity of the match, the players and the sport itself and is therefore 'serious' in nature.
"As captain, Steve Smith must take full responsibility for the actions of his players and it is appropriate that he be suspended. The game needs to have a hard look at itself. In recent weeks we have seen incidents of ugly sledging, send-offs, dissent against umpires' decisions, a walk-off, ball-tampering and some ordinary off-field behaviour."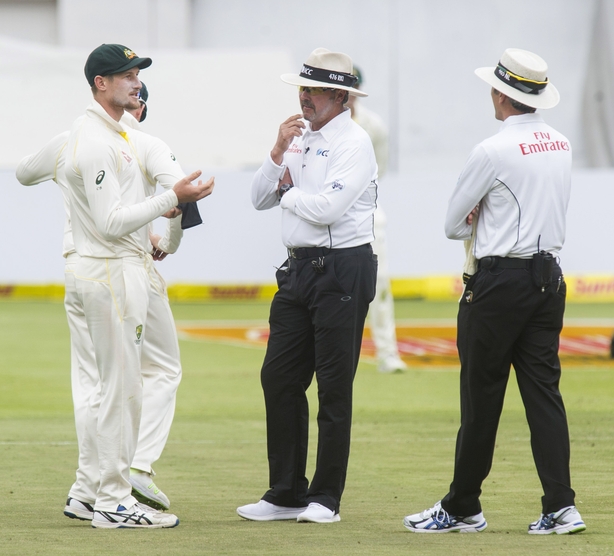 "The ICC needs to do more to prevent poor behaviour and better police the spirit of the game, defining more clearly what is expected of players and enforcing the regulations in a consistent fashion. In addition and most importantly member countries need to show more accountability for their teams' conduct.
"Winning is important but not at the expense of the spirit of the game which is intrinsic and precious to the sport of cricket. We have to raise the bar across all areas."
Kevin Pietersen claimed neither Smith, Darren Lehmann nor bowling coach David Saker could continue in their roles, saying they had "disgraced" their country and the game.
We need your consent to load this Facebook contentWe use Facebook to manage extra content that can set cookies on your device and collect data about your activity. Please review their details and accept them to load the content.Manage Preferences
The former England batsman wrote on Twitter: "Slept on it...Lehmann, Saker & the leaderships groups jobs are untenable! "They've disgraced a great cricketing nation & Test cricket!"
The Australian Sports Commission, the lead Government agency responsible for Australian sport, said Smith should be removed as captain immediately.
A statement from the commission's chairman John Wylie, the ASC board and chief executive Kate Palmer read: "The ASC condemns cheating of any form in sport. The ASC expects and requires that Australian teams and athletes demonstrate unimpeachable integrity in representing our country.
"The Australian cricket team are iconic representatives of our country. The example they set matters a great deal to Australia and to the thousands of young Australians playing or enjoying the sport of cricket and who look up to the national team as role models.
"Given the admission by Australian captain Steve Smith, the ASC calls for him to be stood down immediately by Cricket Australia, along with any other members of the team leadership group or coaching staff who had prior awareness of, or involvement in, the plan to tamper with the ball.
"This can occur while Cricket Australia completes a full investigation."
Australian Prime Minister Malcolm Turnbull branded the actions of Smith and Bancroft "completely beyond belief" and "a shocking disappointment" and called for Cricket Australia, which is investigating the incident, to take "decisive action soon".
"We all woke up this morning shocked and bitterly disappointed by the news from South Africa," Turnbull told reporters in Australia.
"It seemed completely beyond belief that the Australian cricket team had been involved in cheating"
"It seemed completely beyond belief that the Australian cricket team had been involved in cheating. After all, our cricketers are role models and cricket is synonymous with fair play.
"How can our team be engaged in treating (cricket) like this? It beggars belief.
"Let me tell you what has happened today from my point of view. I have spoken with David Peever, the chairman of Cricket Australia a few moments ago, and I have expressed to him very clearly and unequivocally my disappointment and my concern about the events in South Africa and he has said to me that Cricket Australia will be responding decisively, as they should.
"It's their responsibility to deal with it, but I have to say that the whole nation, who holds those who wear the baggy green up on a pedestal - about as high as you can get in Australia, certainly higher than any politician, that's for sure - this is a shocking disappointment. It's wrong and I look forward to Cricket Australia taking decisive action soon.
"I think I speak for all Australians in saying how shocked and disappointed we all are. It honestly seems beyond belief. And I have to say, knowing a number of the players, including the captain, quite out of character. But it's been admitted."