Ireland women's cricketers levelled their three-match series with Zimbabwe at 1-1 thanks to a dominant, unbeaten innings by the returning Isobel Joyce in Harare on Saturday.
Other highlights included a high-class all-round performance by Rachel Delaney and a first international wicket for Cara Murray.
Joyce, who flew into the tourists' camp one day after her teammates following completion of her commitments captaining the Hobart Hurricanes in the Women's Big Bash League in Australia, showed no signs of jetlag as she dug in, and then dominated the Zimbabwean bowling attack.
Her career-best unbeaten 91 off 101 balls, including nine fours - part of a near record-breaking partnership with teammate Rachel Delaney (68) - took Ireland from a precarious 35-4 to a highly competitive 207-5.
The pair, who are also teammates at club-level playing for Merrion Cricket Club, racked up the 4th highest ever partnership in Ireland Women's cricket history for a one-day game behind the 184 set by Claire Shillington and Caitriona Beggs in 2005.
While Joyce dominated with the bat, it was the steady, confident play of Delaney that provided the necessary support. Delaney easily passed her previous highest score (17*), striking five boundaries in the process.
The experienced Zimbabwean pace bowler Precious Marange returned an impressive bowling performance taking 1-11 off her 10 overs, including four maidens.
Having been set 208 for victory, the host's lost two early wickets to Ireland's opening bowler Amy Kenealy, before a 62-run stand in 11 overs between Modester Mupachikwa (51) and Precious Marange (30) saw Zimbabwe seemingly on track to reach their target.
The ball was then thrown to off-spinner Delaney, who broke the partnership with the first of her three wickets.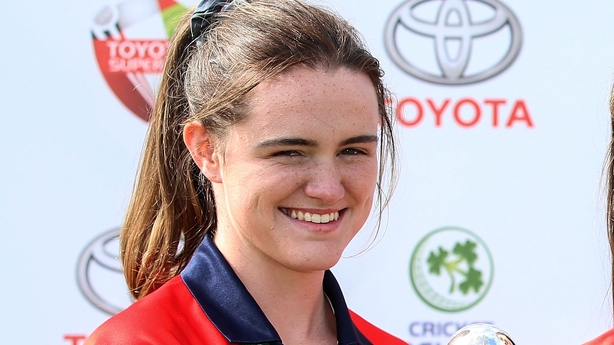 Delaney bowled tightly and ended with 3-33 off eight overs. Her all-round credentials were also on full display earlier in the innings when she took a stunning catch at point to dismiss the opposition captain Chipo Mugeri for four.
One other impressive performance to note was that of Murray. After a solid debut two days earlier, Murray took her first international wicket and finished with an economical 1-24 off 10 overs.
Fittingly, a direct-hit run out by Joyce claimed the final Zimbabwean batter and wrapped up victory by 12 runs.
The preparations for the match began in disrupted fashion when Ciara Metcalfe was forced to withdraw with a minor calf strain. Metcalfe is expected to recover and feature again on the tour.