James Shannon has been recalled to the Ireland's 15-man squad for the World Cup Qualifying tournament in Zimbabwe.
The 27-year-old Northern Knights and Instonians top-order batsman enjoyed a prolific 2017 campaign at domestic and interprovincial level, and is rewarded with a place in the squad attempting to gain a fourth successive World Cup qualification.
"The selectors had no hesitation in giving James his opportunity after he scored so heavily last season," said Ireland head coach Graham Ford speaking at the squad announcement at Malahide Castle.
"He has undoubted talent and this will be his chance to reproduce his form at international level."
Stuart Poynter and Jacob Mulder are omitted from the squad that won the Tri-Series in Dubai last week.
"Stuart Poynter declared he was unavailable for the tournament, as his partner Esther is expecting their first child which is due in March. Stuart wishes to be with his family and support them during what is undoubtedly a very special time in their lives."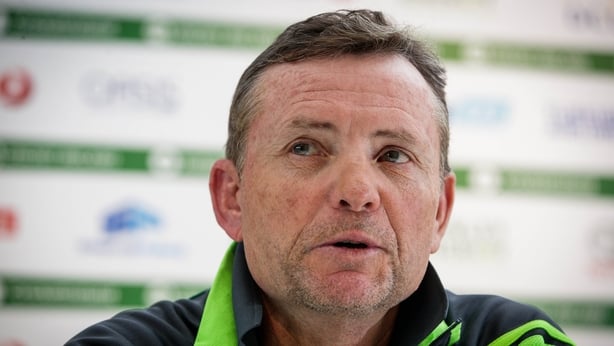 "It's unfortunate that Jacob misses out, but we have plenty of spin options in the squad, with Andy McBrine coming back and doing so well in Dubai, along with George Dockrell, Simi Singh and Paul Stirling."
It's a very experienced Ireland squad with 1925 caps between the 15, with no fewer than eight of them winning more than 100 caps.
"Experience is such a vital commodity, especially in high pressure situations which this tournament will certainly have," said Ford.
"What was refreshing in the Dubai tournament was the superb work ethic that I witnessed from everyone, and the willingness of all the players to learn and adapt to different ideas. While it's certainly an experienced line-up, there is a nice balance of younger players in there too.
Cricket Ireland have also announced that 20 players have been awarded central contracts for 2018.
14 players are in the full-time Category A, including Simi Singh and James Shannon for the first time, while the six players based with English counties are in the part-time Category B section.
Ireland squad for Zimbabwe tournament
William Porterfield (Formby/Warriors), Andrew Balbirnie (Pembroke/Lightning), Peter Chase (Malahide/Lightning), George Dockrell (Leinster/Lightning), Ed Joyce (Merrion/Lightning), Andrew McBrine (Donemana/Warriors), Barry McCarthy (Durham), Tim Murtagh (Middlesex), Kevin O'Brien (Railway Union/Lightning), Niall O'Brien (Nantwich/Warriors), Boyd Rankin (Warwickshire), James Shannon (Instonians/Knights), Simi Singh (YMCA/Lightning), Paul Stirling (Middlesex), Gary Wilson (Derbyshire).
ICC Cricket World Cup Qualifiers 2018
Group A: West Indies, Ireland, Netherlands, Papua New Guinea, ICC World Cricket League Division 2 winners.
Group B: Afghanistan, Zimbabwe, Scotland, Hong Kong, ICC World Cricket League Division 2 runners-up.
WCQ FIXTURES
Sunday March 4, Ireland v Netherlands, OH
Tuesday March 6, Ireland v Papua New Guinea, HSC
Saturday March 8, Ireland v West Indies, HSC
Monday March 12, Ireland v WCL Division Two (winners)