Ireland moved a giant step closer to playing test cricket following the very positive news coming out of the ICC in Dubai at the weekend, and for veteran wicketkeeper and batsman, Niall O'Brien, playing a test for his national side will fulfil a lifetime ambition.
The Dubliner, who has played every level of the game, whether throughout a decade-long county cricket career in England or playing World Cup's for Ireland, admitted that he is really excited at the thoughts of playing the five-day format would
"Test cricket is closer than we probably thought," O'Brien told RTÉ Sport at the launch of Urban Cricket in Dublin.
"We all grew up watching test cricket on television, watching players like Jack Russell and Alec Stewart, both heroes of mine.
"I always dreamed of playing test cricket for Ireland and now that dream is very close to becoming a reality."
O'Brien believes that Ireland's performances on the pitch, going back to the 2007 World Cup, where they shocked Pakistan and qualified for the Super Eight stage of the tournament, coupled with the consistency that the side has shown at every major tournament has convinced the ICC to reward Ireland with full membership and test cricket.
"I think the ICC has seen how far Irish cricket has come down the last 10 or 12 years and now it's close for us to get a chance to play Test cricket.
Ireland's wicketkeeping batsman Niall O'Brien says playing test cricket for Ireland will be a dream. More later on https://t.co/VKJYU4rUqF pic.twitter.com/4cQg8820h5

— RTÉ Sport (@RTEsport) February 7, 2017
"For many years we've been playing a lot better than many full members and being an associate member, you don't get the same financial rewards. So now to be included in that elite panel, financial rewards will come.
"But from a players' point of view, you don't really think about it. I just want to play Test cricket because that is where you are judged.
"T20 cricket is great to play in front of big crowds, 50-over cricket is very enjoyable but Test cricket is what you dream of growing up.
"All I wanted to do was play test cricket, get my name on the honours board at Lord's and get a test hundred at Lord's, so to think that that might be an opportunity for me and for generations to come is very exciting.
"We feel we are equally as good as some of the lower ranked full members like Zimbabwe, West Indies, Sri Lanka and Bangladesh in the longer formats of the game. I think we can give all those a good game if we get the chance at test cricket."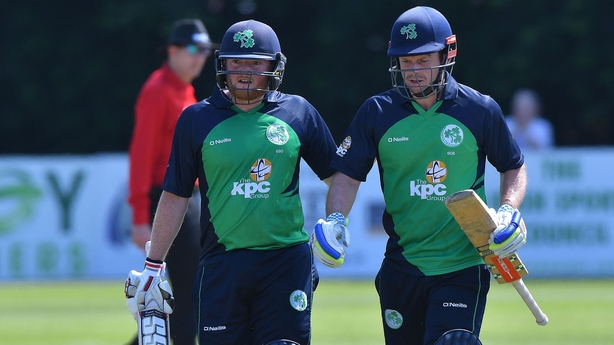 Cricket Ireland CEO Warren Deutrom certainly believes that the holy grail of cricket is now within touching distance, which would complete a remarkable decade in the job for the former English Cricket Board and ICC Events Manager.
In a statement released on Monday, Deutrom said: "We are greatly encouraged by the progress made regarding both our international cricket structures and towards the possibility of full membership.
"That said, we take nothing for granted, either in terms of submitting a compliant application for full membership, or in members' approvals of it, should it make Annual Conference this year."
And that Cricket Ireland optimism stems from the first ICC (International Cricket Council) Board meeting of 2017, which took place in Dubai at the weekend and effectively rubber-stamped Ireland's elevation to full membership, joining the elite structure that will guarantee test cricket and a much more competitive calendar, with the additional bonus of inevitable higher revenue streams.
Following the meeting, the ICC confirmed that: "The broader principles that have been agreed include a revised financial distribution ensuring a more equitable distribution of revenues [and] the potential to include additional Full Members (Ireland and Afghanistan subject to both meeting Membership criteria)."
And the ICC appear to be already planning for the imminent inclusion of Ireland and Afghanistan as they plan to create a "nine-team Test league run over a two-year cycle, [while the] remaining three Test teams to be guaranteed a consistent and confirmed schedule of Test matches against all other teams."
And their proposals also include a "13-team ODI league run over a three year period leading into qualification for the ICC Cricket World Cup 2023."