England must this week pick a one-day international squad without captain Eoin Morgan and opening batsman Alex Hales after both pulled out of the tour to Bangladesh because of security concerns.
The England and Wales Cricket Board announced on Sunday night that both had informed director Andrew Strauss of their unavailability for a trip, starting at the end of this month, on which Jos Buttler will therefore replace Morgan as captain.
The withdrawals of both players have been anticipated for much of the past week, as has the choice of Morgan's vice-captain Buttler to lead the team in his absence for three ODIs.
That series, and two subsequent Tests under Alastair Cook's captaincy, was given the go-ahead last month despite the July terror attack in a Dhaka cafe which resulted in the loss of 29 lives.
Strauss stressed England "respect and understand" Morgan and Hales' decision - but added they are nonetheless "disappointed".
England do not expect any more players to rule themselves out.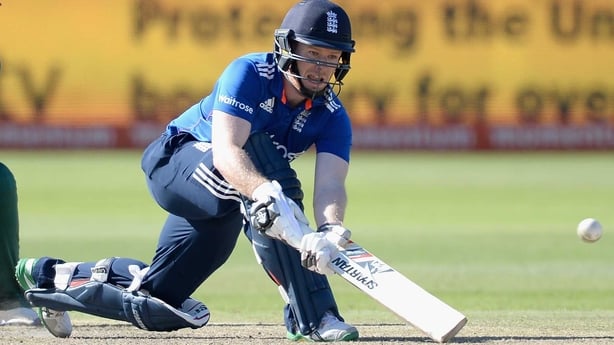 Hales' unavailability means he will miss both legs of the tour, and almost certainly five Tests which immediately follow in India before Christmas - although his selection in the longer format was far from guaranteed in any case.
Strauss said: "While we understand and respect Eoin and Alex's decision, we are disappointed that they have made themselves unavailable for selection for the Bangladesh tour."
He sought assurances from all those in line for selection that they were prepared to travel, during annual appraisals on Friday and Saturday in Loughborough for all players with central or increment contracts.
"We have had open and honest conversations with all the players about the security arrangements in Bangladesh - and at this stage we are not expecting any other individuals to withdraw from the tour," Strauss added.
"Final selection for the Bangladesh tour will now take place on Friday.
"As with all England overseas tours, the safety and security of players and staff is of the utmost importance to ECB. We will continue to monitor the situation in Bangladesh, take advice and consider the appropriate steps up to and throughout the five weeks we are on tour."
All-rounder Ben Stokes posted a statement on Twitter in which he said he respected the decisions of his team-mates.
"I will always back, not just my captain but also any fellow team-mate's decision on matters like this," Stokes wrote.
"They have both obviously thought long and hard about this important decision"
"They have both obviously thought long and hard about this important decision and have both made the call that is right for them as individuals.
"Please try and respect their choice, I do, as a colleague and as friend to them both."
England confirmed last month that the trip could go ahead, only after security expert Reg Dickason returned from a fact-finding mission with a favourable briefing.
Dubliner Morgan, who represented Ireland between 2003 and 2009, spelled out his concerns last week, citing his previous experience of security alerts in India and Bangladesh.
The Irishman added he has long promised himself he would never revisit a situation in which such problems prevented him giving cricket his full concentration.
For England, time is short to pick the right men to fill the gaps left in their powerhouse ODI batting line-up.
The uncapped Ben Duckett is an obvious option after his prolific season across the formats for Northamptonshire, as is a return to the first-choice team for Jonny Bairstow - but who opens alongside Jason Roy in place of the record-breaking Hales is an imponderable.