Kevin O'Brien has been involved in every one of Ireland's campaigns on the world stage over the past decade, but he still admits to being excited on the eve of the ICC World Twenty20 in India - his eighth global tournament in nine years.

"You always get a bit of a thrill any time you're playing in a World Cup," the 32 year-old all-rounder said.
"Myself, brother Niall and William [Porterfield] have been fortunate enough to play in all eight, but each one brings something new and there's always a sense of adventure."
"It's great to be back in India, five years on. The welcome we got was very warm, and I think we always do, any country we go to"
There are a few new faces in the Irish camp and O'Brien believes the four-week long tournament is an ideal opportunity for them to make a major impact.

"We've got a nice blend here in Dharamsala. We've obviously a lot of experience, with a little bit of youth and flair thrown in, which is what you need.
"So I think it's as good as any other squad that I've been involved in. We just need to play consistent cricket over the next three games, and fingers crossed it's enough to get through to the Second Phase.

"I think the young guys have come in and stepped up.
"Stuart Thompson has probably got a little bit more of a leadership role within the team now. Craig Young has a knack of taking wickets. He's got 55 wickets in 24 games which is very quick to reach that landmark. He's always there or thereabouts, swinging the new ball and taking early wickets, which is crucial.

"It's great to have Boyd Rankin back again, of course. He adds something different to our bowling. Andrew McBrine also has an important role to play for us since John Mooney's retirement.

"Andy's taken up that number 7 or 8 role in the batting line up. and he's certainly not out of his depth. I batted with him against PNG in the four-day game and he looked very comfortable at the crease, playing two very important innings.

"The dynamic of the squad has changed, gone are the days where we've had six or seven all-rounders in the team. We now usually go in with one or two. So it's certainly we've got a lot more specialist people in the squad and in the final eleven.

"Being a specialist is a good responsibility to have. I think certainly for my own game, since John Bracewell has come in it's certainly put a lot more responsibility back on me. It's always fun having the younger guys nipping at the heels.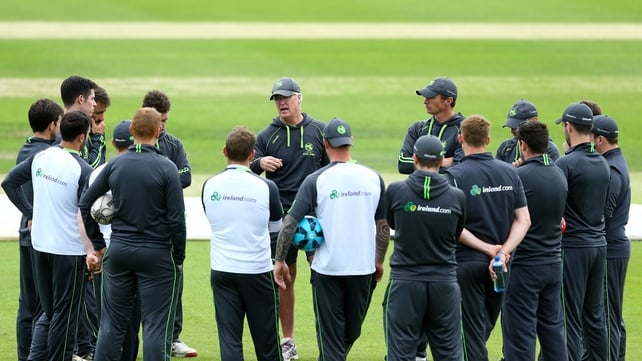 Bracewell, the former New Zealand Test cricketer, will be in charge of Ireland for the first time at a world finals, with O'Brien saying each coach is their own man with their own way of doing things.
"I think with a new head coach everyone starts from zero," he said.
"So it's been excellent that way. Nobody has got complacent in the last six or eight months. And certainly everyone is working hard towards achieving the goal of winning games and qualification.

"John's certainly a lot different than `Simmo' (Phil Simmons). I think every coach has to be different. They all have their different philosophies and ways of doing things. John is probably more like Adi BIrrell in terms of the responsibility he gives to each player as individuals.

"It certainly took the team and individuals that little bit of time to get used to John's way of coaching, his way of expressing his thoughts on how he wants to play the game. After eight years with `Simmo' it was always going to take a while to adjust - but we're getting there.

The Sandymount native has played in a number of domestic T20 tournaments all over the world, including the West Indies, Bangladesh and England and it's the format he enjoys the most.
"I've said that before and I'm not going to hide it - I love playing T20 cricket. For me it's the most exciting form of the game. I've been lucky enough to play for the last four or five years at various tournaments. So fingers crossed that can continue over the next three or four years."

O'Brien is of course returning to the country of his most famous exploit, when his record-breaking century blasted England to defeat in Bangalore, in the 50-over World Cup, something he is immensely proud of.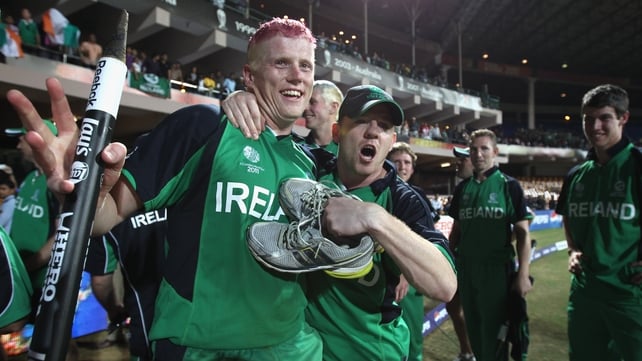 He commented: "I'll always be proud to have done it. Any time we win a game in a World Cup it's a very proud moment and from an individual point of view to give so much to a winning cause, is obviously extra special. But that's five years ago now.

"A lot has happened since then and while I'll never forget that day in Bangalore, I think I've done a lot since then on the pitch for Ireland, and also for various other teams around the world.
"I'd like to think it wasn't just a one-off match, and a one-off bit of luck for me. I've been pretty consistent over the last 18-24 months in any team I've played for.

Ireland are based in Dharamsala, in the foothills of The Himalayas for their group games. The Railway Union all-rounder is enjoying the scenery and the cricketing culture of India as they prepare for the tournament.

"It's great to be back in India, five years on. The welcome we got was very warm, and I think we always do, any country we go to.
"So here in Dharamsala it's a little bit quieter than what we probably would have expected, but it certainly has its advantages. The ground is unbelievably scenic, and you've got the Himalayas just behind us here at the hotel."
"Both opening Groups are very, very strong. Each team has their own attributes and ways of winning games of cricket. Bangladesh are playing excellent cricket in the last year or so."
Ireland have been drawn in Group A in the first round along with Oman, Bangladesh and the Netherlands. O'Brien knows it will be a tough group to come out on top of, which they must do to join the likes of Australia, India and South Africa in the next phase.

"Both opening Groups are very, very strong. Each team has their own attributes and ways of winning games of cricket. Bangladesh are playing excellent cricket in the last year or so.
"They've been very fortunate to have the Asia Cup on just before this World T20, so they'll obviously be very very difficult to beat.

"Holland have beaten us twice in the last two T20s we've played. So they will be up for the challenge again. Oman provide a different challenge altogether as we haven't seen that much of them, but certainly they are playing good cricket beating Scotland a couple of days ago in a warm up-game. They're going to be up for it, hoping to take a couple of scalps."
Middle-Eastern side Oman are first up for Ireland on Wednesday, before they face Bangladesh on Friday, with The Netherlands their final group opponents on Sunday.
Follow Oman v Ireland on our live blog from lunchtime tomorrow.