Ireland embark on their fifth consecutive Twenty20 World Cup on Wednesday as they take on Oman in their opening encounter at the HPCA Stadium in the Indian city of Dharamsala.
Nine years on from the 2007 World Cup in the West Indies, Ireland have established themselves as serious opposition on the world cricket stage and have made an impression at most of the major tournaments that they have played in, from the famous St Patrick's Day victory over Pakistan at Sabina Park, to Kevin O'Brien's world record-breaking knock to beat England at the 2011 World Cup, and on to the West Indies win last year in New Zealand.
Those famous victories have all come in the longer format, the 50-over one day internationals (ODIs), and while Ireland's history at the T20 is not as impressive, they are getting close to causing a similar upset and will be looking for such a breakthrough at this year's event.
But first of all, Ireland need to get through their group.
Two four-team groups battle out the for the two remaining places in the Super 10 phase, where the top eight ICC sides are waiting for the tournament proper to get going.
After the Oman opener, Ireland face Bangladesh on Friday, followed by their final group game against Netherlands on Sunday, and John Bracewell's side will possibly have to win all three games to progress.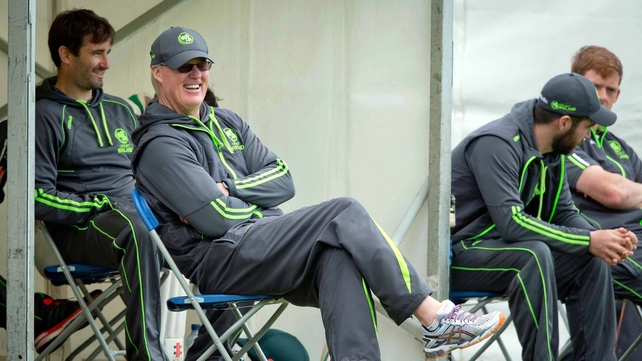 New Zealander Bracewell is less than a year into the job and it is fair to say that the new coach has very big boots to fill following the successful eight-year tenure of his predecessor, West Indies' Phil Simmons.
The legacy of former coach Adrian Birrell also looms large over this Ireland side as several of the current squad remain from the time that the genial South African took the cricket world by storm back at the 2007 World Cup with a team of part-time cricketers consisting of farmers, postmen and school teachers.
This will be Bracewell's first chance to take charge of an Ireland side at a major tournament and it might be argued that his squad are still going through a transition period.
Bracewell's first real test came last summer with the qualification process for this week's event.
The qualifiers were held in Ireland and while the home side topped their group to gain automatic qualification, they suffered shock defeats to Papua New Guinea and Hong Kong before losing to next Sunday's opponents, Netherlands, in the semi-finals of that mini-tournament.
Ireland have maintained their dominance over the associate nations in the longer form of the game and that Intercontinental Cup schedule has actually helped Bracewell fine-tune his side for this week's tournament.
As usual, Cricket Ireland has provided the team with the best possible preparations for this tournament, with an extended stay in Australia for the IC clash with Papua New Guinea in late January-early February, which included a three-match T20 series before more competitive action in Abu Dhabi, where Ireland shared a two-match T20 series with hosts UAE.
The Irish team have also benefited from being based in Dharamsala for their two-warm-up games at the same venue where they will play this week's group games.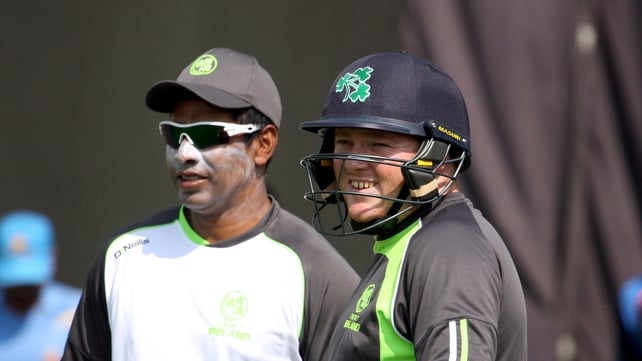 And perhaps the appointment of Chaminda Vaas will prove most telling, as the vastly experienced Sri Lankan was brought in to help the Ireland bowling unit prepare for sub-continent conditions.
Left-armer Vaas took a total of 755 wickets in his 111 Tests and 322 ODIs, and since retiring he has worked as a bowling consultant for both New Zealand and Sri Lanka. He has also coached in the IPL and it is that T20 experience that Ireland will surely be trying to tap.
"His ability to get wickets in all forms of the game especially on the sub-continent was extraordinary. This experience will be invaluable to our bowling group," said Bracewell after the Vaas appointment was announced.
Vaas has already spent three weeks working with the team, one week in Abu Dhabi and two weeks at the training camp ahead of the tournament, and his real input will be devising bowling plans to maximise local conditions.
Ireland's warm-up games have seen Bracewell's side enjoy a comprehensive win over Hong Kong before losing to Zimbabwe and the Dharamsala tracks have, thus far, suited the team batting second, which will be something valuable that the Irish will have learned from their base camp at the host venue.
Bowler Tim Murtagh also felt that the ball moved about a bit more under lights and with two of Ireland's fixtures taking place in the evening, it will be another factor that the Irish attack will look to capitalise on.
The middle square will be used for the tournament and the wickets are looking a little worn, which might favour spinners, and will surely be a key factor in Bracewell's team selection and captain William Porterfield's strategy.
Ireland teams in recent tournaments have suffered late injury withdrawals but this time the squad are all fully fit and Murtagh's decision to reverse his retirement decision from this form of the game has also given the selectors better bowling options.
Craig Young was the only player with an injury concern as the bowler was struggling with a slight ankle injury last week, but the Bready man played in Saturday's warm-up game and came through without any adverse effects.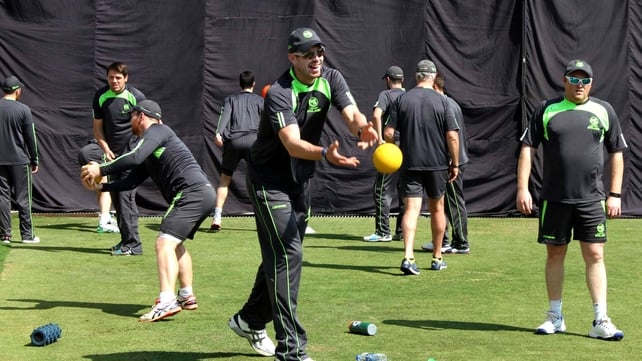 Traditionally, Ireland have relied on their strong batting throughout the team from top to tail, however, this time around, there is a real confidence that the bowling unit will make a big impression, which has certainly been enhanced by the return of Boyd Rankin.
Ireland's top wicket takers at this tournament, Alex Cusack (11) and Kyle McCallan (8), are no longer involved and Rankin's experience will certainly strengthen the attack.
Rankin, Kevin O'Brien and George Dockrell all have seven tournament wickets and will again be instrumental if Ireland are going to feature beyond the initial group stages.
The returning Rankin certainly has the potential to really unsettle the top order with the new ball, which he is likely to take after the openers get through their first spell.
Bowlers only get four overs to make their mark in these short-format games and while that generally rules out fatigue issues, it puts pressure on the individual to hit their marks straight away with the risk of getting smashed around the ground by a settled batsman a very real possibility.
Murtagh will surely open the attack for Ireland, alongside either Young or Max Sorensen, but Rankin will be anxious to get involved early on as his pace and height can really prove decisive in landing some early success before the opening batsmen get their eye in.
The favourable conditions for spin might see George Dockrell and Andy McBrine getting the nod ahead of Stuart Thompson, while Young may edge out Sorensen after enjoying decent figures in his three overs bowled in the warm-up defeat to Zimbabwe.
Expect Paul Stirling to contribute with his tempting off-breaks, while Kevin O'Brien's medium-fast deliveries generally contribute a wicket or two in the process.
The Ireland squad has certainly been weakened since the 2015 ODI World Cup with the departure of all-rounder John Mooney, while Ed Joyce's absence leaves a real hole at the top of the order.
But as mentioned, Ireland have always boasted a strong batting line-up and Andrew Balbirne has made an immediate stake to fill that gap left by Joyce.
In fact, Joyce essentially passed on the baton to his fellow Dubliner after announcing his retirement saying, "with the emergence of exciting young batsman Andy Balbirnie, I know the T20 team should be in good hands going forward".
Balbirnie's confident and assured half-century against the ferocious South Africa attack at the World Cup cemented his place in future Ireland selections and a brilliant 97 followed soon after in the win over Zimbabwe at the same tournament.
But if Ireland are going to advance to the Super 10 phase, it will be up to the experienced men at the top and middle order that will need to perform.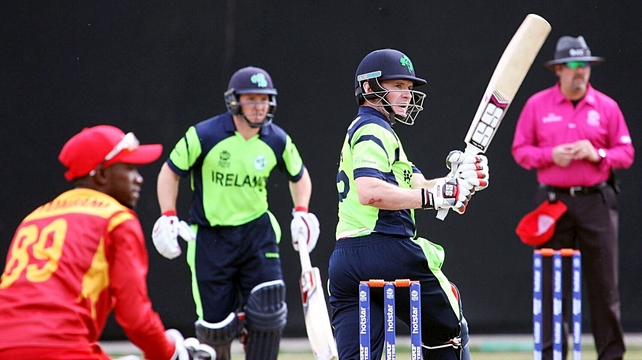 Captain Porterfield will open with Stirling and both will need to hit their stride immediately in this limited-overs game. Middlesex man Stirling can be a real key to Ireland's chances as he is one of the most naturally gifted batsmen and can build a big score quickly, as long as he can get himself into double figures.
The O'Brien brothers will again be key and while Kevin takes a lot of the spotlight for his monster hits and high scores, Niall's ability to score off almost every delivery is a real asset to this Ireland team.
Gary Wilson is another who can contribute and build a quick innings and while the tail might not always be called upon in this format, there are certainly runs in the Ireland lower order, which might prove valuable if needed.
Ireland have yet to really make their mark in this fledgling tournament, which is not even ten years old – the first World T20 took place in 2007 – but they have been knocking on the door at every one of their four appearances and will be hopeful that the fifth instalment will see their game-plan come together.
Ireland beat Bangladesh in their first outing in 2009 to make the Super 8 but failed to progress a year later as they could not complete their game against England and went out on net run rate (NRR) – England went on to win the tournament
Lightning struck twice two years later in Sri Lanka as Ireland again crashed out on net run rate, this time to the West Indies, who also went on to win the tournament.
Another two years on, the event took place in Bangladesh and Ireland again made their mark with a win over full member Zimbabwe but then a comprehensive defeat to the Dutch in the final group game cost the Irish a place in the now-expanded Super 10 stage – again losing out on net run rate.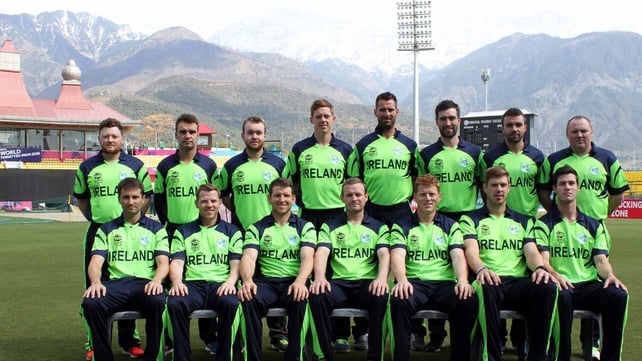 At this year's tournament, all eyes will be on the Bangladesh game on Friday who must be regarded as favourites to go through with local conditions surely suiting the number-seven ranked ODI side in the world.
But Ireland must put all their focus into Wednesday's opener with Oman, who beat Scotland in a warm-up game on Friday, and a morale-boosting victory can build some very important momentum ahead of the possible group decider on Friday.
But let's not forget the Netherlands, who like Ireland, have a habit of keeping their best for the big stage and, as a result, this group could see all teams taking points off each other.
Coupled with the fact that it has barely stopped raining in India over the past few days, again it could be net run rate that decides whether Ireland move on or ship out of the tournament next Sunday.
Follow Ireland's progress at the Twenty20 World Cup with our live match trackers