Isobel Joyce has insisted Ireland Women are aiming to take down everyone that crosses their path as they look to ruffle some feathers at the upcoming T20 World Cup in India.
Captain Joyce's side secured their spot at next month's tournament with victory in the qualifier semi-finals against Scotland in Bangladesh back in December, putting the cherry on the top of a tremendous campaign with a dramatic victory over the hosts in the final.
Joyce and twin sister Cecelia were key cogs in the Irish drive to India, finishing second and third respectively in the qualifiers player rankings.
"We'll go into every game looking to win it. That's why you play sport."
Ireland have been drawn in a daunting Group A alongside Australia, Sri Lanka, South Africa and New Zealand, who they play first on 18 March, but Joyce insisted will have no fear taking on the big guns, as they look to follow in the footsteps of the men's team and make a statement on the world stage.
"We'd be very disappointed not to get at least one win - we'll be aiming for four," Joyce told RTÉ Sport. "There's no point in playing sport and not aiming for four.
"It will be very difficult to win one, it will be difficult to win two, three, four. We'll go into every game looking to win it. That's why you play sport.
"Anyone can compete at T20. You need three or four people to fire and it can be your day. We'll be hoping to do that a number of times."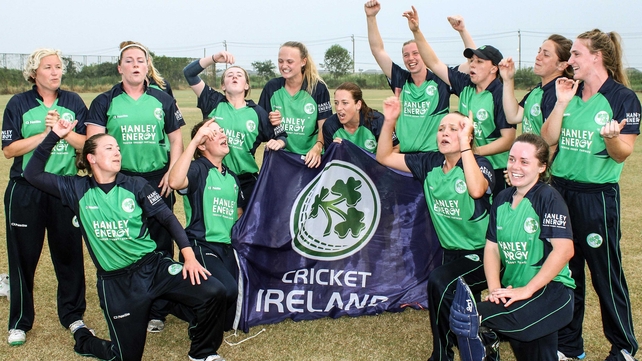 It's unchartered territory for head coach Aaron Hamilton, the Australian leading a team into a major tournament for the first time, but not for many of the players - despite the young age profile of the squad.
Former Australian international Julia Price brings valuable expertise to the backroom staff too and Joyce is confident there's enough quality in the camp to improve on their T20 World Cup debut appearance in 2014.
"[Hamilton] is getting on well. This will be his first big tournament so he's excited about that.
"He obviously worked in Australia where cricket is huge so I'm sure he'll take it in his stride, and then we have Julia Price coming in, who is a veteran of a number of World Cups as a player and is also the Hobart Hurricanes women's coach so she brings a lot of experience.
"We have some young players but they are quite experienced for their age. It's not like we've got people who haven't been around the circuit. The two Lewises [Gaby and Robyn] are the least experienced. Both their parents are going to be there so they'll have that family unit to look after them.
"We're one tournament more experience so it won't be as much about just getting to the tournament, it will be more about how we can perform in it. Everyone is very excited."