An tú an chéad Mícheál Ó Muircheartaigh eile?
Spéis agat i gcúrsaí spóirt? Bhfuil mianach an tráchtaire ionat? Má tá, tapaigh do dheis, agus cuir isteach ar an gComórtas Tráchtaireachta atá á reáchtáil ag RTÉ Raidió na Gaeltachta i gcomhar le Cumann Lúthchleas Gael leis an gcéad sár-thráchtaire Gaeilge eile a aimsiú.
Gheobhaidh an buaiteoir dhá thicéad chuig Cluiche Ceannais Peile nó Iomána na hÉireann, deireadh seachtaine do bheirt in Óstán Pháirc an Chrócaigh, agus deis dhul isteach sa bhosca tráchtaireachta ar an lá mór.
Tabharfar cuireadh do na hiarrthóirí is fearr sa chomórtas freastal ar cheardlann tráchtaireachta i mí Lúnasa le cuid de shár-chraoltóirí spóirt ár linne i gCeanncheathrú RnaG i gCasla, agus roghnófar an buaiteoir ansin.
Dúirt Liam Ó Néill, Uachtarán Chumann Lúthchleas Gael:
"Táim thar a bheith sásta ar bhonn pearsanta, agus ar son an Chumainn freisin, a bheith páirteach sa chomórtas iontach seo. Táim dóchasach go mbeidh suim ag roinnt daoine óga triail a bhaint as, agus b'fhéidir go bhfeicfimid roinnt tráchtairí nua ag teacht chun cinn dá bharr."
Is gné riachtanach de chláracha spóirt an tráchtaireacht, agus is féidir leis cur go mór leis an gcraoladh.
Dúirt Seán Bán Breathnach, Tráchtaire le RTÉ Raidió na Gaeltachta:
"Is fearr liomsa a bheith ag tráchtaireacht ná ag ithe mo bhéile, agus tá an t-ádh liom go bhfaighim an deis sin chuile dheireadh seachtaine. Dhéarfainn le duine ar bith go mbeadh spéis acu ann cur isteach ar an gcomórtas. B'fhéidir go bhfuil an scil acu i ngan fhios dóibh féin, agus ba cheart dóibh bualadh faoi. Muna mbainfidh tú triail as, bhí bheidh fhios agat. Beidh muid ag súil go mór leis na hiarrachtaí a chloisteáil anseo in RnaG."
Le cur isteach ar an gcomórtas, cuir isteach taifead 60 soicind díot féin i mbun tráchtaireachta as Gaeilge chuig ct@rte.ie, nó

Comórtas Tráchtaireachta,
RTÉ Raidió na Gaeltachta,
Casla,
Conamara,
Co. na Gaillimhe.
9 Lúnasa an dáta deiridh.

Bí cinnte d'ainm, do sheoladh agus d'uimhir fóin a chur leis. Tá an comórtas oscailte d'fhir agus do mhná os cionn 18 bliain d'aois.
Breis eolais www.rte.ie/rnag.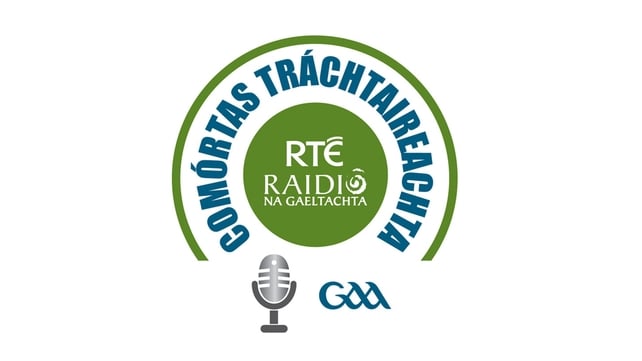 Raidió na Gaeltachta/GAA Commentary Competition: Are you the next Mícheál Ó Muircheartaigh?
Sports fans are being offered an exciting opportunity to try their hand at the art of commentating in a competition announced today by RTÉ Raidió na Gaeltachta, together with the GAA. The competition will be run during the summer, and is looking for the next Seán Bán Breathnach or Mícheál Ó Muircheartaigh, could that be you?
The winner will get two tickets to their choice of either the All Ireland Football or Hurling Final in September, a weekend for two in the Croke Park Hotel, and a chance to step into the commentary box on All-Ireland day.
The top entrants to the competition will also be invited to attend a special day-long workshop in the Raidió na Gaeltachta HQ in Casla, Connemara, in August with some of the best commentators in the country.
Liam Ó Néill, Uachtarán, GAA said:
"I'm delighted on a personal level, and on behalf of the organisation, to be supporting this excellent initiative. I'm hopeful that there are a lot of young people out there who would like to try their hand at commentating, and we may see some new commentators coming to the fore as a result."
Commentary is an essential part of the sports broadcasting experience, and can add significantly to the radio listeners' experience.
Seán Bán Breathnach, RTÉ Raidió na Gaeltachta commentator, said:
"Commentating is my absolute dream job and I get goose pimples when Amhrán na bhFiann rings out before the matches. I'd say to people interested in the competition to give it a try. Some people just have a natural talent for it, and maybe they don't even realise it. They might surprise themselves, and we're really looking forward here in RnaG to hearing the entries."
If you think you can bring the passion of a game to an audience listening at home, send in a 60 second recording of yourself commentating as Gaeilge to ct@rte.ie, or by post to

Comórtas Tráchtaireachta,
RTÉ Raidió na Gaeltachta,
Casla,
Conamara,
Co. na Gaillimhe.
Closing date is 9 August.

Include your name, address and phone number. Entries are open to men and women over 18 years of age.
For further information see www.rte.ie/rnag.