Cricket Ireland chief Warren Deutrom believes it is important that "the doors remain open" for countries to return to touring Pakistan.
Pakistan has not hosted international cricket since the 2009 gun attack on the Sri Lanka team bus in Lahore, which killed eight people and injured six players.
Deutrom this week revealed Ireland were willing to contemplate ending Pakistan's four-year isolation, on the proviso security assurances were met.
That has been the obvious stumbling block to any resumption of international cricket in Pakistan, however Deutrom believes it should not end discussion.
Deutrom stopped short of calling other nations to publicly state a desire to return to Pakistan - with chief executives due to meet after next month's Champions Trophy - but believes reassuring the Asian nation that the subject has not been forgotten was a worthwhile step.
"What we are saying at Cricket Ireland is that we are willing to contemplate any invitation," Deutrom told Press Association Sport.
"I think that is something the PCB needs to hear at the moment.
"They need to know that the lines of communication are open on that front and that we want to play cricket in their country, provided the safety assurances can be met."
"We are probably the nation that has an instinctive sympathy for Pakistan's position" - Warren Deutrom
Deutrom has previously denied such words are "empty rhetoric" even though Ireland declined an invitation from the Pakistan Cricket Board to tour earlier this year.
The PCB made the request after Bangladesh pulled out of a scheduled series in January, citing "inappropriate" security fears.
Those same problems prevented Ireland stepping in but Deutrom said it was not unrealistic that they may do so in the near future.
"The reason I describe talks as more than empty rhetoric is because we are probably the nation that has an instinctive sympathy for Pakistan's position," he said.
"We spent so many decades trying to get other teams to play in Northern Ireland during the Troubles in the 1970s, 80s and 90s.
"We have an understanding of what they are going through and we feel we are in a position where we could possibly help.
"We know the damage that this has to the profile of the sport in the country. Pakistan is obviously a cricket-mad country and not having tours affects the fans. It also affects revenues."
Ireland toured Zimbabwe three years ago, when government assurances were required, and Deutrom revealed the possibility of touring Pakistan had been discussed with the Irish players.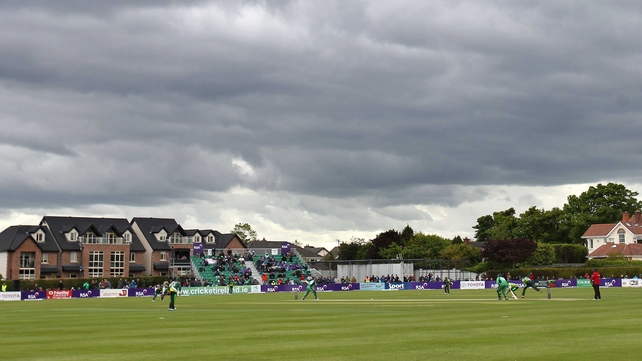 While their opinions were not sought at the time, Deutrom said they would have a decisive voice in any decision to tour.
"We had a players' day in February when we discussed that after Pakistan had made a request for us to tour," he said.
"We need to be open with the players and provide information such as risk assessments. That was the case too when we toured Zimbabwe in 2010.
"If Pakistan do invite us, and we welcome that, we would go through a three-step process. One would be to get the views of the Governments both north and south of the border regarding safety.
"Secondly we would need an independent risk assessment of the dangers and then finally we would need to speak to the players."
Deutrom revealed Ireland could meet Pakistan in a series in the United Arab Emirates early next year and that there were "irons in the fire" to tour other nations.
Ireland have been starved of international cricket against full-member countries - this week's two-match one-day international series against Pakistan is their first in Dublin for two years - while they have not embarked on a bi-lateral tour since their 2010 trip to Zimbabwe.
"We are aware that Pakistan are playing in the UAE in January of next year," he said.
"If nothing else there may be an opportunity for Ireland to play some matches there and that could in turn open the doors for further discussions on touring Pakistan.
"But looking further afield we have a number of irons in the fire. The problem is working into the Future Tours Programme, which is a hectic schedule.
"We haven't yet toured places like England or Australia but I don't doubt that will be possible in the future.
"England is a difficult one because their schedule with the FTP is so tight. These things take time to discuss."