by Jacqui Hurley
21 April 2011

Who would have thought we could have so much drama on the final day of the Allianz Hurling League? Right up until the final whistle in all matches it was impossible to call who would contest the Division One final.
Kilkenny were always odds on favourites and after a blistering start against Offaly the result looked inevitable. It was double heartbreak for Offaly fans who were relegated to Division 2.
Many of their fans had one ear on Semple Stadium, where Wexford pulled off an incredible result, snatching a late draw against Tipperary to stay up.
Former Wexford hurler Tom Dempsey was with us in studio on the day Offaly beat Wexford and he admitted himself he thought that was the end of Wexford's run in Division One.
Their one point win against Cork was as unexpected in many quarters as their draw with Tipperary and to be fair to Tom, when he was back in studio with us on Sunday, he was man enough to admit that he was wrong!
For the Sunday Sport team, the League finals are a day we really look forward to. For myself and Con it's also our first chance to get out to a match, as we get to do the programme live from Croke Park. After a winter spent in studio, albeit a newly refurbished one, we're happy to see the light of day!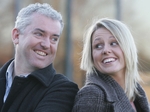 The added bonus this weekend is that our programme team consists of someone from each of the four counties represented – I'm from Cork, Con is from Dublin, our producer Barry O'Neill is a Donegal man and the man patrolling the sidelines this weekend, Pauric Lodge is from Laois.
So if you hear the odd argument among the four of us it's all in good spirit!
As per usual no team wanted to give away any trade secrets at the media day on Wednesday. The mind games are always frantic at these events, both teams trying to build up the other team, hoping some of the attention can be taken away from their own side.
Dublin's superb League form will see them go into the game as favourites and having seen the benefit winning the League has brought to other counties, including Cork, Pat Gilroy has opted for the strongest side possible.
Cork's injury problems this week have been well documented and Conor Counihan's decision to delay naming his team suggests he's giving some players a chance to stake a claim for a starting place, knowing the Championship is just around the corner.
Winning the League may not be the number one priority for either manager, but come throw in on Sunday afternoon that match will be the only thing in their minds. The round robin game between the sides was a lively affair and if the League is judged on the two best teams contesting a decent final, then this year's League has so far represented itself well.
The Division 2 final will throw up an interesting contest between two in-form sides. Laois and Donegal have played some excellent football this season, but having already won promotion to Division one for next year, they may place less emphasis on Sunday's final.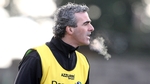 For Donegal, their Ulster Championship opener against Antrim is only three weeks later and with their injury count rising, manager Jim McGuinness said this week he may be cautious about taking a chance on some players.
It's a pity for players to miss out on the occasion of playing in Croke Park, but it's a no brainer when it comes to priorities. Laois' Championship campaign begins in a month's time against Longford and that grace period of an extra week will allow Justin McNulty a little more breathing room in terms of recuperation.
For two new managers a League title would be a nice note to put on their CV and not a bad way to start their first Championship campaign.